Looker news and highlights from Google Cloud Next '20: OnAir, Week 5
August has been a busy month for us here at Looker. We started off Data Analytics week at Google Cloud Next '20: OnAir with a major release of top-requested enhancements—building on our vision of empowering companies to build powerful data experiences and drive positive, data-driven business outcomes. Then, throughout this week, we've presented our vision for data leaders, shared some of our newest capabilities, led virtual hands-on-labs, and highlighted inspiring customer stories and demos across the entire Next OnAir experience.
In the smart analytics keynote, we show you how Looker is a critical component for delivering Google Cloud's vision of an open, intelligent, and flexible platform. See how Sunrun leveraged Looker and BigQuery to accelerate their digital transformation initiatives, or how Looker fits into Verizon Media's 100+ PB analytics platform. Hear how the Looker team supported data-driven responses to COVID-19, take a technical deep dive, see a demo of Looker with BigQuery BI Engine, or learn about Looker's (not so) secret sauce: Intro to LookML. Finally, in our Looker Roadmap session, hear about many of the newest advancements and get a peek at what's next.
We're particularly proud of the progress we've made on the data experiences roadmap we first announced last December. For the last year, we've focused on features that help our wide community of system administrators, application builders, model developers, data analysts, and business decision makers by providing the scale and performance, cost optimization, simplified management, and ease of development of data experiences they require. Companies, departments, and individuals all have unique, different ways they use data to guide their work. This understanding guides Looker's approach to analytics and the new enhancements we announced this week. Let's take a further look at a few key aspects of the announcements.
Increased performance and efficiency with aggregate awareness
To drive greater performance and efficiency at scale, Looker now includes aggregate awareness. With aggregate awareness, Looker can materialize query results and dynamically route user queries to different tables based on level of granularity. This helps minimize the total number of queried records, reducing query cost and improving response time. Aggregate awareness is fully managed in LookML, Looker's semantic layer, reducing implementation time and cost while maintaining simplicity for users. Unlike other solutions, aggregate awareness doesn't limit a query to a specific table. Instead, it can automatically UNION-in related data when query scope exceeds that of a given aggregate table.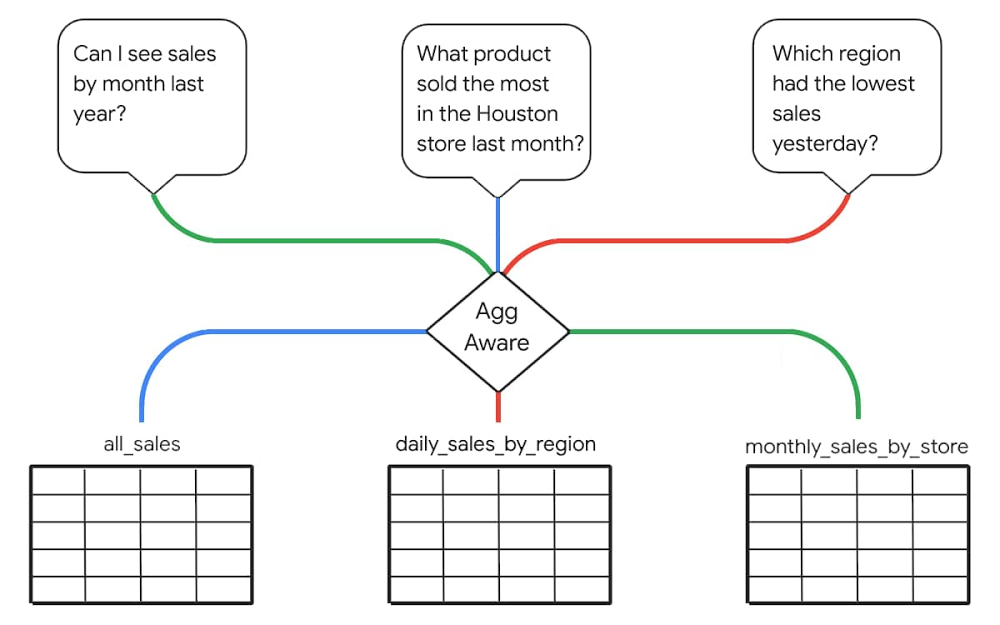 Managing Looker at scale just got easier
Since last year, Looker administrators have been able to leverage Looker system activity analytics to track their usage of the Looker platform. Dashboards and data exploration experiences are pre-built in Looker to help measure user activity, query performance, scheduling, content (reports and dashboard) use, and any errors that might occur. With elite system activity, now available, administrators can retain system analytics data longer and perform more complex, faster analysis of this data. Coupled with new user and permissions management tools, including the ability to better leverage existing LDAP systems, system activity analytics helps Looker admins drive platform adoption and ensure the smooth operation of vital reports, dashboards, explores, and other, more advanced, data experiences.
Simplifying and speeding access to insights
Looker has also redesigned the dashboard and reporting experience to include more intuitive interactions. It's now easier than ever to provide users with tools that let them start at high-level dashboards and drill down into the data to find answers to questions. Delivering self-service access to data that's accessible and intuitive, Looker offers easy cross-filtering in dashboards. A newly enhanced integration with Slack and improved alerting functionality put data right where users need it, on-demand, streamlining the time from question to insight and then to business-impacting action. These new ways of accessing data, minimizing friction in existing workflows, allow non-technical employees to take a proactive approach to their area of the business.
Quickly, easily deliver new data experiences
With a new extension framework for data product development, Looker also reduces friction developers experience when modeling, visualizing, or operationalizing their data. The extension framework allows front-end developers to build and deploy within Looker without relying on DevOps or standalone servers. Extensions also have full access to Looker APIs and can take advantage of existing authentication and permissions, simplifying the development process and speeding time to value for data products. Working-backwards from their desired end goal and dream application, our most innovative developers go beyond static reports and realize their vision with Looker developer tools and partners.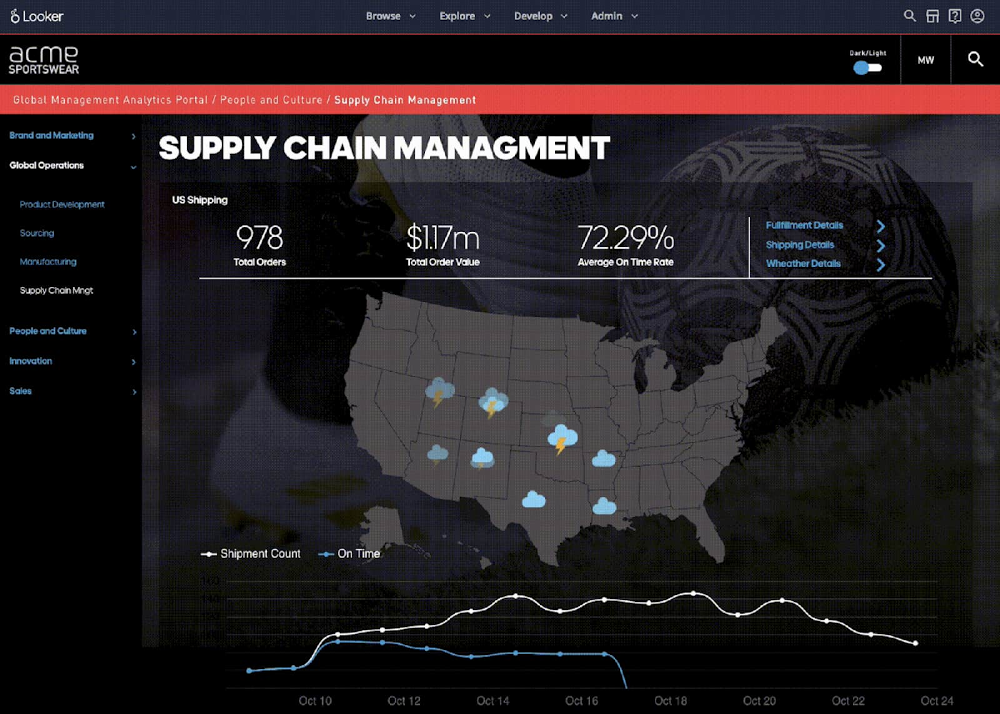 Turnkey models for data-driven marketers
We've also introduced new Looker Blocks for marketers—built in partnership with experts at Google Cloud and with integrated BigQuery ML models—that make it easier than ever for data-driven marketers to get up and running quickly with out-of-the-box advanced analytics for Google Analytics 360, Google Marketing Platform, and Google Ads data. With these new blocks, marketing teams can dig deeper into web behavior, optimize campaign investment, define granular KPIs, expand insights by joining external datasets, and shorten the time from insight to action. Looker Blocks continue to be a powerful tool that accelerates analytics value—providing deep expertise and insights, faster, in a way that's easy to implement and understand.
From BI to data experiences
With the announcements this week, Looker continues to enhance the tools you're already using by infusing new, relevant data into your workday. To learn more about all the latest Looker enhancements for your business, click here. You can also register here and speak live with our team about these and other features and updates.