His boots are on, his coat is well-pressed and his reindeer are ready. Santa is about to start his annual worldwide tour—and you can follow along.
Take off time!
Have you ever wondered what happens right before Santa's hybrid sleigh takes off? This year, you'll get to see an exclusive video of the behind-the-scenes preparations. Join the elves while they mark the last lists, the reindeer as they warm up before the long flight, and Mrs. Claus as she helps Santa get ready for the big day!
Follow the map
Starting Dec. 24 at 2 AM Pacific time, when he heads to the first stop in far-eastern Russia a bit after 10 PM local time, everyone will be able to follow Santa's route around the world and toward their city. A live map will track the magic, showing Santa's location, moment to moment, along with photos of seasonal scenes from hundreds of Local Guides around the world. He and his reindeer will visit more than 400 locations, and the Santa Tracker will display how far they are from your town and how long it will take for them to get there. Santa is coming to town, and you'll know exactly when!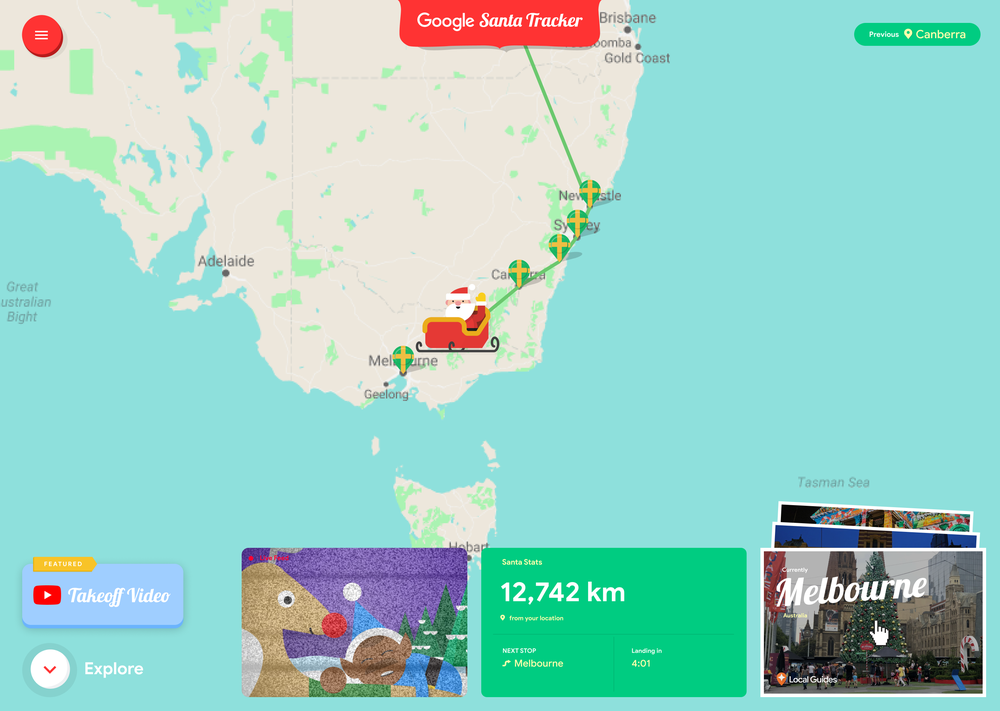 It's time for a bedtime story
Need a little help winding down? Try reading our new bedtime story called "Ollie Under the Sea." This richly illustrated rhyming story follows a narwhal named Ollie on his quest for an underwater celebration. Mary Bear, a group of elves and some helpful sea friends will join your visions of sugar plums.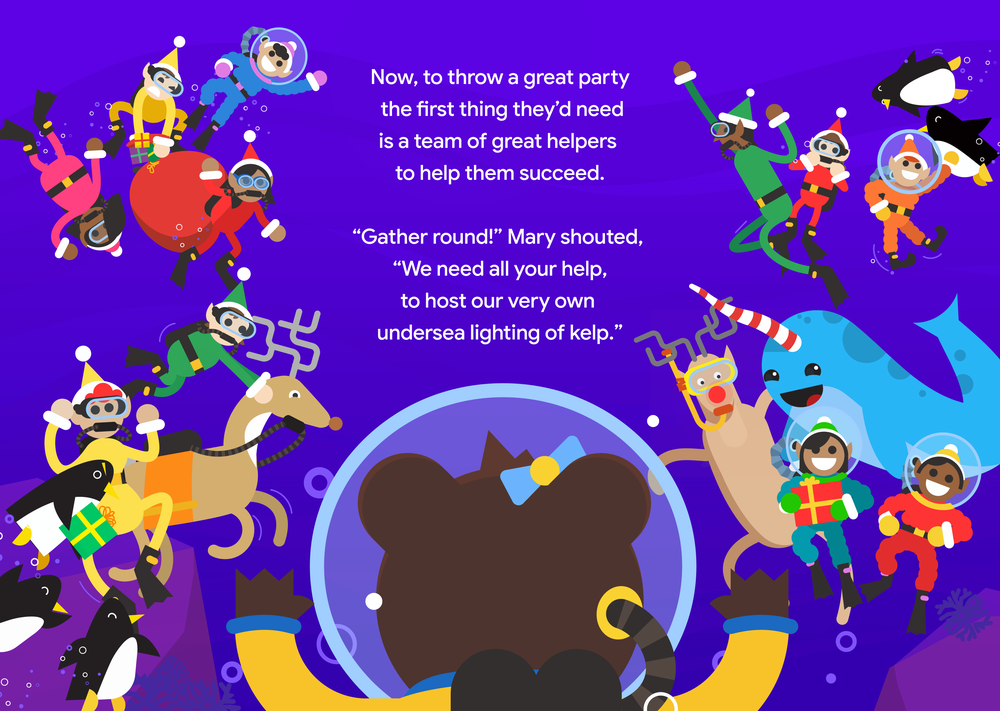 Invite Santa into your home
You can invite Santa into your living room by searching for "Santa Search" on your phone and clicking "View in 3D." He'll magically appear, rocking around your own tree, patio, or wherever you are! You might want to take a screenshot to prove that Santa made a pit stop at your home 😉.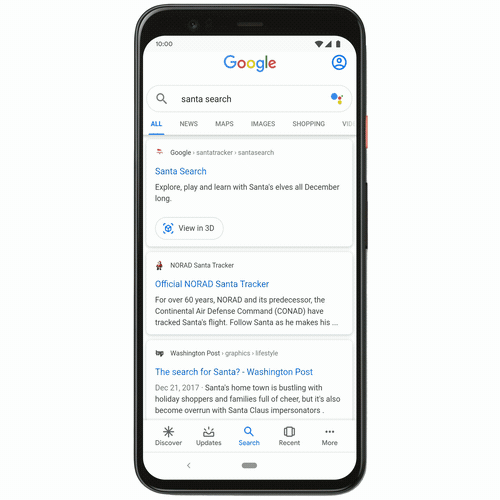 The jolliest place on the internet
While you're visiting our village and tracking Santa, scroll down to check out the clumsy penguins, make some gingerbread friends, and even meet a friendly Yeti. Keep exploring, and you'll find some of the new surprises hidden around the village, including the newest game, Build and Bolt. Bring the family together and take turns with this new two-player game where you race to be the fastest gift wrapper. Ready, set, wrap!
A final note… from your hosts!
Real magic happens when we spend time together. Start the countdown with your family, read a bedtime story together, put a smile on your friend's face with a funny video or sing some carols with your loved ones.
We're excited to spend a little time with you and your family as the holidays approach, and of course we also can't wait to watch Santa as his travels begin!
There are plenty of sites out there. Beyond producing great content, it's vital to make yours stand out. How? One way is to provide an exceptional user experience (UX).
Use tools to put yourself in your user's shoes, and then rectify anything that compromises their ability to move easily through your site. In turn, these optimizations can produce a positive impact on the performance of your ads.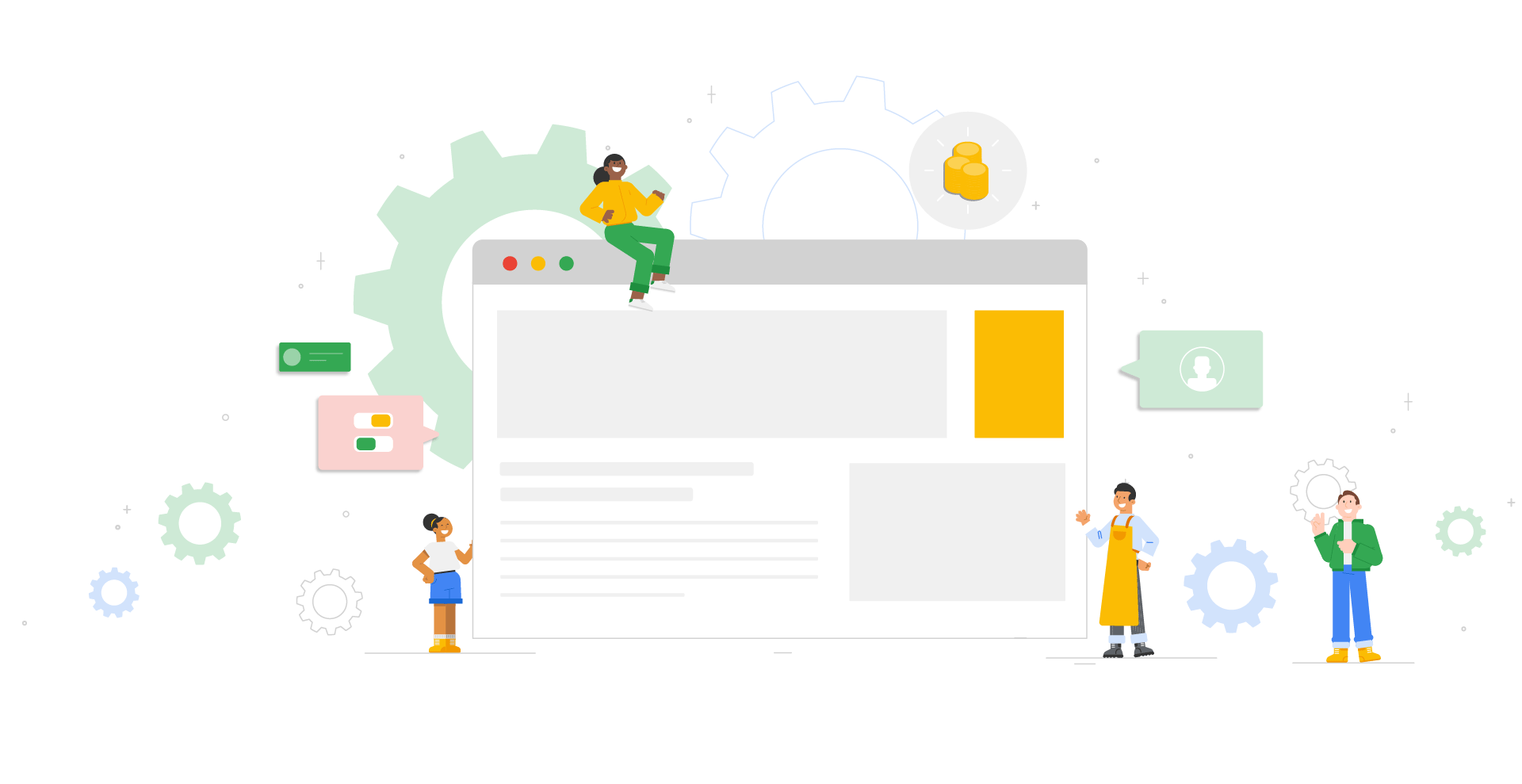 1. Measure your site's performance
As a first step, assess your current website user experience to understand what developments are needed.
Track important metrics about how your site performs in Google Search results using Search Console. Find out how often your site appears, its average position, click-through rates and more.
The Performance report provides visibility into how your search traffic changes over time, where it's coming from and what search queries are most likely to show your site. See which pages have the highest (and lowest) click-through rate from Google Search.
Expose untapped performance opportunities and improve the quality of web pages through Lighthouse. With Lighthouse audits, you can identify and then fix common problems that affect your site's performance, accessibility and user experience.
Run a mobile-friendly test to see how easily a visitor can use your page on a mobile device. Just enter a page URL to find how you score. The majority of users coming to your site are likely to be using a mobile device, so if you haven't made your site mobile-friendly, you should.
With 53 percent of users abandoning mobile sites that take longer than three seconds to load, it pays to be fast. Check your mobile page speed and compare it against industry benchmarks.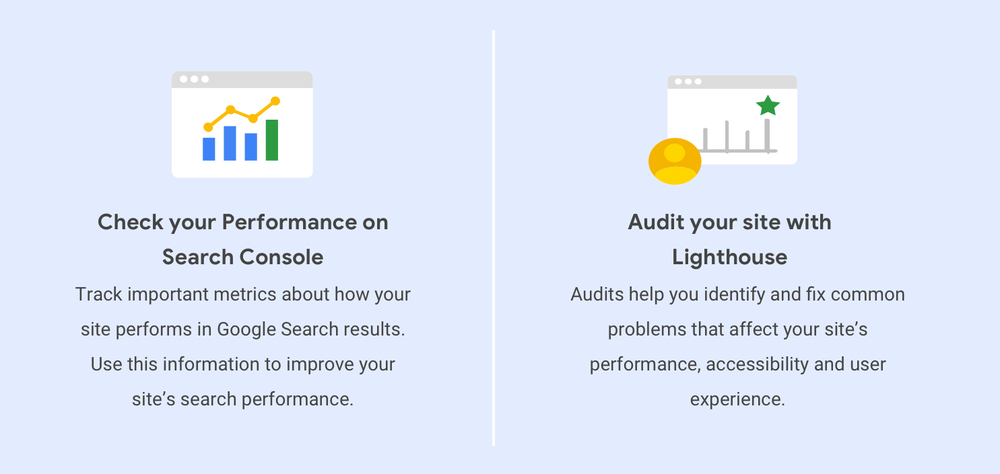 2. Design for optimal user experience
Now that you know how your site measures up, it's time to put your analysis to use with UX strategies for improvements. There are three development frameworks you can consider using to create a smoother, faster experience for your users.
AMP (Accelerated Mobile Pages) is a framework of web components that lets you create a highly performing site that's consistently fast across all devices.

Responsive web design is about using HTML and CSS to automatically resize, shrink or enlarge a website to make it look good on all devices, including desktops, tablets and phones.

Progressive Web Apps provide an installable, app-like experience on desktop and mobile. Built and delivered directly via the web, these web apps are fast and reliable on any browser.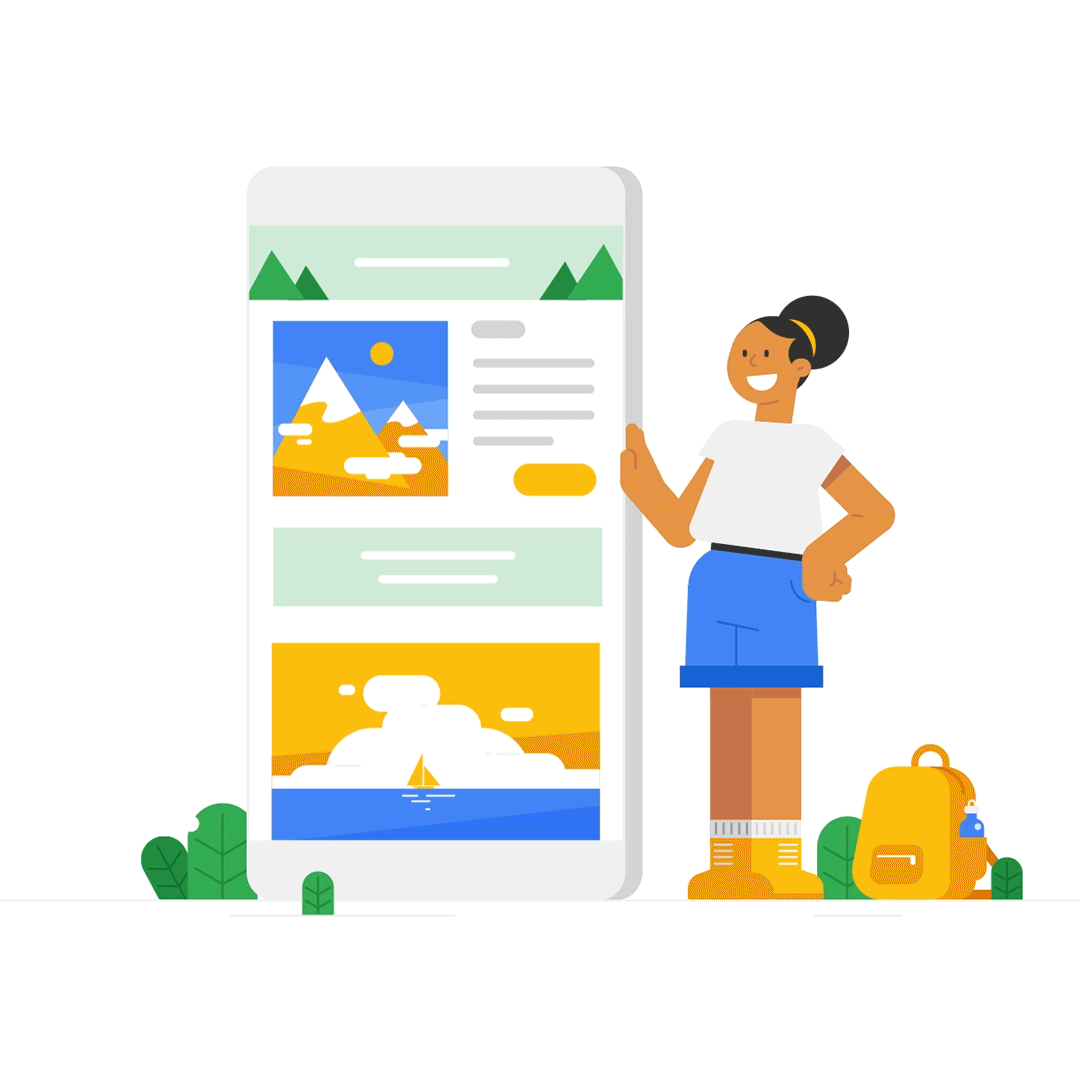 3. Keep mobile front of mind
Since the majority of users now access Google Search with a mobile device, the mobile version of your site's content is what informs indexing and ranking. If your site has separate desktop and mobile content, here's what you need to remember to optimize for mobile-first indexing.
Your mobile site should contain the same content as your desktop site.

Structured data should be present on both versions of your site.

Metadata should be present on both versions of the site.
When it comes to design, remember that users are impatient – so organise your site so that it's easy for people to find and do what they want. Focus your homepage and navigation on connecting users to the content they're looking for. Offer site search to ensure users can find what they need in a hurry. Understand your customer journeys and let users convert on their own terms. Provide a seamless, frictionless conversion experience through easy-to-use forms.
To learn more about what you can do to propel your website user experience from good to great, check out these mobile design best practices.
Infoxchange and Google Australia launched Digital Springboard in 2018 to help address Australia's digital skills shortage by delivering face-to-face training across the country.
The program aims to improve digital skills for all, while supporting transitions to work and career growth through courses that build job readiness skills, as well as topics like social media strategy and an introduction to coding.
This week, the program reached a milestone of 10,000 people trained, helping people across the country get the digital skills they need to apply for a job or reach the next level in their career.
The courses are delivered face-to-face in partnership with more than 150 community groups, libraries and not-for-profits.
Infoxchange CEO David Spriggs said he was proud of the impact that Digital Springboard has had in communities from Perth to Gundagai, the Barossa Valley, Shepparton and beyond to boost digital skills.
"We've heard some amazing stories along the way from the people who've come along to our sessions," Mr Spriggs said.
"A chef who'd been out of work for some time had created a CV with his job network provider but wasn't getting any job offers, after he completed our Digital Springboard Build a CV course and learned about online tools that could strengthen his CV, he got the first position he applied for."
"Our data shows that participants across the board feel more knowledgeable about the topic and more confident putting their new digital skills into practise after attending a Digital Springboard course."
You can find details on Digital Springboard's reach and impact here. To find out more about the program and courses near you, check out Digital Springboard.
Posted by Hannah Frank, Public Policy and Government Relations Manager, Google Australia