Carbon-free technologies like renewable energy help combat climate change, but many of them have not reached their full potential. Consider wind power: over the past decade, wind farms have become an important source of carbon-free electricity as the cost of turbines has plummeted and adoption has surged. However, the variable nature of wind itself makes it an unpredictable energy sourceless useful than one that can reliably deliver power at a set time.In search of a solution to this problem, last year, DeepMind and Google started applying machine learning algorithms to 700 megawatts of wind power capacity in the central United States. These wind farmspart of Googles global fleet of renewable energy projectscollectively generate as much electricity as is needed by a medium-sized city.Using a neural network trained on widely available weather forecasts and historical turbine data, we configured the DeepMind system to predict wind power output 36 hours ahead of actual generation. Based on these predictions, our model recommends how to make optimal hourly delivery commitments to the power grid a full day in advance. This is important, because energy sources that can be scheduled (i.e.Read More…
In 2017, the Department of Health and Human Services (HHS) declared the opioid crisis a public health emergency, with over 130 Americans dying every day from opioid-related drug overdoses. Last month, we saw that search queries for "medication disposal near me" reached an all-time high on Google.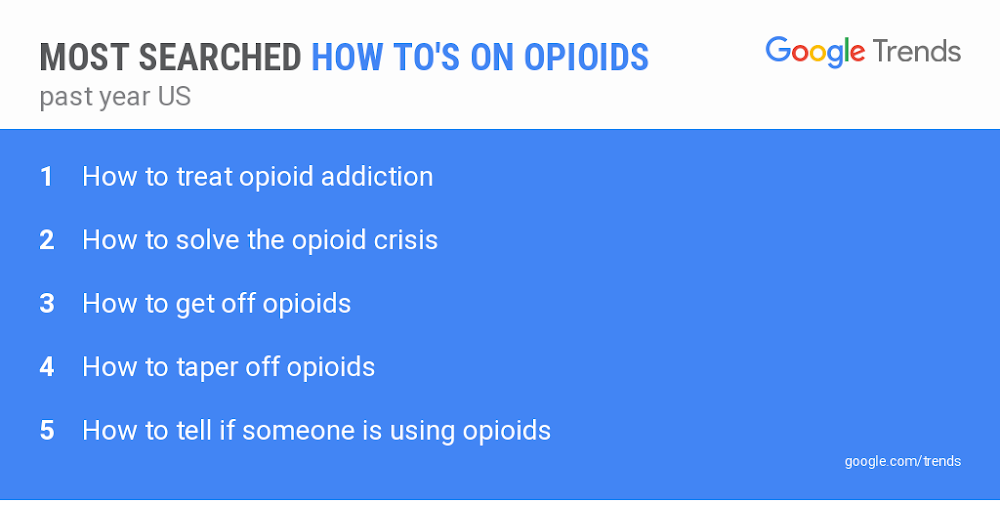 53 percent of prescription drug abuse starts with drugs obtained from family or friends, so we're working alongside government agencies and nonprofit organizations to help people safely remove excess or unused opioids from their medicine cabinets. Last year, we partnered with the U.S. Drug Enforcement Administration (DEA) for National Prescription Take Back Day by developing a Google Maps API locator tool to help people dispose of their prescription drugs at temporary locations twice a year. With the help of this tool, the DEA and its local partners collected a record 1.85 million pounds of unused prescription drugs in 2018.
Today, we're making it easier for Americans to quickly find disposal locations on Google Maps and Search all year round. A search for queries like "drug drop off near me" or "medication disposal near me" will display permanent disposal locations at your local pharmacy, hospital or government building so you can quickly and safely discard your unneeded medication.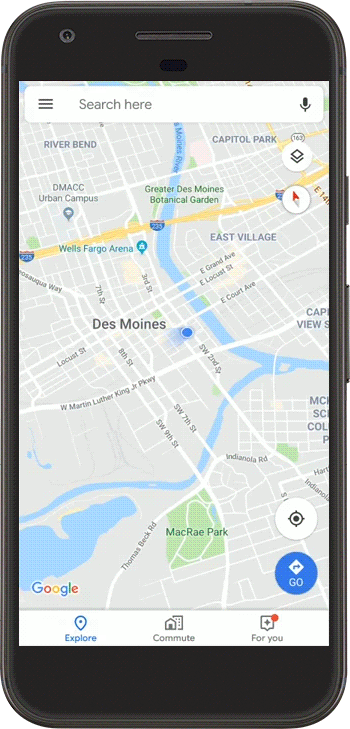 This pilot has been made possible thanks to the hard work of many federal agencies, states and pharmacies. Companies like Walgreens and CVS Health, along with state governments in Alabama, Arizona, Colorado, Iowa, Massachusetts, Michigan and Pennsylvania have been instrumental in this project, contributing data with extensive lists of public and private disposal locations. The DEA is already working with us to provide additional location data to expand the pilot.
For this pilot, we also looked to public health authorities—like HHS—for ideas on how technology can help communities respond to the opioid crisis. In fact, combining disposal location data from different sources was inspired by a winning entry at the HHS's Opioid Code-A-Thon held a year ago.
We'll be working to expand coverage and add more locations in the coming months. To learn more about how your state or business can bring more disposal locations to Google Maps and Search, contact RXdisposal-data@google.com today.
We've written before about how we're working to support smart regulation, and one area of increasing attention is regulation to combat illegal content.
As online platforms have become increasingly popular, there's been a rich debate about the best legal framework for combating illegal content in a way that respects other social values, like free expression, diversity and innovation. Today, various laws provide detailed regulations, including Section 230 of the Communications Decency Act in the United States and European Union's e-Commerce Directive.
Google invests millions of dollars in technology and people to combat illegal content in an effective and fair way. It's a complex task, and–just as in offline contexts—it's not a problem that can be totally solved. Rather, it's a problem that must be managed, and we are constantly refining our practices.
In addressing illegal content, we're also conscious of the importance of protecting legal speech. Context often matters when determining whether content is illegal. Consider a video of military conflict. In one context the footage might be documentary evidence of atrocities in areas where journalists have great difficulty and danger accessing. In another context the footage could be promotional material for an illegal organization. Even a highly trained reviewer could have a hard time telling the difference, and we need to get those decisions right across many different languages and cultures, and across the vast scale of audio, video, text, and images uploaded online. We make it easy to easily submit takedown notices; at the same time, we also create checks and balances against misuse of removal processes. And we look to the work of international agencies and principles from leading groups like the Global Network Initiative.
A smart regulatory framework is essential to enabling an appropriate approach to illegal content. We wanted to share four key principles that inform our practices and that (we would suggest) make for an effective regulatory framework:
Shared Responsibility: Tackling illegal content is a societal challenge—in which companies, governments, civil society, and users all have a role to play. Whether a company is alleging copyright infringement, an individual is claiming defamation, or a government is seeking removal of terrorist content, it's essential to provide clear notice about the specific piece of content to an online platform, and then platforms have a responsibility to take appropriate action on the specific content. In some cases, content may not be clearly illegal, either because the facts are uncertain or because the legal outcome depends on a difficult balancing act; in turn, courts have an essential role to play in fact-finding and reaching legal conclusions on which platforms can rely.

Rule of law and creating legal clarity: It's important to clearly define what platforms can do to fulfill their legal responsibilities, including removal obligations. An online platform that takes other voluntary steps to address illegal content should not be penalized. (This is sometimes called "Good Samaritan" protection.)

Flexibility to accommodate new technology:While laws should accommodate relevant differences between platforms, given the fast-evolving nature of the sector, laws should be written in ways that address the underlying issue rather than focusing on existing technologies or mandating specific technological fixes.

Fairness and transparency: Laws should support companies' ability to publish transparency reports about content removals, and provide people with notice and an ability to appeal removal of content. They should also recognize that fairness is a flexible and context-dependent notion—for example, improperly blocking newsworthy content or political expression could cause more harm than mistakenly blocking other types of content.
With these principles in mind, we support refinement of notice-and-takedown regimes, but we have significant concerns about laws that would mandate proactively monitoring or filtering content, impose overly rigid timelines for content removal, or otherwise impose harsh penalties even on those acting in good faith. These types of laws create a risk that platforms won't take a balanced approach to content removals, but instead take a "better safe than sorry" approach—blocking content at upload or implementing a "take down first, ask questions later (or never)" approach. We regularly receive overly broad removal requests, and analyses of cease-and-desist and takedown letters have found that many seek to remove potentially legitimate or protected speech.
There's ample room for debate and nuance on these topics—we discuss them every day—and we'll continue to seek ongoing collaboration among governments, industry, and civil society on this front. Over time, an ecosystem of tools and institutions—like the Global Internet Forum to Counter Terrorism, and the Internet Watch Foundation, which has taken down child sexual abuse material for more than two decades—has evolved to address the issue. Continuing to develop initiatives like these and other multistakeholder efforts remains critical, and we look forward to progressing those discussions.
One year ago this week, I was in Montgomery County, Tennessee to break ground for a new data center in Clarksville. It was clear from the excitement at the event that the jobs and economic investment meant a great deal to the community. I've seen that same optimism in communities around the country that are helping to power our digital economy. And I'm proud to say that our U.S. footprint is growing rapidly: In the last year, we've hired more than 10,000 people in the U.S. and made over $9 billion in investments. Our expansion across the U.S. has been crucial to finding great new talent, improving the services that people use every day, and investing in our business.
Today we're announcing over $13 billion in investments throughout 2019 in data centers and offices across the U.S., with major expansions in 14 states. These new investments will give us the capacity to hire tens of thousands of employees, and enable the creation of more than 10,000 new construction jobs in Nebraska, Nevada, Ohio, Texas, Oklahoma, South Carolina and Virginia. With this new investment, Google will now have a home in 24 total states, including data centers in 13 communities. 2019 marks the second year in a row we'll be growing faster outside of the Bay Area than in it.
This growth will allow us to invest in the communities where we operate, while we improve the products and services that help billions of people and businesses globally. Our new data center investments, in particular, will enhance our ability to provide the fastest and most reliable services for all our users and customers. As part of our commitment to our 100 percent renewable energy purchasing, we're also making significant renewable energy investments in the U.S. as we grow. Our data centers make a significant economic contribution to local communities, as do the associated $5 billion in energy investments that our energy purchasing supports.
Here's a closer look at the investments we're making state by state: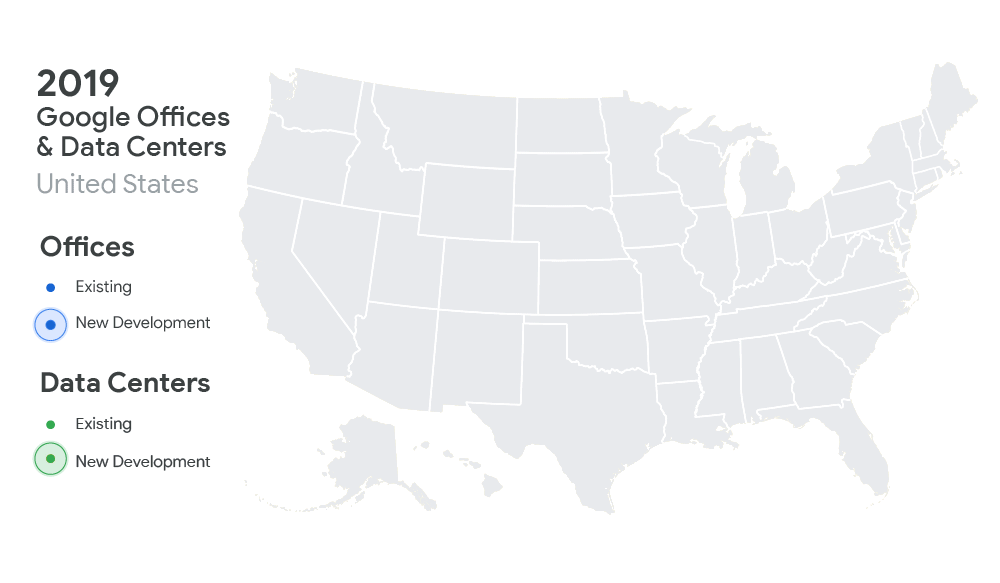 Midwest
We're continuing to expand our presence in Chicago and are developing new data centers in Ohio and Nebraska. The Wisconsin office is set to move into a larger space in the next few months—and last November we opened a Detroit office in Little Caesars Arena, where you can see into the space where the Detroit Red Wings play.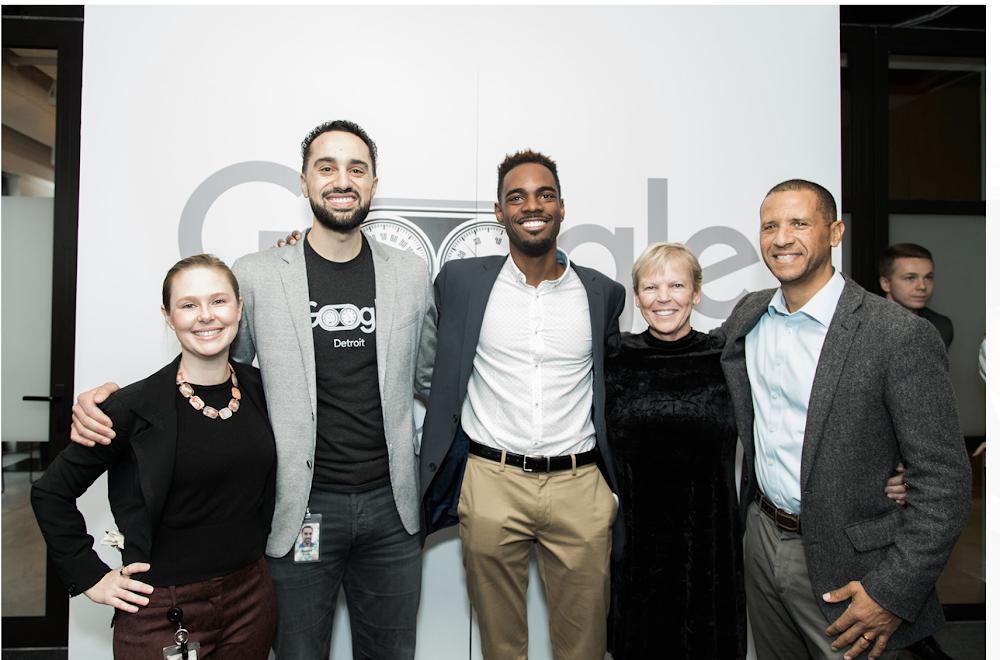 South
With new office and data center development, our workforce in Virginia will double. And with a new office in Georgia, our workforce will double there as well. Data centers in Oklahoma and South Carolina will expand, and we're developing a new office and data center in Texas.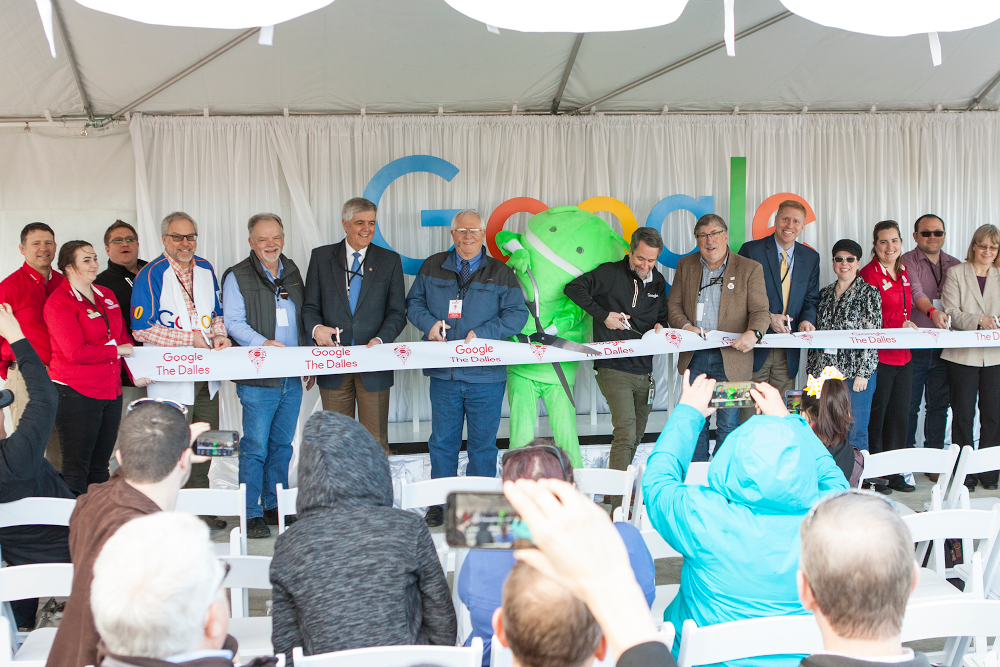 Northeast
Massachusetts has one of our largest sales and engineering communities outside of the Bay Area, and we're building new office space there. In New York, the Google Hudson Square campus—a major product, engineering and business hub—will come to life over the next couple of years.
West
We'll open our first data center in Nevada and will expand our Washington office, a key product and engineering hub. In addition to investments in the Bay Area, our investments in California continue with the redevelopment of the Westside Pavillion, and the Spruce Goose Hangar in the Los Angeles area.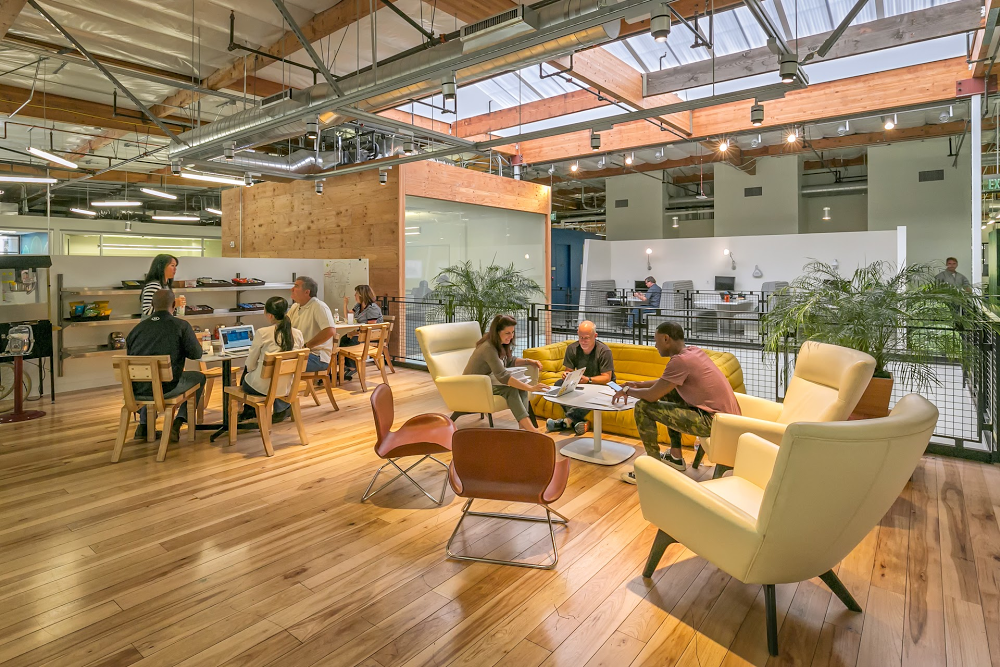 All of this growth is only possible with our local partners. Thank you for welcoming Google into your communities—we look forward to working together to grow our economy and support jobs in the U.S.
At the heart of any business process or workflow is a document—invoices, proposals, contracts, reports, you name it. But the workflows you rely on to run your business often connect to content and services that also live outside of documents.
One way to keep work flowing between documents and the apps you use everyday is to use APIs. Today, we're announcing a new API that can be used to automate tasks and jumpstart documentation: the Google Docs API.
Speedy documents, automatic workflows
When your business requires documents that need consistency and accuracy, an API makes a difference. Take invoicing for example. With the Docs API, you can generate invoices automatically and programmatically add information like order numbers or when a balance is due. You can also use the API to import and export documents from your content management system (CMS)—this way you can collaborate within Docs without leaving your system. Or you can use the API to make programmatic edits to the same document over time (or even multiple documents at once) to reduce documentation errors and eliminate unnecessary review processes. There are tons of opportunities.
We first introduced the Google Docs API at Cloud Next 2018, where we kicked off our developer preview.
Since then, we've collaborated with several partners to automate workflows. Check them out:
Create new documents from templates in Zapier. Zapier is an automation tool that helps you create custom workflows. With its Docs API integration you can create, collaborate, and share dynamic documents using Docs templates with just a few workflow rules. For example, if you're an HR manager, you might use the same template for offer letters. Instead of manually populating information, you can use the Docs API to automatically populate details in an offer letter every time a candidate reaches the right stage. Read more in this post.
Automate workflows like Netflix. Netflix used the Docs API to automate their engineering response processes so they can quickly gather data and automate documentation. Now the team spends less time manually creating documentation, and more time on other strategic work.
Import Google Docs like Final Draft. Final Draft, a premier editing tool for screenplays, is integrating the Docs API to help its customers quickly upload scripts and screenplays from Docs into Final Draft software
Getting started
The Docs API makes it easy to automate common word processing tasks, with the added perk of real-time editing and collaboration that's already built into the Docs app. With this addition, G Suite now has a complete set of APIs for Docs, Sheets, and Slides.
Watch this video to get started:
We want to do everything we can to help our publishers succeed.
Beyond providing the AdSense platform to monetize content, we provide various channels through which we communicate policies, best practices and product changes to our publishers.
What resources are available?
We know that one size doesn't fit all for publishers when it comes to preferred methods of transmitting messages and information. There are several platforms where we provide policy information to publishers.
First, we have our Policy Help Center. Through the Help Center, publishers can view all AdSense program policies, with detailed information on specific areas such as content policies, ad implementation policies, webmaster guidelines and much more.
Next, we have an AdSense Forum, comprised of experienced expert publishers that are passionate about helping other publishers better understand AdSense policies. Here, you can review previous threads or post questions and receive feedback from the community.
We also have our AdSense YouTube channel, a platform we are investing in going forward to address questions for those publishers who prefer videos over text. We plan to update this resource frequently throughout the next year.
For big policy changes, check out our Inside AdSense blog, where we generally post updates first. We have Googlers from across AdSense posting best practices as well as practical advice to avoid common pitfalls, increase revenue and remain policy compliant. We'll also provide updates on industry drivers, which may be useful to publishers.
And more recently we've also tried to amplify our messaging through the AdSense social channels on Facebook & Twitter. Generally, these posts reiterate an update that we've posted on our AdSense blog, with a link to that posting.
Lastly, we often speak at conferences and host publisher events at our offices worldwide. At these events, we discuss our program policies and gather in-person feedback from you. This feedback is valuable and has resulted in modifications to products, policies, and policy enforcement to better serve your needs.
Why is it important for Google to provide all of these resources?
We know that your first priority is creating content and growing your business. We want to do our part to help you succeed, so we've provided multiple platforms to help you understand our policies in the way that suits you best. To put it simply: we want to provide the right resource information, at the right time, in as many places as possible to help you understand our policies.
We also want to make sure you have a number of paths to provide feedback. Our publisher events at Google offices are a great opportunity for this. Additionally, my entire role representing Publisher Policy Communications places a face to our policies, and a feedback loop from you, to the policy team.
Communication involves listening

Communication is a two way street. We've listened to your feedback, and created several ways, on several platforms for publishers to better understand our policies. We will always try to interact with you in ways that work best for you. When you succeed, we succeed. Please let us know how we can better communicate our policies to you.
Editor's note: Tomorrow is Safer Internet Day, and we'll be talking about it all week with a collection of posts from teams across Google.
A year and a half ago, we launched the Be Internet Awesome program to help kids be safe, confident explorers of the online world. We built a little something for everyone: a curriculum for teachers, resources for parents and an adventure-packed online game for kids. And we couldn't have done it without help from partners like the Family Online Safety Institute (FOSI), National PTA, the David's Legacy Foundation, and Disney's Wreck It Ralph film "Ralph Breaks the Internet."

This year's Safer Internet Day theme is "Together for a better internet." That's something we can really get behind—joining forces with other organizations to help make the internet safer for everyone, especially younger kids. We're kicking off a week of announcements, starting in San Antonio with the Be Internet Awesome adventure, a bilingual interactive space designed with hands-on activities to help kids and families learn the fundamental lessons of online safety and citizenship.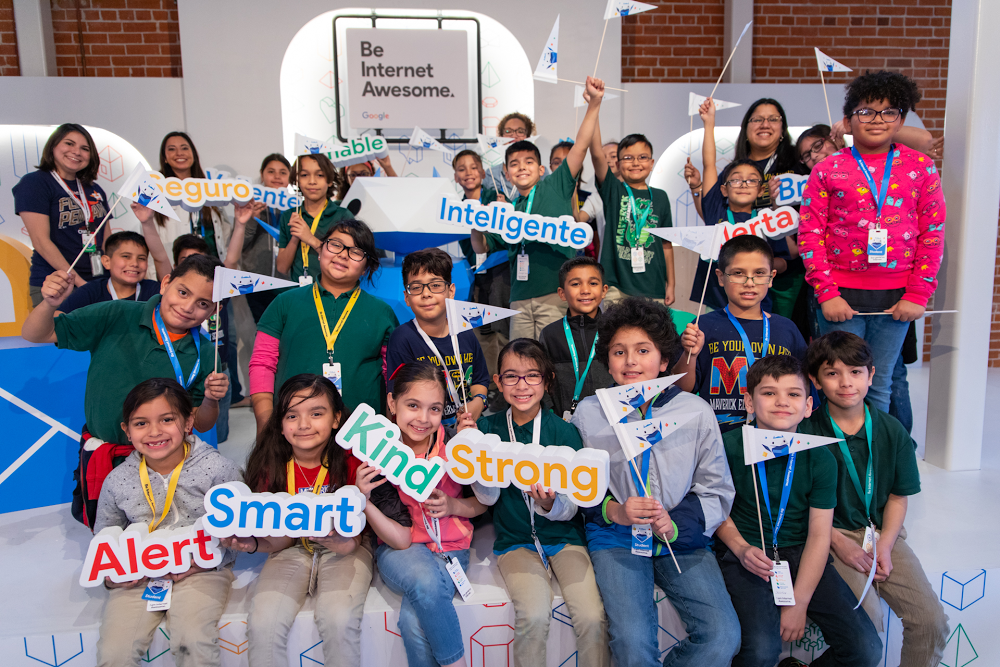 There are also a bunch of new updates to the Be Internet Awesome program, including:
A partnership with the David's Legacy Foundation to create a program empowering teens to mentor and teach younger kids that it's cool to be kind online (launching later this year)
The launch of Be Internet Awesome in France tomorrow as "Les Super-héros du Net"
Teaming up with the Walt Disney Animation Studios film Ralph Breaks the Internet (recently nominated for an Academy Award©) to encourage more families to practice online safety and digital citizenship with Wreck It Ralph
A Be Internet Awesome guide and set of tips designed specifically to help parents foster a conversation with their kids about using the Internet safely
Working with the community to help kids stay safe online
Today in San Antonio, we hosted a panel with our partners to discuss our latest research, conducted with 2,000 parents and 1,000 teachers in the US, to better understand how they view internet safety for kids. We're sharing the results today—here are a few themes from the panel that stood out:
Cyberbullying is a rising concern in schools
This year, cyberbullying rose to the number one online safety concern for teachers (up from number four last year). Maurine Molak, co-founder of the David's Legacy foundation, said the first step to reducing cyberbullying is to help kids understand that if you wouldn't say something in real life, you shouldn't say it online. Through her work raising awareness and support for anti-cyberbullying legislation, she has observed that teens are often the most influential teachers, because younger kids look up to them.
The online safety conversation needs to start early
Our survey found that parents, on average, said that online safety education should begin when their kids are eight years old. Erin McCowey, who joined us from FOSI, noted that it might be a good idea to start even earlier. While the average kid gets a mobile phone by age eight, the average age for getting a tablet is age six. That's why FOSI recommends that parents talk to their kids about online safety early and often in their seven steps to good digital parenting.
Teachers and parents need to work together
83 percent of teachers feel they need more resources to teach online safety in the classroom. And in addition to feeling ill-equipped, 87 percent wish parents were more involved when it comes to keeping their kids safe online. Leslie Boggs, President-Elect of National PTA, discussed their PTA Connected program, which encourages conversations about online safety between parents and teachers. As part of that effort, Google and the National PTA partnered earlier this year to facilitate 200 online safety workshops nationwide, providing grants and kits to help parents teach one another about these topics.
A week of online safety goodness
Check in tomorrow as we'll be sharing a set of security tips that can help you and your whole family stay safer online, and stay tuned throughout the week as we'll be sharing more about what we do to keep everyone safe online.