Between 30 April and 03 May, hundreds of researchers and engineers will gather in Vancouver, Canada, for the Sixth International Conference on Learning RepresentationsHere you can read details of all DeepMinds accepted papers and find out where you can see the accompanying poster sessions and talks. Maximum a posteriori policy optimisationAuthors: Abbas Abdolmaleki, Jost Tobias Springenberg, Nicolas Heess, Yuval Tassa, Remi MunosWe introduce a new algorithm for reinforcement learning called Maximum a posteriori Policy Optimisation (MPO) based on coordinate ascent on a relative entropy objective. We show that several existing methods can directly be related to our derivation. We develop two off-policy algorithms and demonstrate that they are competitive with the state-of-the-art in deep reinforcement learning.Read More…
Email is a necessity for most of us. We use it to stay in touch with colleagues and friends, keep up with the latest news, manage to-dos at home or at work—we just can't live without it. Today we announced major improvements to Gmail on the web to help people be more productive at work. Here's a quick look at how the new Gmail can help you accomplish more from your inbox.
Do more without leaving your inbox
Gmail's new look helps you get more done. Click on attachments—like photos—without opening or scrolling through large conversations, use the new snooze button to put off emails that you just can't get to right now or easily access other apps you use often, like Google Calendar, Tasks (now available on Android and iOS) and Keep.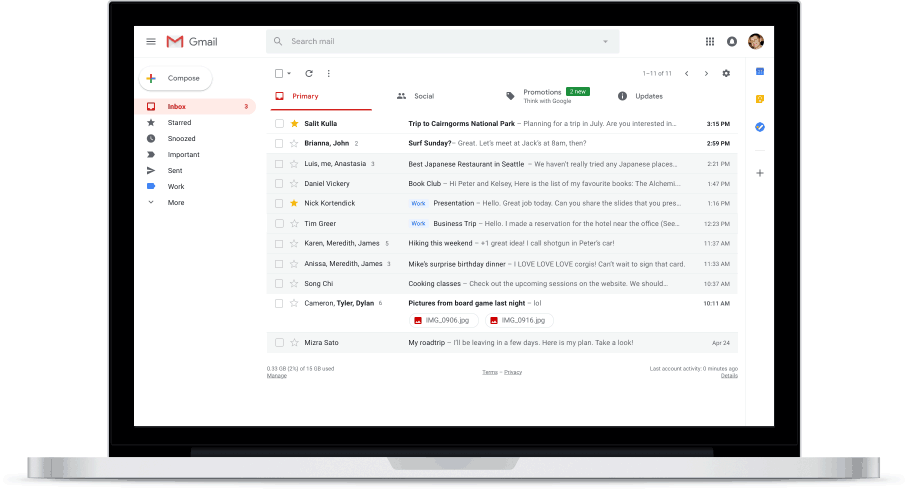 Gmail will also "nudge" you to follow up and respond to messages with quick reminders that appear next to your email messages to help make sure nothing slips through the cracks.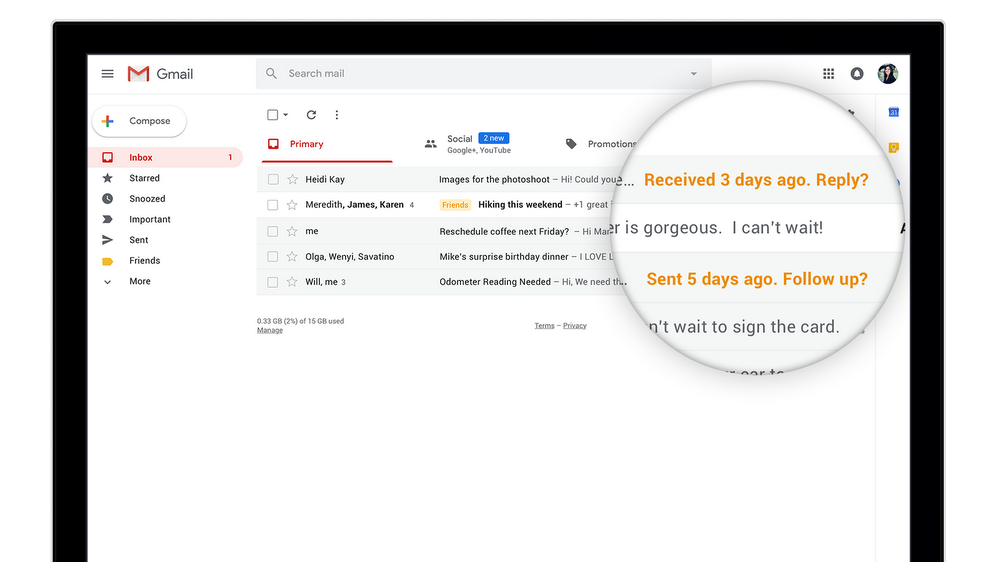 We're also adding Smart Reply to Gmail on the web to help you reply to messages faster.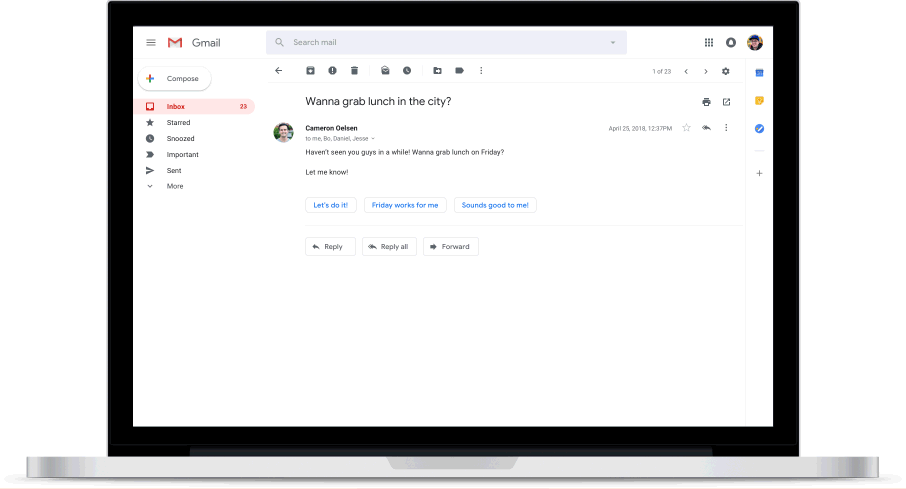 New features on mobile, like high-priority notifications, can notify you of important messages to help you stay focused without interruption. Plus, Gmail will start suggesting when to unsubscribe from newsletters or offers you no longer care about.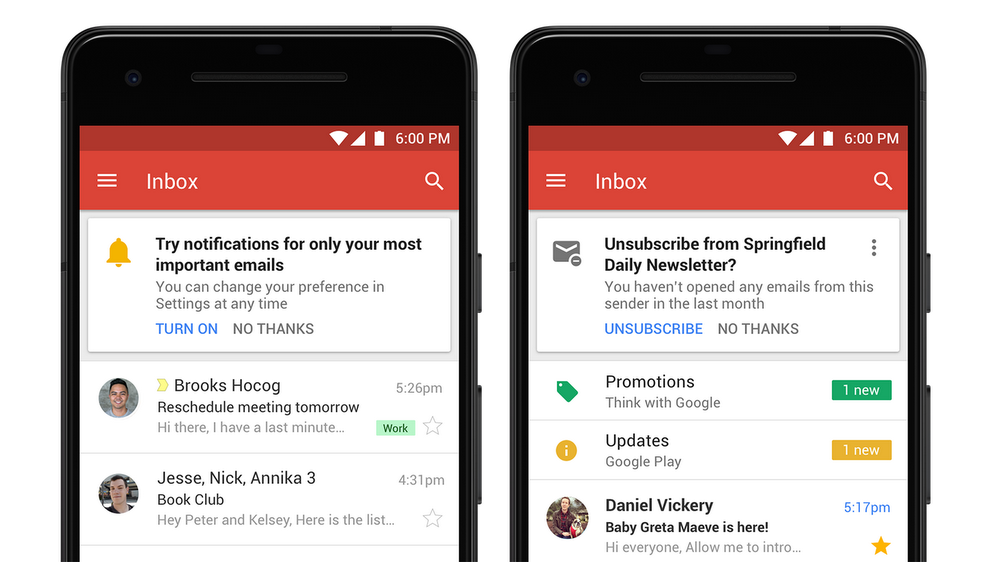 And you might notice new warnings in Gmail that alert you when potentially risky email comes through.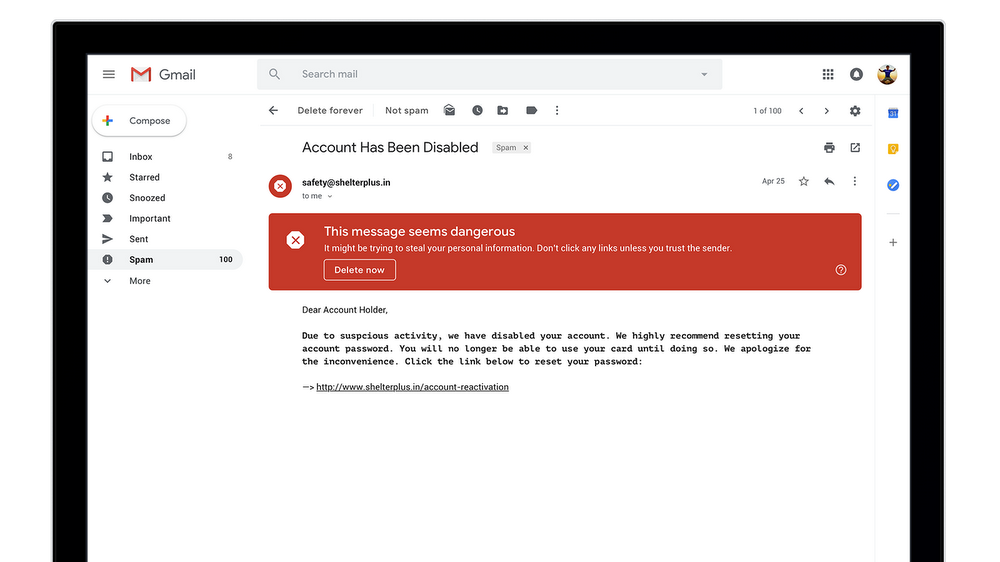 Finally, a new confidential mode allows you to remove the option to forward, copy, download or print messages—useful for when you have to send sensitive information via email like a tax return or your social security number. You can also make a message expire after a set period of time to help you stay in control of your information.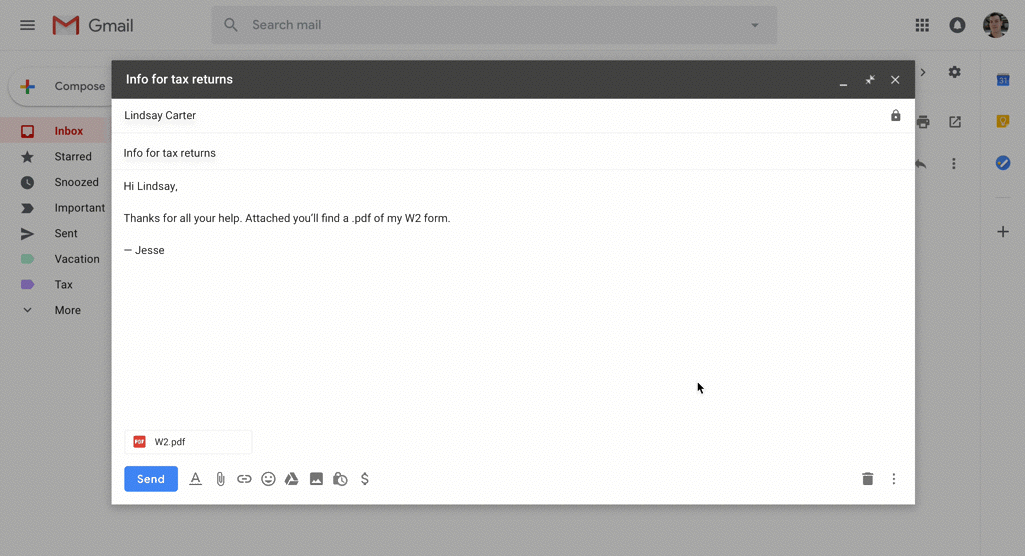 Get started
You can start using these new updates in Gmail on the web today, with some features appearing within the coming weeks. Go to Settings (the cog wheel in the top right corner of your inbox) and select "Try the new Gmail." If you want to switch back later down the road, you can go to the same place and select "Go back to classic Gmail." This handy product guide can help you get started.
If you're interested in learning more about how you can use Gmail in the workplace, check out our G Suite post which has more detail on all of the ways Gmail can help you stay productive.
Over 10 years ago, we built our first data center in Oregon. And a few weeks ago we broke ground on what will be our eighth data center in the U.S., helping to run Google's products across the country and the world.
These data centers contribute significantly to job growth and income gains at both the national and state level. Even more important are the economic contributions that Google data centers make to the communities they call home.
Today, we're releasing a report, prepared by Oxford Economics, which details the economic impact our data centers have had in their local communities. The report concludes that, as of 2016, Google data centers generated $1.3 billion in economic activity across the US, and have generated over 11,000 jobs.
Those 11,000 jobs cause a ripple effect—people with greater financial flexibility can support the local economy, which has led to the creation of an additional 4,700 jobs. In fact, when direct, indirect and induced jobs are considered, the report finds that each Google data center job supports an additional 4.9 jobs throughout the U.S.
Last year, we became the first company of our size to purchase enough energy from sources like wind and solar to exceed the amount of electricity used by our operations around the world, including offices and data centers. This commitment to renewables has economic and environmental benefits. Oxford's report shows that eight U.S. renewable energy generation projects—most of which are located in states where we have data centers—resulted in over $2 billion of investments, created 2,800 direct jobs, and supported 520 ongoing jobs in maintenance and operations.
What we're most proud of, however, are the ways we invest in our local communities through workforce development and education. Our community grants program supports important local initiatives, like installing Wi-Fi on school buses for kids with long commutes, and partnering with school districts to develop student STEM programs.
We are proud of our economic impact in communities across the country, but here at Google, it's about more than just the numbers. It's about the people we hire and the communities where we live and work.
If you're a pet owner, you probably live every day like it's National Pet Day. But to honor the holiday today, we've put together a few pet-tential ways you can celebrate them with Google Photos:
1. A photo book of your pet, created just for you
Starting this week, if you take a lot of photos of your cat or dog, the Google Photos app may automatically create a photo book starring your pet. We use machine learning to save you time by selecting the best photos of your four-legged friend and laying them out in a photo book. For those of you in the U.S. or Canada, all you have to do is decide if you want a hardcover or softcover book, and then order.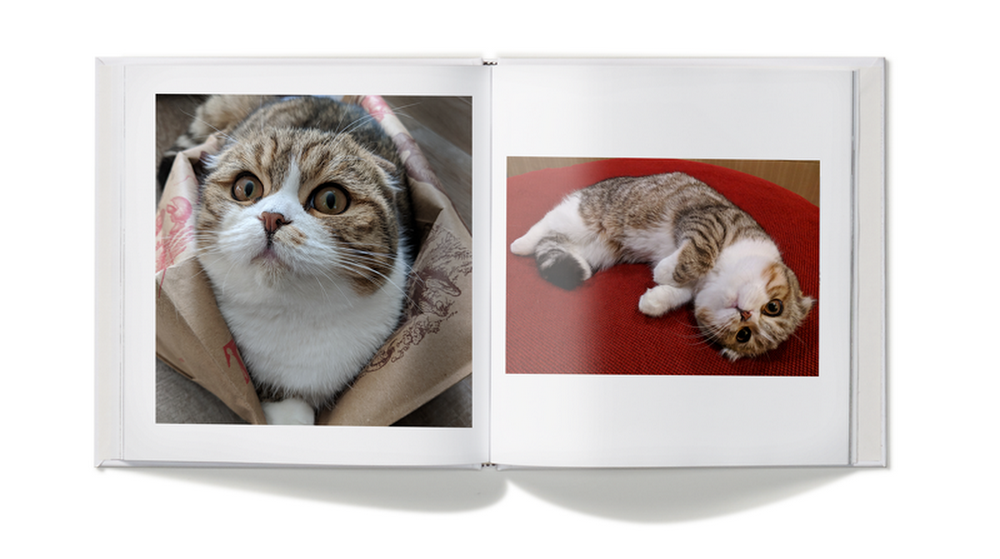 2. Identify popular breeds with Google Lens
Recently, we made Google Lens preview available in Google Photos across Android and iOS. Now, when you take a photo of an animal—like a cute cat or dog—you can use Lens to help identify its breed and get more information.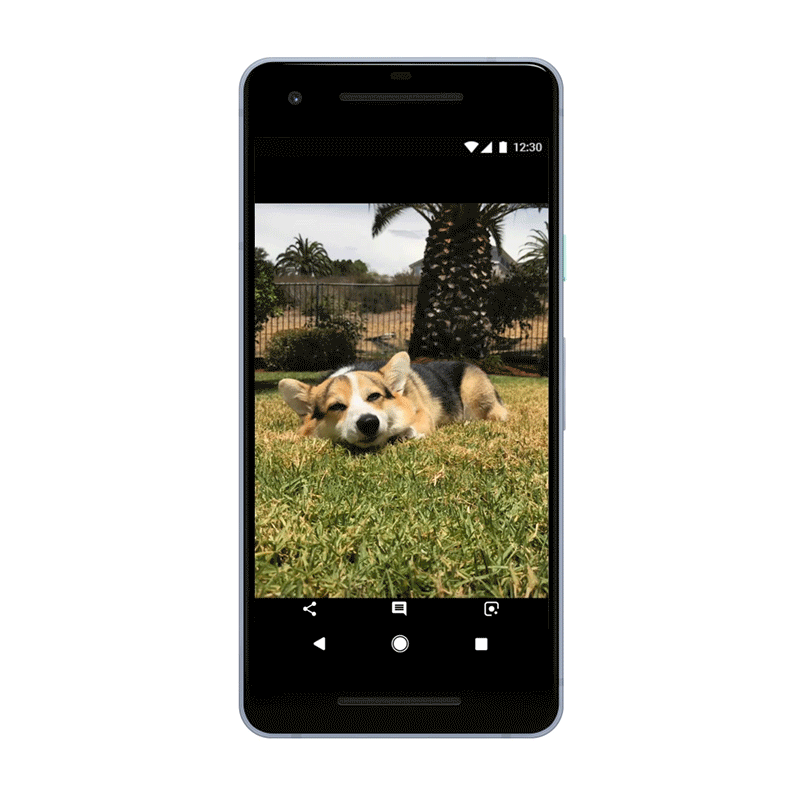 3. Create a movie dedicated to your furry friend
Your pet may have a leading role in your life, but it's time to show the rest of the world that your animal is a star. If your pet is ready for a big screen debut, open your Google Photos app, go to the Assistant tab, and click on the movie button. Then, if available, choose the Meow Movie or Doggie Movie option, select your pet, and we'll compile the best photos of your four-legged pal into a movie, set to pet-themed music.
4. Label your pet to easily find photos of them
In most countries, you can label your cats and dogs so that you can search to quickly find photos of them. Or even better, you can find photos of that one time you dressed them up for Halloween by searching "Oliver hat" or pictures of them in the park by searching "Oliver park."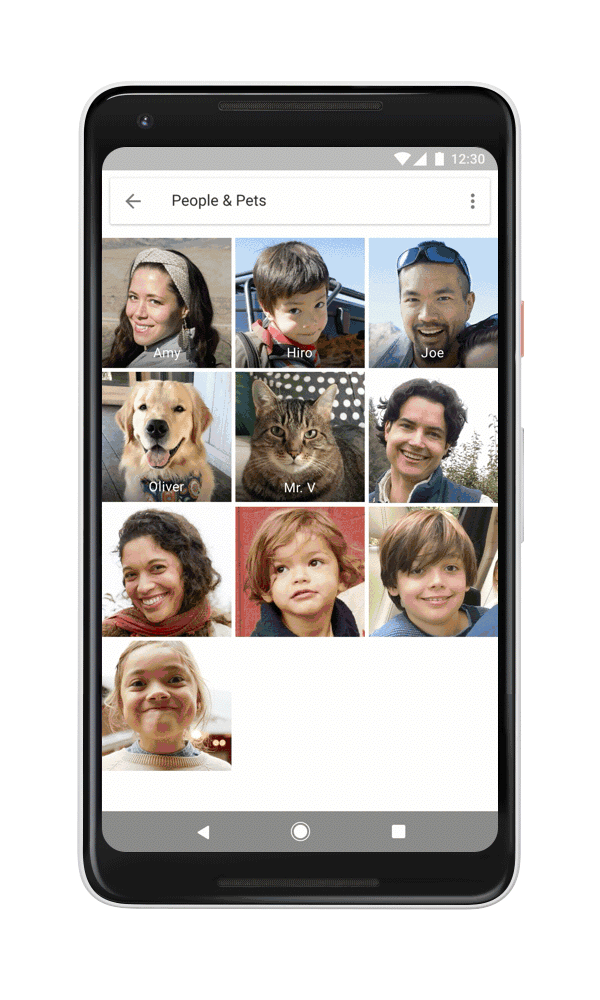 5. Search by breed and emoji
Speaking of fast ways to find photos of your pets, you can also search by breed, species, or emoji—try
or
. Quickly search "pitbull" to rediscover photos of your sister's cute canine, or "gecko" to pull up pics of that cool lizard your friend has.
Howevfur you pampurr your pets, we hope you can try out a few of the features that Google Photos has to off-fur.
Since their debut nearly 40 years ago, spreadsheets have remained core to how businesses get work done. From analyzing quarterly revenue to updating product inventory, spreadsheets are critical to helping companies gather and share data to inform quicker decisions—but what else can you do if they're in the cloud?
We've been focused on making Google Sheets better for businesses for this reason, which is why we've recently added new features to help teams analyze and visualize their data. Today we're adding more updates to Sheets, including a way to record macros in the cloud to automate repetitive tasks, as well as more formatting options. Check it out.
Record macros in Sheets, skip mundane tasks
We want to help companies automate work by approaching macros differently: cloud-first. Starting today, you can record macros in Sheets. Let's say you need to format new data imports or build the same chart across multiple sheets of quarterly data. Repeating the same steps manually can take hours, but the Sheets macro recorder lets you record those actions and play them back on command without having to write any code.
Here's how it works: when you record a macro, Sheets converts the macro actions into an Apps Script automatically. If you want to update your macro, you can simply edit the script directly instead of having to re-record the macro from scratch. You can also write your own Apps Script functions and import them as new macros.
The best part about Sheets Macros is that they're built for use in cloud-based files, which means that teams can run macros at the same time that others are working in the sheet without interrupting them. For example, a finance team having a budget meeting can run macros while reviewing the same spreadsheet. It also means that coworkers or clients won't be forced to download sensitive files to use your macros. Since your Sheets files are in the cloud, you can keep tighter controls over who can view and re-share your data.
More updates to Sheets
You may have noticed that over the past few years we've put effort toward building Sheets features to help businesses view, analyze and share their data more easily. This includes adding new chart types (waterfall and 3D), ways to embed charts while keeping data up-to-date in Docs and Slides (even if you move files), more functions (up to 400+ now), additional formatting, print options and more.
Today, we're adding even routinely requested features, including the ability to add printing page breaks, custom paper sizes, more options for row and column grouping and a way to add checkboxes in cells. We've also made it possible for you to group your data by time frame (like week, month or year) when you create pivot tables.
Speaking of pivot tables, our engineering team has also been hard at work bringing the power of Google's artificial intelligence into Sheets to help teams know what their data knows. You might have noticed that we recently added intelligent pivot tables in Sheets to help analyze and find new insights, no matter how skilled you are at data analytics.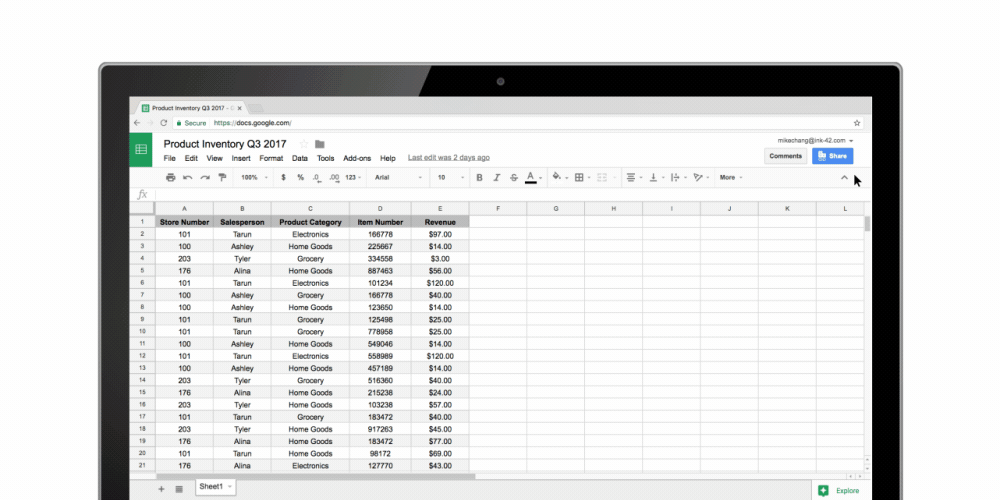 Companies like Whirlpool Corporation and Sanmina are using Sheets for more collaborative data analysis. These latest additions are designed to make Sheets a go-to resource for businesses and will roll out over the next few weeks. Learn more about Sheets on our Learning Center.
One of the greatest pleasures of coming to work every day at DeepMind is the chance to collaborate with brilliant researchers and engineers from so many different fields and perspectives – with machine learning experts alongside neuroscientists, physicists, mathematicians, roboticists, ethicists and more.This level of interdisciplinary collaboration is both challenging and unusual, and it requires a unique type of organisation. We built DeepMind to combine the rigour and long-term thinking of the worlds best scientific institutions, along with the focus, pace and energy common to the best tech startups. I believe this is essential if were to fulfil the scientific and social promise of AI, and Im proud of all thatweve achieved so far. But theres still a very long way to go!So Im really pleased to welcome Lila Ibrahim to DeepMind as our first ever Chief Operating Officer, partnering with me to design, build and manage our next phase of growth. Having started out as a microprocessor designer and assembler programmer at Intel, Lila went on to lead the companys emerging markets product group, as well as working with Intel CEO Craig Barrett and then the legendary investor John Doerr at Kleiner Perkins as Chief of Staff.Read More…
In our global search to find renewable energy for our data centers, we've long wanted to work with the state of Georgia. Solar is abundant and cost-competitive in the region, but until now the market rules did not allow companies like ours to purchase renewable energy. We're pleased to announce that in partnership with Walmart, Target, Johnson & Johnson, and Google, the state of Georgia has approved a new program that would allow companies to buy renewable energy directly through the state's largest utility, Georgia Power.
Through this program, Google will procure 78.8 megawatts (MW) of solar energy for our Douglas County, Georgia data center, as part of our effort to utilize renewable energy in every market where we operate. As we build and expand data centers and offices to meet growing demand for Google's products, we constantly add renewable energy to our portfolio to match 100 percent of our energy use.
This program, the first of its kind in Georgia, greenlights the construction of two solar energy projects with a total capacity of 177MW. When these new projects become operational in 2019 and 2020, participating customers like us will be able to substitute a portion of our electricity bill with a fixed price matched to the production of renewable energy generated. This shows that providing a cost-competitive, fixed-price clean power option is not only good for the environment, it also makes business sense.
What we've accomplished in partnership with Georgia Power and other major corporate energy buyers in the region is a testament to the important role that businesses can play in unlocking access to renewable energy. We collaborated for over two years to help build this program, which passes the costs directly to corporate buyers, while adding more low-cost, renewable electricity to the state's energy mix. This arrangement, and others like it throughout the country, help companies and utilities meet their renewable energy goals.
The program is a promising step forward as utilities begin to meet the growing demand for renewables by businesses everywhere. Today's announcement shows how companies and utilities can work together to make that option available to all customers, regardless of varying energy needs.
And this is happening in other parts of the U.S. as well. We just broke ground on our new data center in Alabama and through a partnership with the Tennessee Valley Authority, we'll be able to scout new wind and solar projects locally and work with TVA to bring new renewable energy onto their electrical grid.
As we expand our data centers across the U.S. and globally, we will keep working with new partners to help make this a cost-effective choice available to everyone.
Editor's Note:Google is starting construction on our newest data center in Jackson County, Alabama. The new site marks a $600 million investment for our company and will bring as many as 100 high-skilled jobs to the community. This is part of Google's expansion to 14 new data centers and offices across the country. Today, our head of global technology partnerships for Google Cloud, Dr. Nan Boden, spoke at the groundbreaking in Widows Creek, the site of a former coal-fired power plant where her father once worked.
Data centers are the engine of the internet. They help make technological advances around the world not only possible, but accessible to billions of people who use cloud services. Every day, more people are coming online, asking and answering big questions, and identifying new opportunities and solutions to bring about change.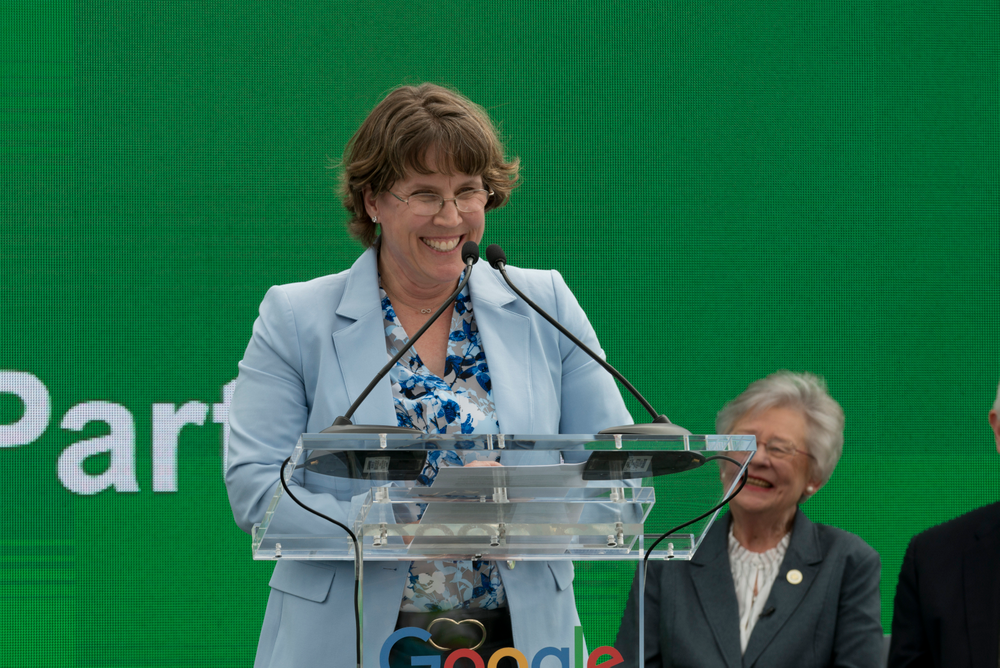 I help build global partnerships for Google Cloud, and we depend on our data centers to ensure that large companies, small businesses, students, educators, nonprofit organizations and individuals can access key services and tools in a fast and reliable way.
Today, I participated in the groundbreaking of our newest data center in my home state of Alabama. I was born in Sheffield, raised in Athens and am a proud University of Alabama alum. My family roots run deep with the Tennessee Valley Authority (TVA)—both my late father and grandfather were career TVA electricians. My father's job at TVA gave me and my family a better life, and his personal focus on education created an even greater path to opportunity for me.
That's why I'm so proud that Google can help bring that same opportunity—for education and employment opportunities—to families here in Jackson County. As part of our commitment to this community, Google will donate $100,000 to the Jackson County School District for the growth and development of the region's student STEM programs.
With the new data center, Jackson County will help deliver information to people all over the world. From an infrastructure perspective, this means focusing on how to best route data securely, reliably, and quickly. And that takes energy.
Since the 1960s, Widows Creek has generated energy for this region, and now we will use the plant's many electric transmission lines to power our new data center. Thanks to our partnership with the TVA, we'll be able to scout new wind and solar projects locally and work with TVA to bring new renewable energy onto their electrical grid. Ultimately, this helps Google to continue to purchase 100% renewable energy for our growing operations around the world.
Being a part of this groundbreaking, not far from where my father worked at a coal plant years ago, humbles and inspires me. My work at Google brought me home to Alabama, and now Google can call Alabama home, too.
Just like that, another month down.
In March, we announced a slew of security updates to Google Cloud, including enhancements to G Suite. In a nutshell, G Suite companies can now use advanced configurations to help fend off phishing scams. These updates will continue to help businesses block (ph)ishy activity, like if an untrusted sender tries to share encrypted attachments or if someone tries to trick you by sending information from a domain that looks like yours.
With these protections in place, more than 99.9 percent of Business Email Compromise (BEC) scenarios—when someone impersonates an executive to get sensitive information—are automatically moved to spam or flagged to users as shifty. Sorry, Charlie.
We also automatically enabled basic device management for mobile devices that access G Suite. Now IT admins can better enforce pass codes, erase confidential data for Android and iOS devices with selective account wipe and more without users needing to install profiles. Lastly, we added IRM controls to Team Drives to prevent folks from printing, downloading or copying files they shouldn't have access to.
Many of these protections are default-on, which means you don't have to do a thing. Read up here, or get started using the security center for G Suite.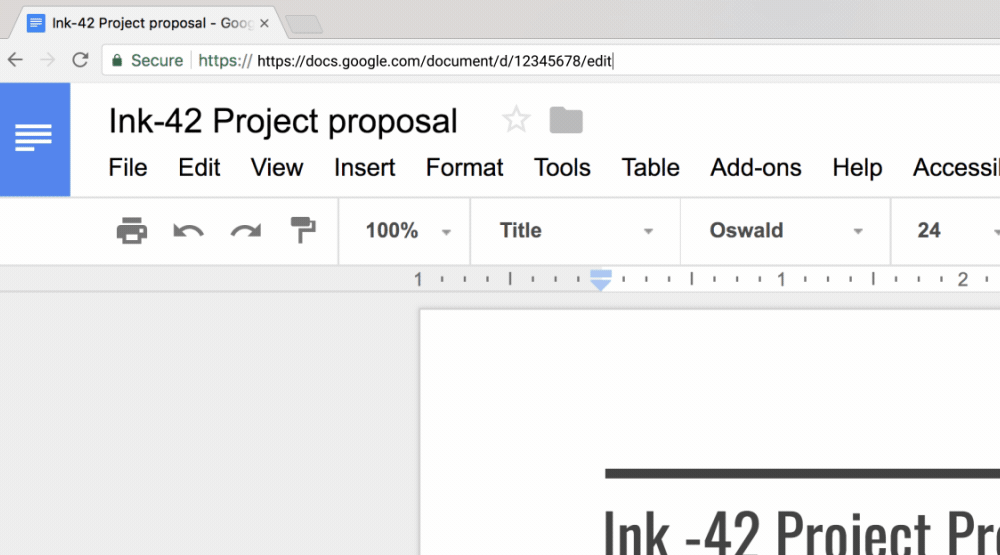 This one is so simple. Did you know that you can make a copy of a Google Doc or Sheet with a quick URL change? In the URL of your document, delete the information before the final backslash. In this case, change "edit" to "copy." Done!
And since security should always be top of mind, brush up on how to manage your share settings in Docs or other apps on our Help Center.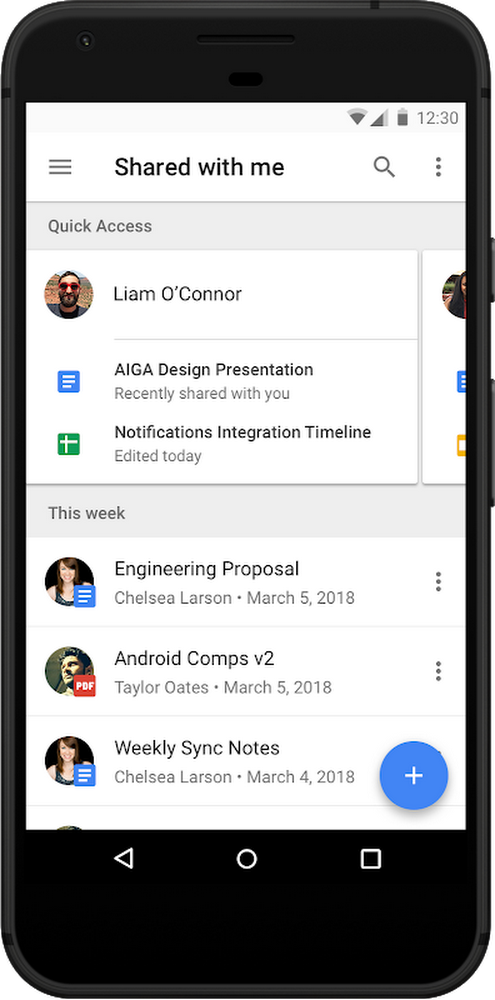 →Most of us track down files in Google Drive by searching for the name of the person who shared a file with us. Because of this, Drive is going to start intelligently organizing the "Shared with Me" section by listing names and the files that people have shared with you, so you can track down files faster.
→ Two-step verification is an easy and effective way to protect G Suite users, which is why we recommend that businesses use security keys. Moving forward, all G Suite admins—not just G Suite Business admins—will be able to manage the deployment of security keys and view usage reports. Learn more.
→ Now your jams in Jamboard will automatically save to Drive.