As a go-to presentation tool, Google Slides already comes equipped with real-time collaboration features. Starting today, we're introducing new robust features to help you and your team win that pitch, nail that client presentation and get buy-in for new ideas—all while saving valuable time.
Here's a look at the latest updates in Slides, including new G Suite integrations, partner applications and customization options.
Capture ideas in Keep, bring them to life in Slides
We built Keep to help you easily capture and organize ideas. Today, you can use a new drag-and-drop integration between Keep and Slides to transform these ideas into action. Simply select notes from Keep (or sort with #labels) and drag them into Slides. When you add a note from Keep into your presentation, Slides will automatically add a title and description for you.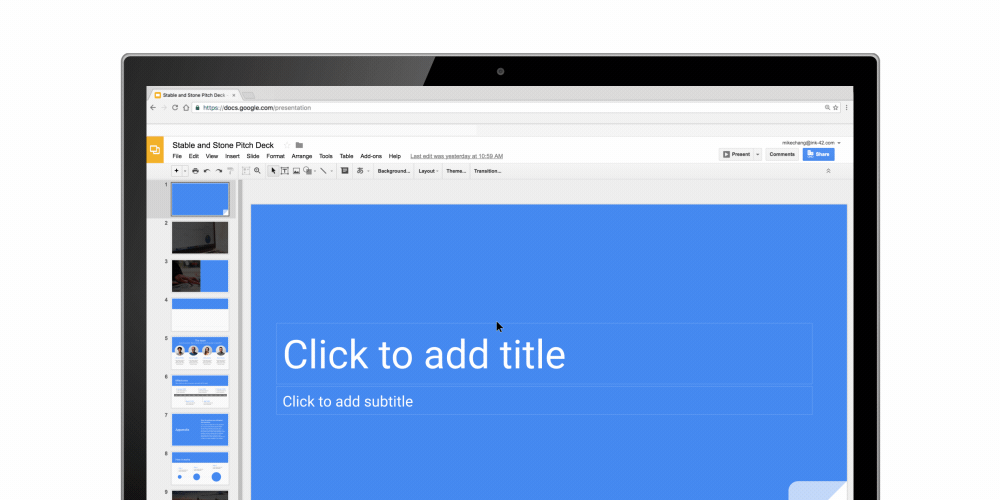 The Office of Information Technology for the State of Colorado uses the new Keep and Slides integration to keep track of population numbers at different agencies and report them to their team. Instead of digging through emails and Docs to track down figures, the team saves statistics to Keep and drags them into Slides to present.
If you're new to Keep, download here.
Skip manual updates, use linked Slides
Whether you're trying to prepare several client presentations or make sure data is up to date, repeatedly copying slides from one presentation to another is a major time-sink. Now, you can link and sync slides from multiple presentations with a click. This way, you can maintain a single source of truth and easily update linked slides to match the source, like for quarterly business reviews or company presentations.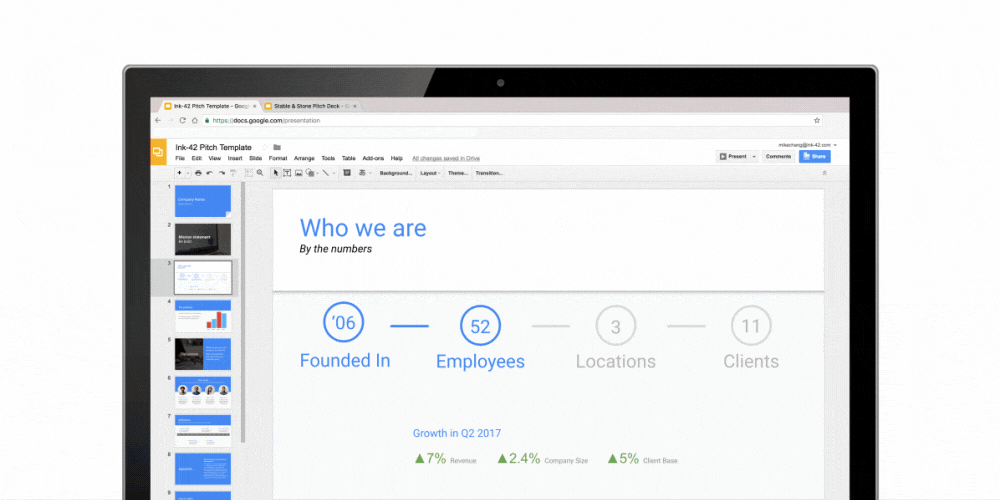 Sriram Iyer, Senior Director of Product Management at Salesforce Sales Cloud, is excited to use the new slide embedding feature to streamline his teams workflows. Says Iyer, "At Salesforce, we use Google Slides for customer-facing and internal presentations. The linked slides feature will help us easily keep presentations up-to-date."
You asked, we updated
Our customers also asked for additional features in Slides. We listened to those requests and now you can:
Insert Diagrams, or ready-to-use visualizations. This is great for when you need to effectively share timelines, processes or hierarchies.
Select Grid view to view all your slides at once as thumbnails. This helps you easily reorder or change formats of multiple slides.
Tailor presentations to different audiences with the Skip slide feature. You can now choose to skip select slides without fully deleting them when you present from your phone or laptop.
Try these feature upgrades and create better presentations.
Try new add-ons, shape up your Slides
We're constantly improving Slides to provide you with robust tools to share ideas. Today, we're bringing add-ons to Slides. To kick it off, we're introducing seven integrations—designed to bring expertise from companies like Adobe and Shutterstock—right in Slides.
Use these new, rich integrations to help you build more powerful presentations, whether you want to add full-bleed images, use advanced image editing tools or include diagrams you created in programs outside of G Suite.
Search for and add images from Adobe Stock, right in Slides. You can use the Adobe Stock add-on to build visually-stunning presentations in Slides. Teams can seamlessly search, preview and purchase Adobe Stock images—without leaving Slides. Through the add-on, teams can also use Adobe Stock Visual Search to find relevant stock images with an uploaded image (versus a text search).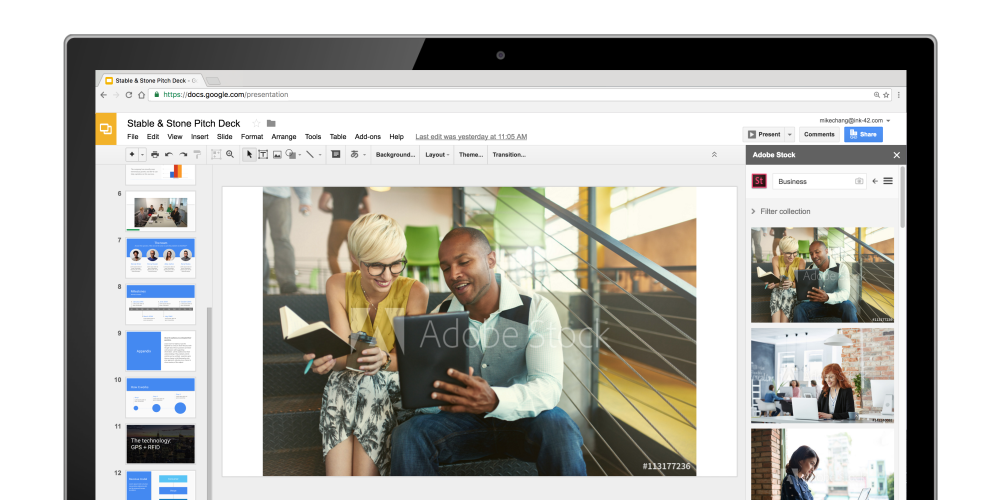 Use the Shutterstock Editor add-on to add and customize photos within Slides. With the Shutterstock add-on, teams can browse Shutterstock's entire library of royalty-free images, and sign into Shutterstock to license content, directly in Slides. Select an image, then apply customization options like filters, text, logos and more.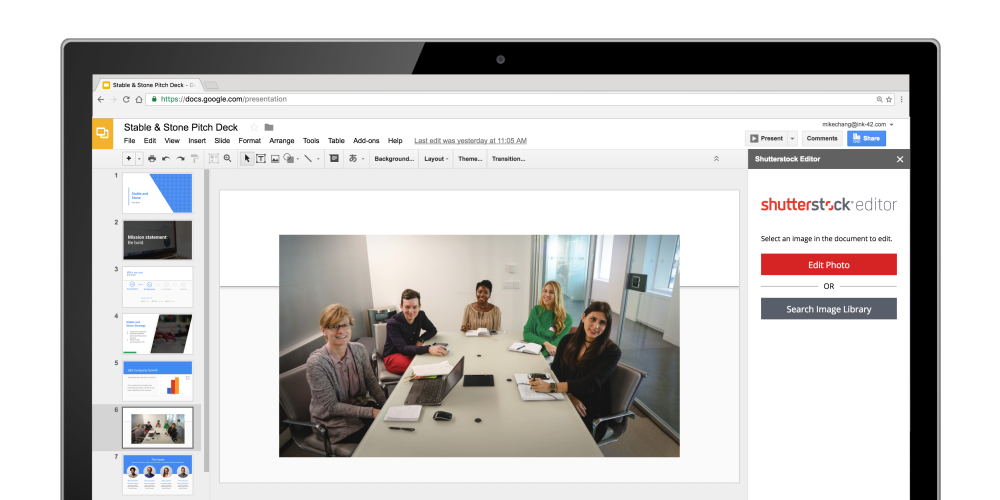 Teams can benefit from even more powerful capabilities in Slides with additional add-ons from Balsamiq, Lucidchart, Pear Deck, Noun Project and Unsplash. Tap "Add-ons" in the Slides menu bar to get started.
Customize Slides, automate workflows with Apps Script
Apps Script, the same technology that powers add-ons, can transform the way you work. Apps Script for Slides lets your teams programmatically create and modify Slides, and customize the menus, dialog boxes and sidebars in the user interface.
So, what's the big deal? Apps Script provides amazing possibilities for improving your team's workflows. Sales teams can use Apps Script to automatically pull in information from Sheets' databases to create customized client pitch decks and templates. Marketing teams can host internal assets in a customized sidebar in Slides for easy access to logos and files they use most often.
To learn more about how you can automate your workflows using Apps Script, check out this post.
Present with confidence using Slides—these updates start rolling out to all customers globally on the web today.
Advertising fraud is a complex challenge, but one that we are working to simplify for our partners. That's why we've developed sophisticated systems, including over 180 automated filters and detection algorithms, to prevent invalid traffic from impacting our clients. For years, we've used these technologies to protect Google-owned media properties from invalid traffic and now we're working to expand them to help the rest of the ecosystem.
Today we'd like to highlight three areas we are investing in, for DoubleClick Bid Manager, to help our partners build trust in the advertising supply chain.
Automating refunds for invalid traffic
In the coming months, we'll be implementing new infrastructure to further automate the refund process for invalid traffic. Supply partners like AppNexus, Index Exchange, OpenX, Pubmatic, SpotX, Teads, Telaria and DoubleClick Ad Exchange have been very supportive of these changes and have committed to provide advertisers with refunds for invalid traffic detected up to 30-days after monthly billing.
"At OpenX, we believe it is the responsibility of every participant in the market to commit to providing a high quality, transparent and fraud free advertising marketplace. The industry must work together to advance a clean, well-lit ecosystem to be successful in eliminating the scourge of fraud from the market. We are pleased to partner with DoubleClick on this important effort to cut off funding for criminal actors and advance trust for our entire industry."
– Ian Davidson, OpenX
These commitments, along with others, cover over 90% of the available inventory in DoubleClick Bid Manager. Soon, we'll identify in Bid Manager which supply partners provide refunds for invalid traffic and offer advertisers the option to buy only from those sources. This will make it easier for our customers to collect refunds for invalid activity.
Increasing transparency on invalid traffic we've filtered
It's hard to prevent invalid activity if you don't know how you're being impacted. That's why we're investing in reporting features to give advertisers and supply partners greater visibility into what our invalid traffic defenses detect.
With these new features, advertisers will be able to see and understand the amount of invalid traffic detected in their campaigns both pre-bid and post-serve, including breakdowns by categories like data center traffic, automated browsers, and falsely represented inventory. Supply partners will receive reporting on the sources and amounts of invalid traffic that our systems are post-serve filtering from their platforms. By providing our customers and supply partners with access to this data we hope to provide more transparency into the sources of invalid traffic, facilitate conversations with third parties, and make sure our clients' media spend does not enrich bad actors.
Example of an upcoming change to our user interface showing the sources of invalid traffic.
Support for ads.txt
Beyond our own platforms, we are fully supportive of industry initiatives to improve the health of the advertising ecosystem and combat ad fraud. Recently, the IAB Tech Lab released the ads.txt standard to increase supply chain transparency and make it more difficult to sell counterfeit inventory. It defines a simple method for publishers to publicly declare who is authorized to sell or resell their digital advertising inventory.
We believe the ads.txt standard is a significant step forward in the fight against ad fraud, and by the end of October, DoubleClick Bid Manager will only buy a publisher's inventory from sources identified as authorized sellers in its ads.txt file when a file is available.
The success of ads.txt will be defined by the extent of its adoption, and it's great to see healthy adoption by publishers since the standard was finalized.
These changes are just some of the things we're doing to help combat ad fraud and increase transparency in the advertising supply chain, and it's been great working with partners like Nissan Motor Corporation, Omnicom Media Group and GroupM as we developed these solutions.
"Google has been a proactive partner helping us fight ad fraud. At Nissan, we look to Google, all publishers, as well as media agencies, to take their responsibility to clean up the inventory supply chain. It is therefore good to see that we're gaining momentum to address this issue. We all need to embrace and demand new solutions to further accelerate this clean-up. That's why we strongly urge all publishers we work with to adopt ads.txt to help keep the supply chain accountable and ensure marketer dollars are driving real results."
– Roel de Vries, Nissan Motor Corporation
"We've always taken proactive steps to protect our clients from advertising fraud and we're glad Google is driving forward on this. These changes will help simplify the process of keeping invalid traffic out of our media buys and help clean up the ecosystem."
– Steve Katelman, Omnicom Media Group
"We're extremely supportive of the steps Google is taking to bring transparency and accountability to the digital supply chain. It's critical that we have partners who are as dedicated as we are to protecting brands from ad fraud and we look forward to working together solve this issue for our clients."
-Rob Norman, GroupM
There's no doubt that this is a complex problem, but if we continue to work together, we're confident that we can address this challenge.
Posted by Payam Shodjai
Director, Product Management
Read More…
For an ad to have impact, being seen isn't just important, it's fundamental. That's why measuring the viewability of advertising matters so much. Today, we're releasing new research to help the industry better understand video ad viewability rates around the world and across devices, and announcing updates to our Active View measurement technology that helps advertisers place their ads where they have a better chance to be seen.
The current state of video ad viewability
Last year, we announced that globally, average video ad viewability on YouTube grew to 93%, significantly higher than the 66% average video ad viewability across the rest of the web and apps. Today, this number is even higher: Globally, average YouTube video ad viewability is now 95%, while the average video ad viewability across the rest of the web and apps remains at 66%.1 And what's more, 95% of YouTube ads are audible.2
Read the full "State of Video Ad Viewability" report to see viewability rates across different inventory types and devices around the world.
New Active View optimization strategies in DoubleClick Bid Manager
To ensure all of your video ads are being seen and heard, not just those on YouTube, we're launching two new Active View bid optimization strategies in DoubleClick Bid Manager for video ads on the rest of the web and apps, where video ad viewability is lower. This includes the ability to optimize towards a video ad that is viewable on screen for at least 10 seconds, or towards a video ad that completes in view and is audible.
Active View optimization uses machine learning to maximize the impressions that meet your viewability and audibility goals. Specifically, this means that Active View factors in signals like video player size, domain and position on page to determine the optimal bid for each impression, so you get the most from your marketing budget. These new bidding strategies allow you to improve view-through rate for situations when you need to know that your audience is paying attention — if, for example, you need more time to explain your offering, or if your branding or logo doesn't show up until the end of the video.
These two new Active View bid optimization strategies are now available in Bid Manager for all advertisers globally, building on our existing Active View bid optimization strategies that help you deliver against viewable CPM goals.
Advanced Active View metrics for all of your video ads
Earlier this year we announced enhanced reporting for YouTube TrueView campaigns in DoubleClick. Now, we're expanding on that announcement and making new Active View metrics available in DoubleClick Campaign Manager and DoubleClick Bid Manager for all of your video ads, not just YouTube.
These new viewability and audibility metrics allow you to uncover deep insights into creative performance and user attention, including:
Studies have shown that the longer a user views your ad, the higher the lift in brand metrics like brand awareness and consideration. With new viewability and audibility metrics in DoubleClick, you can get closer to understanding which of your video ads are holding the attention of your viewers, and are thus most likely to make an impact, and which you need to improve in order to deliver more impact.
And, because DoubleClick Campaign Manager is MRC-accredited for viewable video ad impressions for desktop web, mobile web and mobile app, when you view these metrics in Campaign Manager you can feel confident that they've undergone a stringent, independent audit. We are also in the process of seeking MRC accreditation for video impressions and viewability statistics in both AdWords and DoubleClick Bid Manager.
Today's announcements are the next evolution of Active View and reflect our commitment to empowering you with the data and tools you need to ensure your ads are capturing attention. Visit the Help Center to see all available metrics in Campaign Manager and Bid Manager reports.
Posted by Babak Pahlavan
Senior Director of Product Management, Analytics Solutions and Measurement, Google
Google and DoubleClick advertising platforms data, May 2017Google Internal Data, Global, August 2016 (when volume is at least 10% for YouTube ads)
Read More…
Android Wear was created to take smartwatches beyond "one size fits all." That's why we're thrilled there are even more ways to express your style this fall—all while keeping you informed with messages at a glance, activity tracking, and help from your Google Assistant.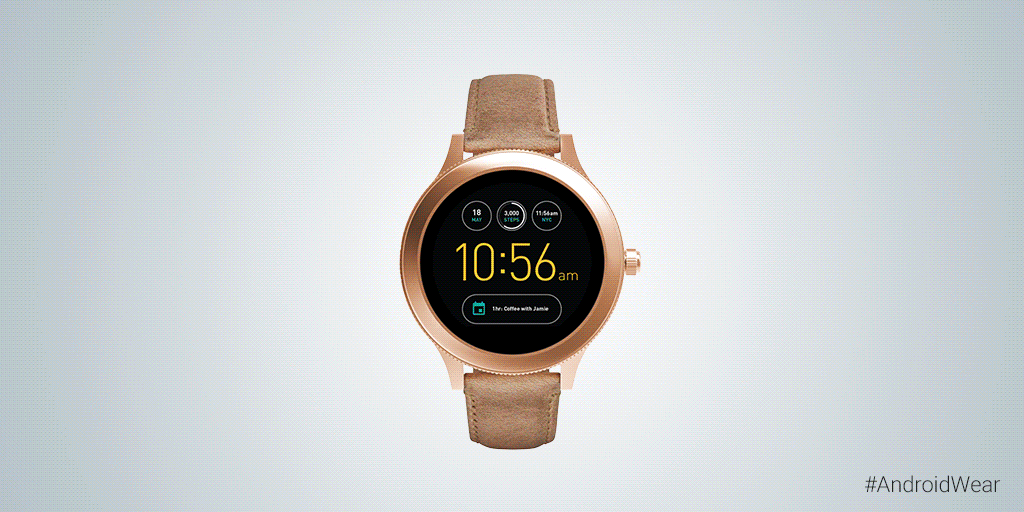 Fit for the runway
With Android Wear, you never have to sacrifice fashion for function. We've partnered with designer brands like: Diesel, Emporio Armani, Fossil, Guess, Gc, Hugo Boss, Michael Kors and Tommy Hilfiger. With a range of designs and endless watch face options, you'll always be able to find a look that matches your outfit or mood. The Michael Kors Access My Social app lets you dress up your watch face with your favorite Instagram or Facebook photos. Fossil Q Explorist and Q Venture's unique social sharing feature lets you share your personalized watch face with friends.
Crafted for multi-tasking
If you want a watch that keeps up with your busy life, Android Wear has options. The Montblanc Summit lets you stay ahead and in style, while keeping an eye on your heart rate. The TAG Heuer Connected Modular 45 is the ultimate in customizable luxury, combining the latest technology with Swiss watchmaking—including both Android Pay and built-in GPS. Movado Connect maintains its iconic design while providing 100 watch face variations and on-watch payments with Android Pay. Want to leave your phone behind? The ZTE Quartz is smart, affordable and cellular enabled.
Stamina for active lives
With heart rate monitoring, activity tracking, GPS, music on the go and sporty designs, Android Wear has a range of watches built for your workout. The Huawei Watch 2 provides motivation with a professional running coach feature and comes fully-loaded with a heart-rate monitor, GPS and Android Pay. The Polar M600 is designed to keep you connected while you train, including smart coaching features that turn your activity and training data into actionable insights. Ticwatch S&E is great for your everyday workout, with a lightweight, breathable design, heart rate monitor and GPS antenna integrated right into the band.
Made for the journey
For the jet setter, Android Wear apps provide on-watch boarding options, travel tips, translations, world timers and maps to help guide your trip. Louis Vuitton Tambour Horizon connects you to exclusive travel apps like "LV Guide" and "My Flight," which organizes your flight times, gates and terminals to guide your journey.
Built for adventure
From climbing to kayaking, the Casio Pro-Trek Smart is your outdoor companion. Built to military standards, the Pro-Trek is crazy tough, with unique outdoor capabilities like advanced GPS functionality and built-in sensors that measure altitudes and atmospheric pressure. With location memory and a full-color offline map, you can even track your hike and record voice-notes along the way.
Whether you're a jetsetter or trendsetter, Android Wear has got you covered. With so many new watches to choose from, it's never been easier to wear what you want.
A few months back, we announced a new way for you to analyze data in Google Sheets using machine learning. Instead of relying on lengthy formulas to crunch your numbers, now you can use Explore in Sheets to ask questions and quickly gather insights. Check it out.
Quicker data → problems solved
When you have easier access to data—and can figure out what it means quickly—you can solve problems for your business faster. You might use Explore in Sheets to analyze profit from last year, or look for trends in how your customers sign up for your company's services. Explore in Sheets can help you track down this information, and more importantly, visualize it.
Getting started is easy. Just click the "Explore" button on the bottom right corner of your screen in Sheets. Type in a question about your data in the search box and Explore responds to your query. Here's an example of how Sheets can build charts for you.