Google Keep makes organizing information a cinch. You can easily jot down ideas or share to-dos with co-workers. We asked Mario Anima, product manager for Google Keep, to share some of his favorite Keep tips. This is what we learned.
1. Record voice notes.
For recording thoughts on the go, you can record voice memos within Google Keep on your Android or iOS device. Open up the Keep mobile app, click on the microphone icon at the bottom right of your screen and record your message. When you're done talking, the recording will automatically end and a new screen will pop up with the text of your message and an audio file.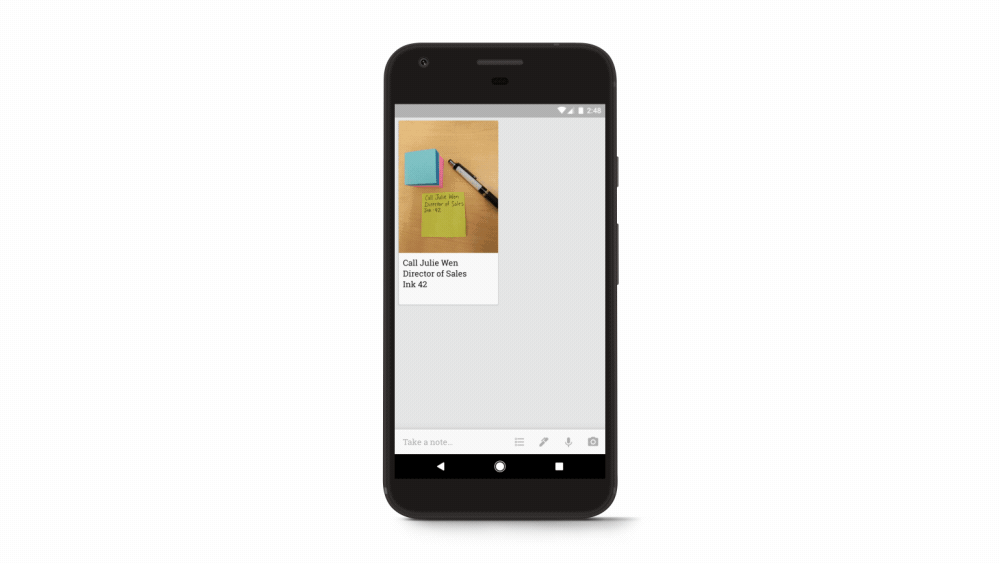 Click on "title" at the top of your audio file and name your note. Your note is automatically synced with the web app, too, so you can access it on your desktop.
2. Transcribe notes from pictures.
Sometimes a picture is worth a thousand words. Using Optical Character Recognition (OCR), Keep can transcribe text from pictures for you, so you don't have to worry about typing up notes from a meeting or whiteboard session (shameless plug: you can also use Jamboardfor that).
Just take a photo, select "Grab Image Text" and Keep will transcribe your note.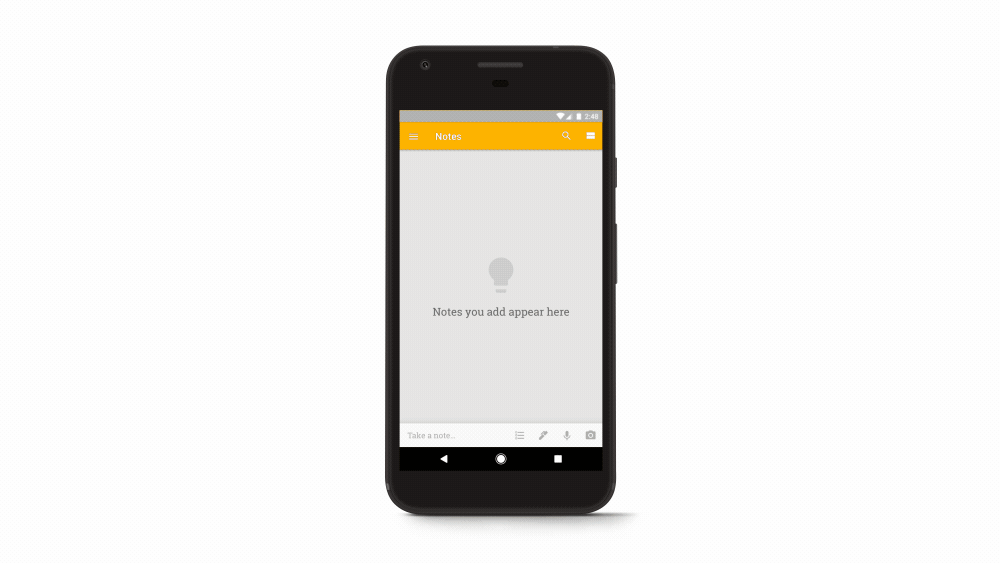 3. Create drawings and even search handwritten notes.
You can sketch images in Keep. Select the pen icon at the bottom of your mobile screen and a bunch of options will appear. Play with colors, shades and more. Once you're finished with your drawing, you can share it right away with coworkers. Or, you can come back to handwritten memos later by searching for what you wrote.
Speaking of search, you can also find images by searching for words contained within them. Say you snap a photo from a whiteboard and the image contains the word "Proposal." Just search Keep for "proposal" and your image will appear.
4. Drag and drop notes from Keep into Google Docs.
Now you can use Keep directly within Docs—take notes you've created in Keep and drag them into client proposals and more.
If you're in a Doc: click "Tools" on the menu bar, and then "Keep Notepad." A sidebar will pop up with all of your note options. You can scroll through the list or use the search bar to jump right to the note you need. Once you've found it, drag-and-drop the note into your doc.
If you're in the Keep app: select the note you want to send, click the three dots menu and click "Copy to Google Doc."
You can also create notes in the Keep notepad while viewing a Doc. One bonus is that when you create a note in Docs, Keep creates a source backlink—so you can access the note in Keep and it will link back to the source document where the note was created.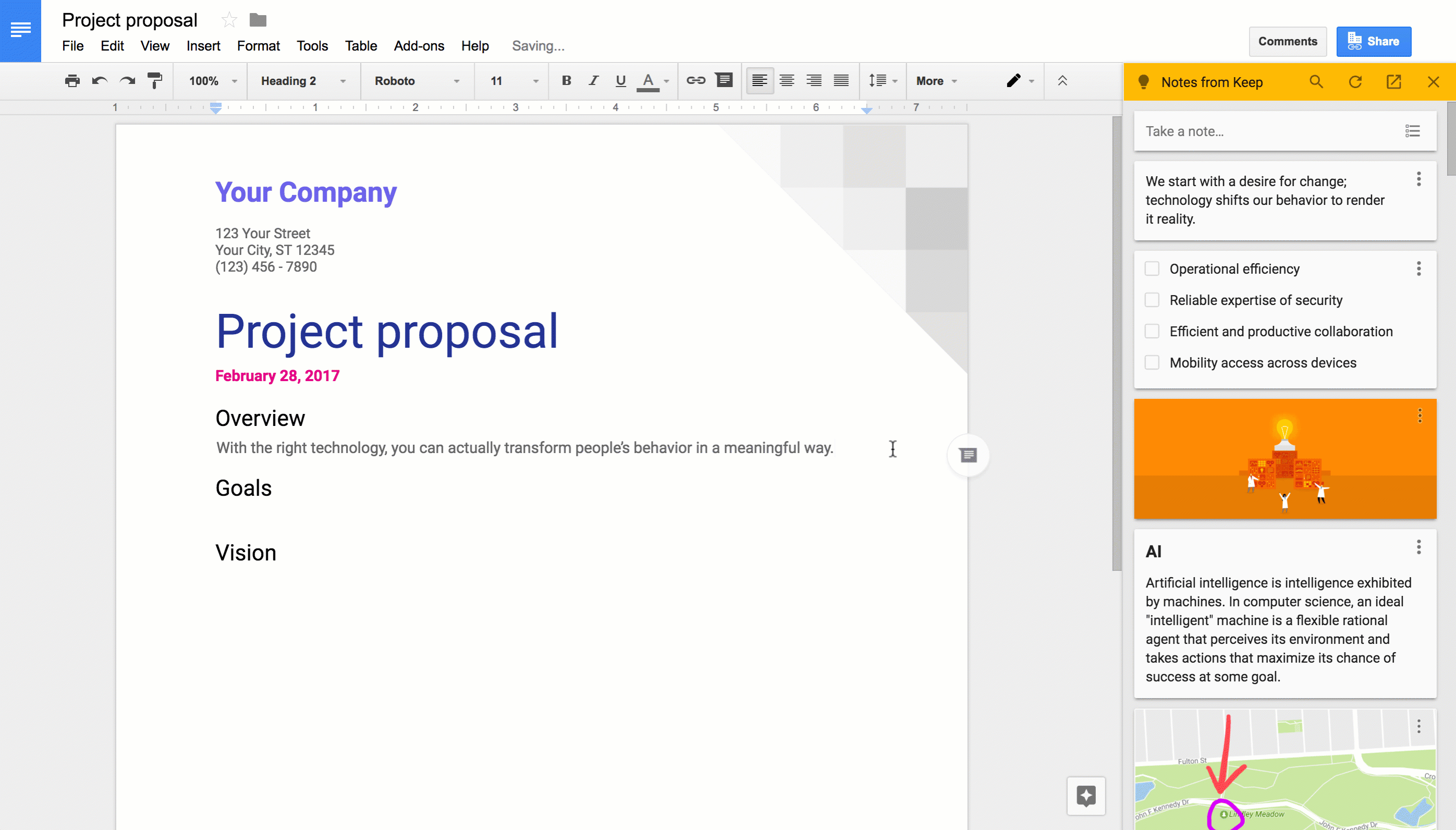 5. Use the Chrome Extension.
Create notes while you browse the web by downloading the Chrome Extension. One cool thing is that when you create a note using the extension, it saves the site URL with it. So if you browse back to that same URL, the extension will show your note in context.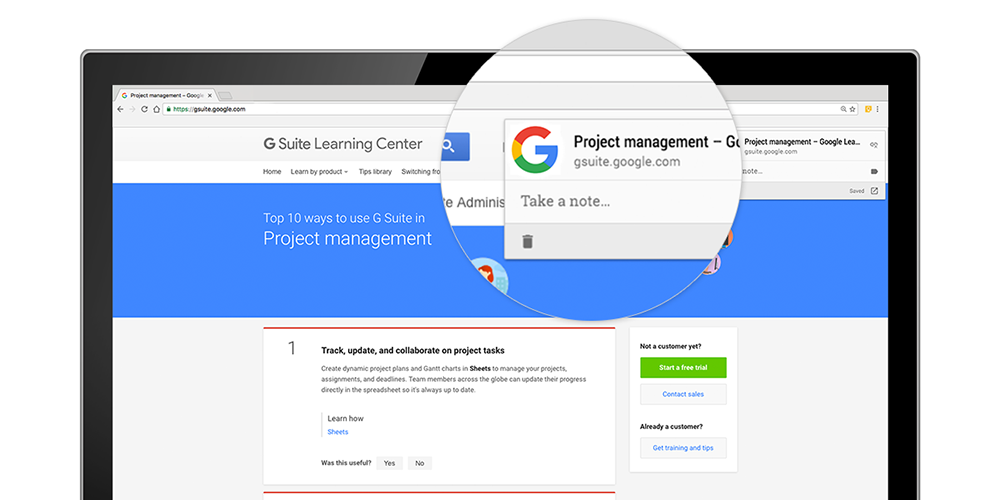 6. Send notes from Keep to other apps you use.
Some teams save content from other messaging or social media apps in Keep to reference later. Or, vice versa, you might use Keep to draft emails or social media posts on-the-go. Click on the three dots in the bottom right corner of your Keep app, select "send" and choose the app you want to share your note with.
7. Color-code or label your notes to find them quicker.
To organize your notes by color-coding them in Keep, at the bottom of a Keep note, select the three dots menu and choose from several colors to help you quickly identify a note. You might consider color-coding by task or deadline. If you're working on your desktop, you can also use the Category Tabs for Google Keep Extension in Chrome to assign category names by color. It will look like this: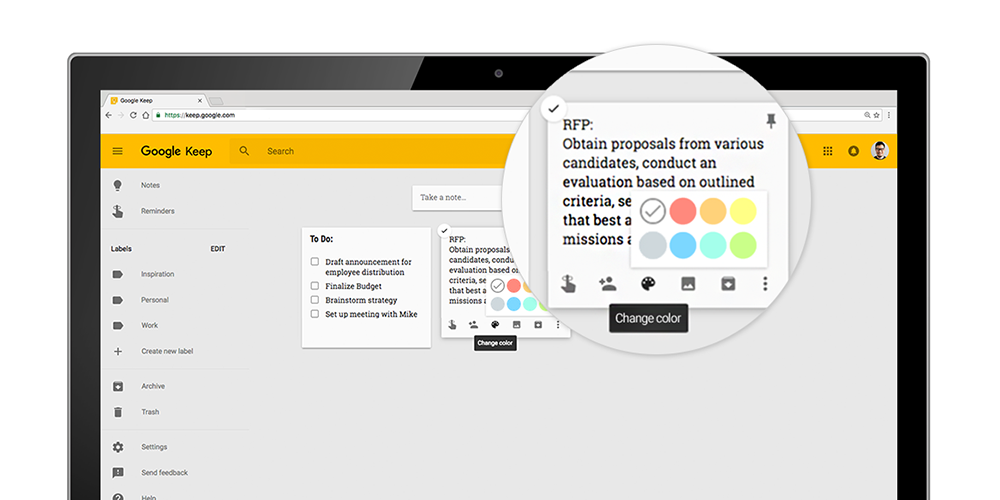 You can also add labels to your notes. Another way to locate your information in Keep is to add and create labels using #hashtags. When you create a note in the Keep app, you can type #label-name and Keep will prompt you to either apply a label if it already exists, or create one if it doesn't. It's a pretty handy shortcut.
8. Set reminders for yourself.
Notes matter only if you can execute on what your record. Keep lets you set up reminders which can help.
Select a note and click the finger icon at the top right of your screen in Keep (it has a string on it). When you do that, a pop-up window will give you options to set reminders. The great thing about this is that these reminders will alert you in other Google tools, like Calendar, Chrome or on your Android device.
Note: make sure you have Reminders enabled inside your Calendar app in order to see them. You can check out how to do that on our Help Center under the "Don't see your Reminder" or "Switch between Tasks and Reminders" section.
Try Keep today
Keep is a great way to keep track of your work tasks. Learn more about how you can get started on our site.
If your business offers a large number of products or services, it can be difficult to manually create and manage keywords and ads for each and every one of them. Inventory keyword campaigns allow you to automatically convert your product catalog to highly relevant, up-to-date search ads. Today we're providing additional flexibility and scale to feed-based automation with new upgraded inventory management. You can now automatically create thousands of campaigns, ad groups, keywords and other items based off any feed.
Endless possibilities with one easy setup
Getting started with upgraded inventory management is easy. First, connect the feed you want to use. Then, create an inventory plan. Finally, create templates for your campaigns, ad groups, keywords, ads, and other items. DoubleClick will automatically create thousands of each item at once, so you don't have to. When creating new items, you can save time by editing your existing templates instead of starting from scratch.
Let's say you're a clothing retailer looking to promote your new line of Fall dress styles. Through a single setup, you can create an inventory plan that uses your dresses product feed to automatically generate a campaign for each and every dress style. Then for each dress style campaign, create thousands of relevant keywords, sitelinks, and more.
Show more relevant ads
Your ads will always be up to date as they'll automatically reflect any changes to your feed. You can customize almost anything using your feed and apply functions and rules to that data. For example, show how many dresses are available by applying the COUNT function to the headline of your ad template. You can also apply a rule to automatically pause these ads when you sell out of that particular dress.
Holiday Hypermarket, a popular UK travel aggregator, uses upgraded inventory management to help improve its ad targeting and increase efficiency. The brand saw click through rates increase by 88%, ROI increase by 11% and saved upwards of 30 hours in campaign creation.
"Upgraded inventory management's ability to generate entire campaigns based off of templates has saved us many hours in legwork. We can now focus our time on running and optimizing campaigns." – Ruaridh Stewart, Senior Account Manager, Periscopix
You can learn more about upgraded inventory management in the DoubleClick Search Help Center.
Posted by Henry Tappen
Product Manager, DoubleClick Search
Read More…
DeepMind's scientific mission is to push the boundaries of AI by developing systems that can learn to solve complex problems. To do this, we design agents and test their ability in a wide range of environments from the purpose-built DeepMind Lab to established games, such as Atari and Go.Testing our agents in games that are not specifically designed for AI research, and where humans play well, is crucial to benchmark agent performance. That is why we, along with our partner Blizzard Entertainment, are excited to announce the release of SC2LE, a set of tools that we hope will accelerate AI research in the real-time strategy game StarCraft II. The SC2LE release includes:A Machine Learning API developedby Blizzard that gives researchers and developers hooks into the game. This includes the release of tools for Linux for the first time.Adataset of anonymised game replays, which will increase from 65k to more than half a million in the coming weeks.An open source version of DeepMinds toolset, PySC2, to allow researchers to easily use Blizzards feature-layer API with their agents.A series of simple RL mini-games to allow researchers to test the performance of agents on specific tasks.A joint paperthat outlines the environment, and reports initial baseline results on the mini-games, supervised learning from replays, and the full 1v1 ladder game against the built-in AI.Read More…
The second of our three-part series, which gives an overview of the papers we are presenting at the ICML 2017 Conference in Sydney, Australia.Read More…
The final part of our three-part series that gives an overview of the papers we are presenting at the ICML 2017 Conference in Sydney, Australia.Read More…
The first of our three-part series, which gives brief descriptions of the papers we are presenting at the ICML 2017 Conference in Sydney, Australia.Read More…
We all brainstorm differently. As Avi Couillard, a Senior Strategist at the digital agency Instrument, puts it: "Some people need to noodle on an idea, some need to converse with their team about it, and some need to visit it on their own terms." For agencies like Instrument, inspiration can strike at any place and time.
Instrument's creative team has been using Jamboard for 10 months as a part of early testing cycles to facilitate brainstorms and execute on big ideas for clients, including Google. Along the way, the team has noticed an interesting shift in their creative process.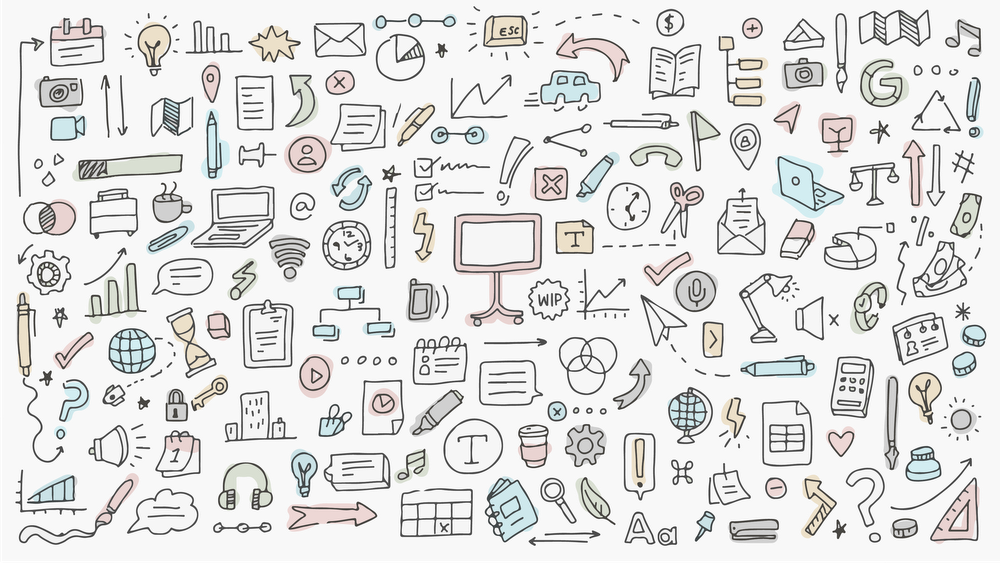 We interviewed members of Instrument's creative team to tell us about this shift, and how Jamboard has changed their team's approach to brainstorming.
Brainstorming before and after Jamboard
For Avi and his colleagues at Instrument, brainstorms looked different last year. "It used to be one person with bad handwriting, translating whiteboard notes into a spreadsheet," says Avi. His colleague, UX Illustrator Sheri Smith, jokes: "That handwriting was usually mine."
They'd leave meetings with a ton of ideas that were then assigned to other designers, illustrators or animators to interpret. "It was time-consuming and the process sometimes diluted creativity," says Avi.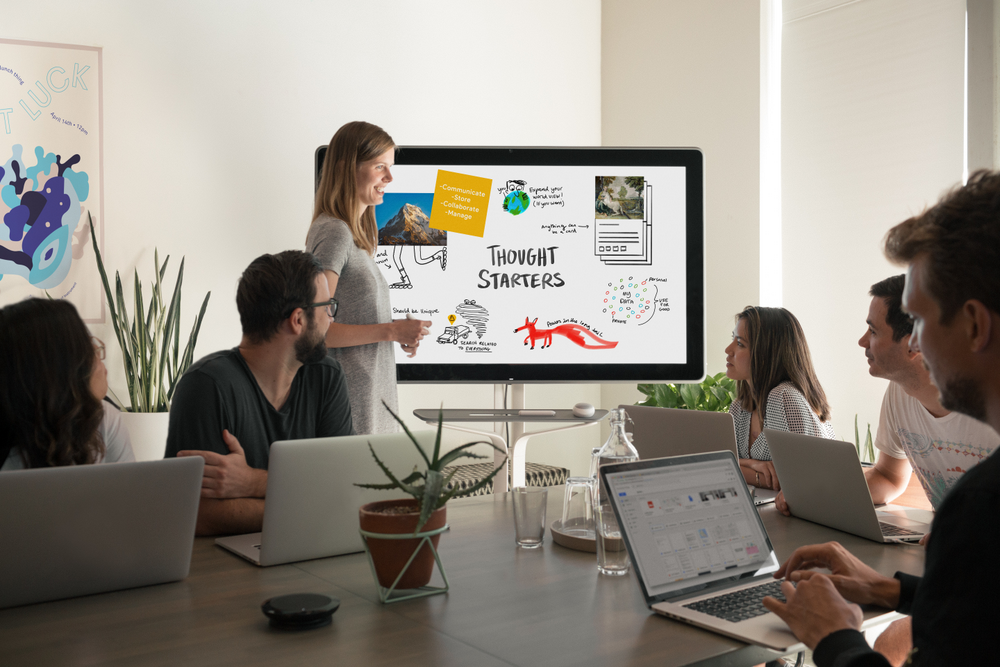 Now, instead of deciphering half-formulated ideas after the fact, Sheri visualizes concepts right away by sketching them on Jamboard as they're mentioned. Avi and Sheri also bring remote colleagues into a brainstorm session. Other designers or programmers can join meetings via Hangout within the Jamboard, have PDF versions of work sent to them, or view "jams" from their phone, tablet or computer and rev on a concept right away.
Jamboard helps us focus more on the ideas, and less on translating creative direction to different teams. Avi Couillard
Senior Strategist, Instrument
"Jamboard helps us focus more on the ideas, and less on translating or assigning creative direction to different teams," says Avi. His team is able to keep working on ideas after meetings wrap, too. "Because ideas from 'jams' are saved in Drive, they're captured in their original form for everyone on the team. This provides the whole team with access so they can keep adding to them to make them better." Once the work is complete, the team adds the final output into a Slides presentation to share with internal teams or clients to review.
Ideas from everywhere, everyone
With Jamboard, more team members are involved in the creative process earlier, including those who may not be viewed as traditional "creatives." Says Andrew Barden, Senior Producer: "Jamboard democratizes brainstorms. Sometimes it's easy to think 'oh, I'm not a creative,' but that's not true. Ideas come from everywhere, and being able to iterate early in the process helps you produce your best work."
Jamboard democratizes brainstorms. Ideas come from everywhere, and being able to iterate early in the process helps you produce your best work. Andrew Barden
Senior Producer, Instrument
Jamboard can also impact how organizations present work. Instead of a "grand unveil" of a polished product, other business units or your clients become broader extensions of your creative team. If you involve more team members in the thinking early on, they're more likely to be invested in the end result. "Using Jamboard, I've had to get more comfortable with sharing my rough sketches or unfinished work to clients early on," says Sheri. "But they like that. It's like if you buy a painting that you watched someone paint. That's more valuable to you than buying it off the shelf."
It's like if you buy a painting that you watched someone paint. That's more valuable to you than buying it off the shelf. Sheri Smith
UX Illustrator, Instrument
Learn more about how your organization can get started with Jamboard.
Recent progress in AI has been remarkable.Artificial systems now outperform expert humans at Atari video games, the ancient board game Go, and high-stakes matches of heads-up poker. They can also produce handwriting and speech indistinguishable from those of humans, translate between multiple languages and even reformat your holiday snaps in the style of Van Gogh masterpieces.These advances are attributed to several factors, including the application of new statistical approaches and the increased processing power of computers. But in a recent Perspective in the journal Neuron, we argue that one often overlooked contribution is the use of ideas from experimental and theoretical neuroscience.Psychology and neuroscience have played a key role in the history of AI. Founding figures such as Donald Hebb, Warren McCulloch, Marvin Minsky and Geoff Hinton were all originally motivated by a desire to understand how the brain works. In fact, throughout the late 20th Century, much of the key work developing neural networks took place not in mathematics or physics labs, but in psychology and neurophysiology departments.Read More…