We take lots of photos and videos with the important people in our lives, but sharing those memories can take time. We get busy and forget. To help you share and receive more of the meaningful moments in your life, we've launched suggested sharing and shared libraries, which we recently announced at Google I/O.
Suggested sharing uses machine learning to automatically identify photos and suggest recipients, making sharing as simple as a single tap. With shared libraries, sending and receiving photos with one person is effortless—you can automatically share your full photo library or customize just what you want to share.
Here are a few quick tips to get started.
Suggested Sharing
1. The Sharing tab is where you can see your Google Photos sharing activity, including photos and videos sent to you and that you've sent to others. At the top, you'll see your personal suggestions, based on your sharing habits and the people in the photos.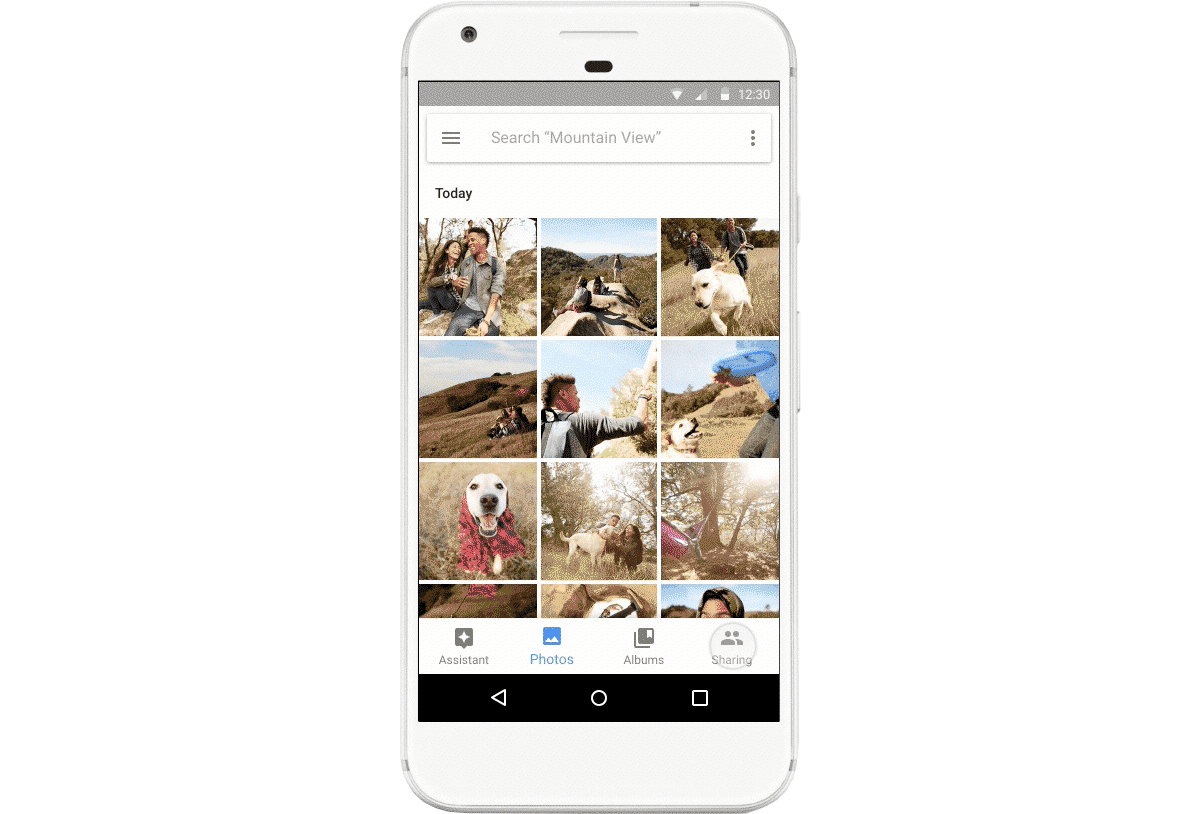 2. Google Photos recognizes a meaningful moment like a summer BBQ or wedding, selects the right shots, and suggests who may want to see the photos. You can change the photos or suggested recipients before sending. As always with Google Photos, you can share with anyone —even if they don't use Google Photos—via their email address or phone number.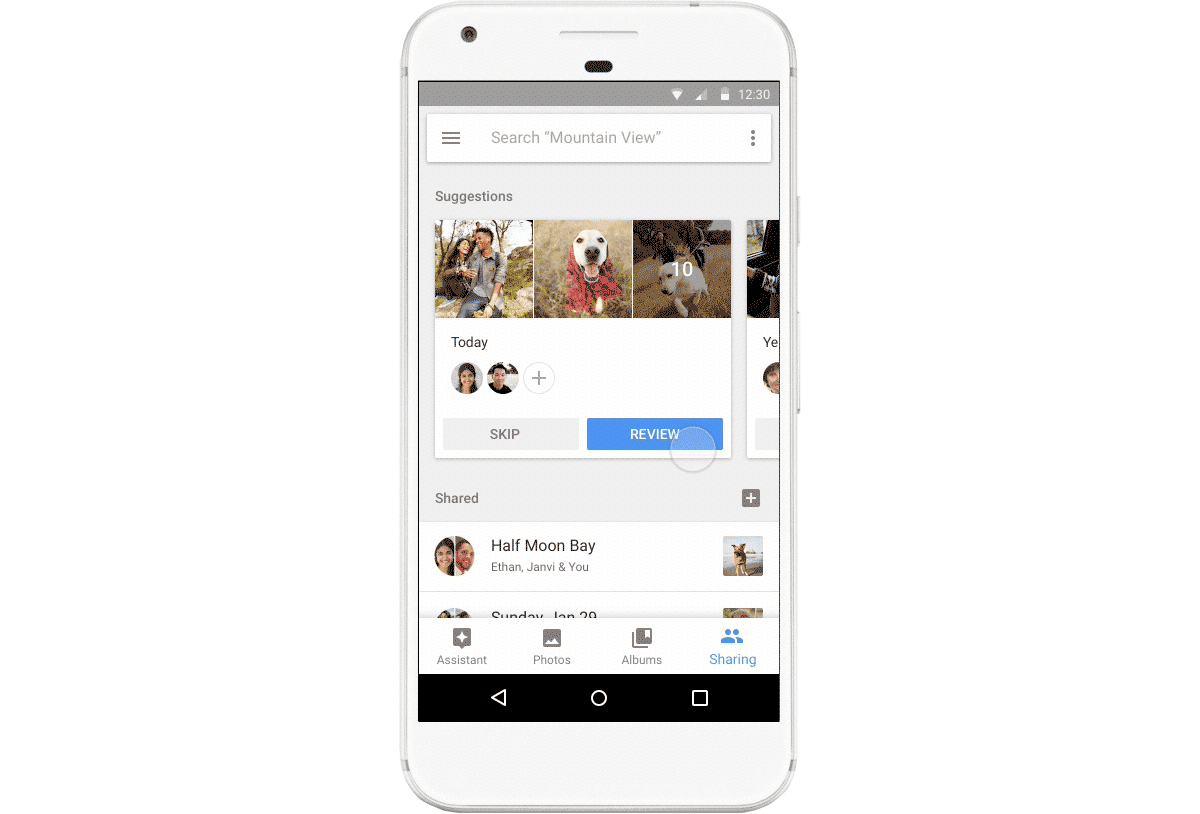 3. If your friends and family were with you and use Google Photos, they may get a reminder to add their photos to the album, too. You'll get notified when new photos are added and can now see all the photos in one place.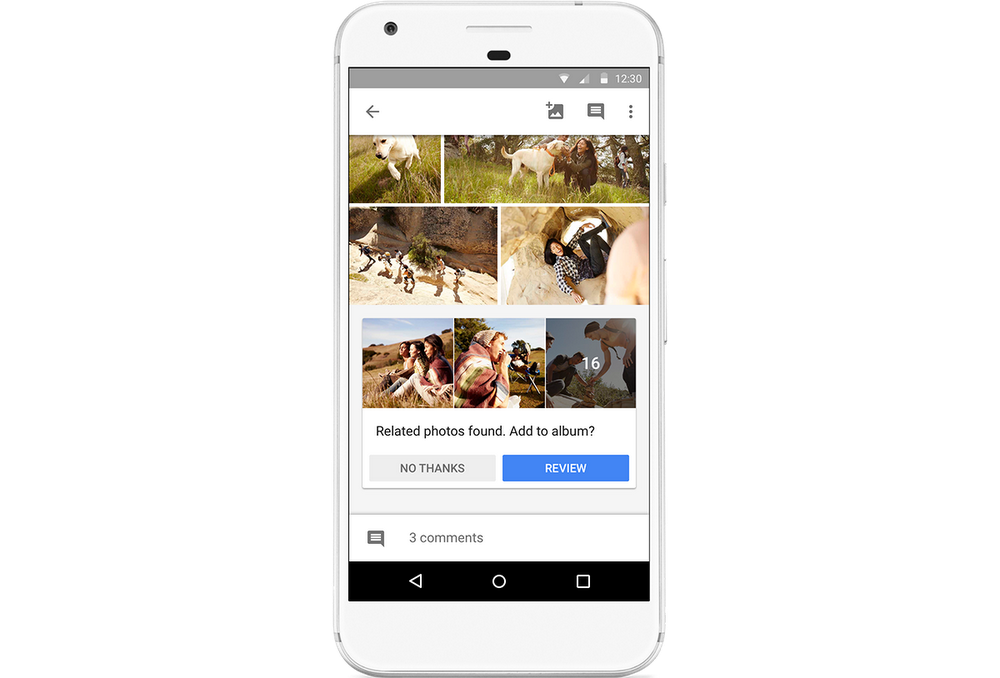 Shared Libraries
1. For sharing all your photos with that special someone, you can use shared libraries. Let's say Daniel wants to share his library with his wife, Leslie. Starting in the menu bar in the top left, he selects "Share your library" and enters Leslie's email address. He can share his entire photo library, or just photos of specific people, such as photos of Leslie, or photos of their daughter. He can also give Leslie access only to photos starting from a certain day, such as the day they first met.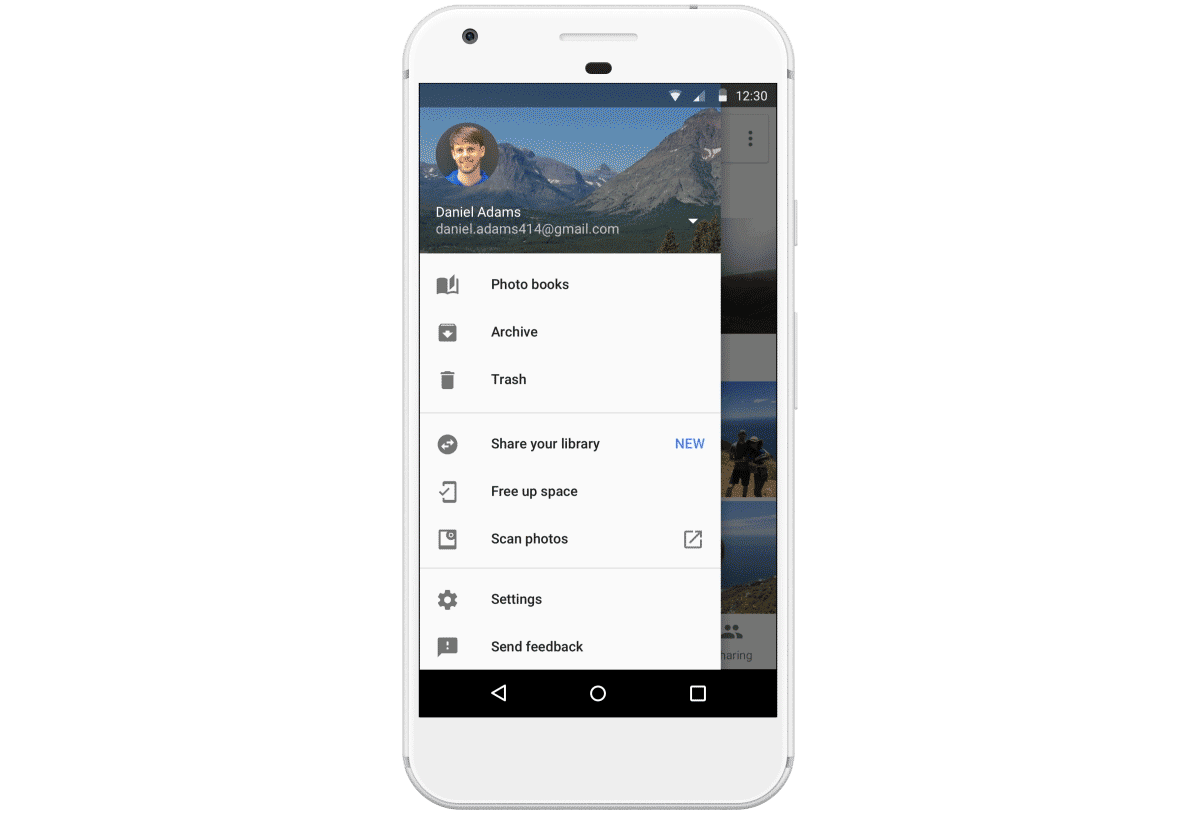 2. Once Leslie accepts the invitation, she can see the photos Daniel has shared with her. As Daniel takes more photos, they are shared with Leslie automatically. Now Daniel doesn't have to remember to send photos to Leslie. Google Photos will share them automatically and will notify Leslie when new photos arrive.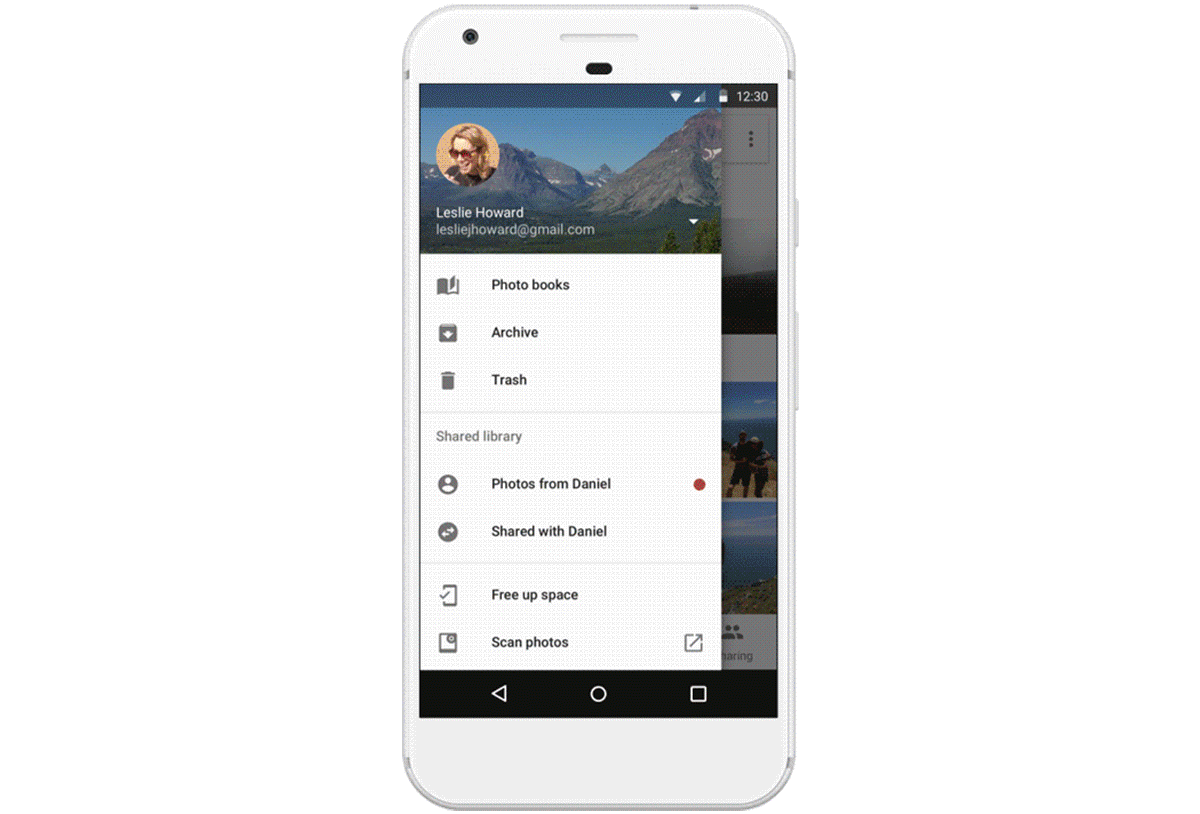 3. Leslie can choose to automatically save all of Daniel's photos or just photos of certain people, like their daughter. These saved photos will be searchable for her, and will show up in the movies, collages, and other creations that Google Photos makes for Leslie.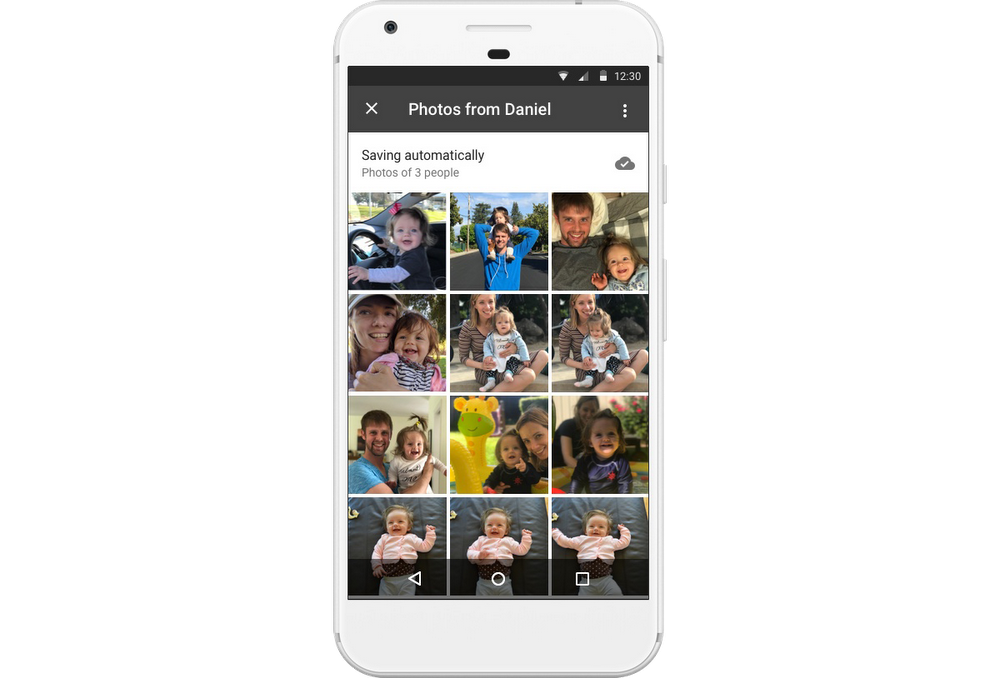 Deep neural networks have learnt to do an amazing array of tasks – from recognising and reasoning about objects in images to playing Atari and Go at super-human levels. As these tasks and network architectures become more complex, the solutions that neural networks learn become more difficult to understand.Read More…
Were delighted to announce our first partnership outside of London to help doctors and nurses break new ground in the NHSs use of digital technology.Streams is our secure mobile app that helps doctors and nurses give faster urgent care to patients showing signs of deterioration by giving them the right information more quickly. Over the next five years, well be rolling it out at Taunton and Somerset NHS Foundation Trust as part of a new partnership. You can find out more on the trusts website.Our collaboration with Taunton and Somerset follows on from our work with Imperial College Healthcare NHS Trust and the Royal Free NHS Foundation Trust. Nurses already using Streams at the Royal Free tell us that the app is saving them up to two hours a day, allowing them to redirect valuable time back into targeted patient care.Where some current systems can take hours, Streams uses breaking news style alerts to notify clinicians within seconds when a test results indicates that one of their patients shows signs of becoming ill.Read More…
We believe that Artificial Intelligence will be one of the most important and widely beneficial scientific advances ever made, helping humanity tackle some of its greatest challenges, from climate change to delivering advanced healthcare. But for AI to deliver on this promise, we know that the technology must be built in a responsible manner and that we must consider all potential challenges and risks. That is why DeepMind co-founded initiatives like the Partnership on AI to Benefit People and Society and why we have a team dedicated to technical AI Safety. Research in this field needs to be open and collaborative to ensure that best practices are adopted as widely as possible, which is why we are also collaborating with OpenAI on research in technical AI Safety. One of the central questions in this field is how we allow humans to tell a system what we want it to do and – importantly – what we dont want it to do. This is increasingly important as the problems we tackle with machine learning grow more complex and are applied in the real world.The first results from our collaboration demonstrate one method to address this, by allowing humans with no technical experience to teach a reinforcement learning (RL) system – an AI that learns by trial and error – a complex goal. This removes the need for the human to specify a goal for the algorithm in advance.Read More…
Consider the reader who pieces together the evidence in an Agatha Christie novel to predict the culprit of the crime, a child who runs ahead of her ball to prevent it rolling into a stream or even a shopper who compares the relative merits of buying kiwis or mangos at the market.We carve our world into relations between things. And we understand how the world works through our capacity to draw logical conclusions about how these different things – such as physical objects, sentences, or even abstract ideas – are related to one another. This ability is called relational reasoning and is central to human intelligence.We construct these relations from the cascade of unstructured sensory inputs we experience every day. For example, our eyes take in a barrage of photons, yet our brain organises this blooming, buzzing confusion into the particular entities that we need to relate.Read More…
The vast majority of online content creators fund their work with advertising. That means they want the ads that run on their sites to be compelling, useful and engaging–ones that people actually want to see and interact with. But the reality is, it's far too common that people encounter annoying, intrusive ads on the web–like the kind that blare music unexpectedly, or force you to wait 10 seconds before you can see the content on the page. These frustrating experiences can lead some people to block all ads–taking a big toll on the content creators, journalists, web developers and videographers who depend on ads to fund their content creation.
We believe online ads should be better. That's why we joined the Coalition for Better Ads, an industry group dedicated to improving online ads. The group's recently announced Better Ads Standards provide clear, public, data-driven guidance for how the industry can improve ads for consumers, and today I'd like to share how we plan to support it.
New tools for publishers
The new Ad Experience Report helps publishers understand how the Better Ads Standards apply to their own websites. It provides screenshots and videos of annoying ad experiences we've identified to make it easy to find and fix the issues. For a full list of ads to use instead, publishers can visit our new best practices guide.

The Ad Experience Report lists when we have identified ad experiences on a site that are likely to harm users or violate the Better Ads Standards.
"We've always put our users first and fully support the Coalition's Better Ads efforts and standards. At the same time, we deal with so many different websites and ad experiences it's hard to tell at a glance which ads experiences we need to replace. The report's videos and screenshots are incredibly helpful and make the Coalition's research actionable for our teams. We're impressed with the level of detail and transparency Google is providing and are 200% behind this initiative."
– Troy Young, President, Hearst Digital Media
As part of our efforts to maintain a sustainable web for everyone, we want to help publishers with good ad experiences get paid for their work. With Funding Choices, now in beta, publishers can show a customized message to visitors using an ad blocker, inviting them to either enable ads on their site, or pay for a pass that removes all ads on that site through the new Google Contributor.
"Looking at the past few years, we've come to realize that to the rise of ad blockers has negatively impacted potential revenue across all of our properties, particularly in Europe. Funding Choices allows us to have a conversation with visitors using ad blockers on how our business works, and provide them a choice to whitelist or contribute to our newsroom. We've found that people are generally open to whitelisting once they understand how content gets created."
– Marc Boswell, SVP, Sales Operations & Client Services, Business Insider
Funding Choices is available to publishers in North America, U.K., Germany, Australia and New Zealand and will be rolling out in other countries later this year. Publishers should visit our new best practices guide for tips on crafting the right message for their audience.
Chrome support for the Better Ads Standards
Chrome has always focused on giving you the best possible experience browsing the web. For example, it prevents pop-ups in new tabs based on the fact that they are annoying. In dialogue with the Coalition and other industry groups, we plan to have Chrome stop showing ads (including those owned or served by Google) on websites that are not compliant with the Better Ads Standards starting in early 2018.
Looking ahead
We believe these changes will ensure all content creators, big and small, can continue to have a sustainable way to fund their work with online advertising.
We look forward to working with the Coalition as they develop marketplace guidelines for supporting the Better Ads Standards, and are committed to working closely with the entire industry—including groups like the IAB, IAB Europe, the DCN, the WFA, the ANA and the 4A's, advertisers, agencies and publishers—to roll out these changes in a way that makes sense for users and the broader ads ecosystem.
Posted by Sridhar Ramaswamy
Senior Vice President, Ads and Commerce
Read More…
At DoubleClick, we're always looking for new ways to help you drive growth and efficiency. This means giving you tools that let you scale and customize your marketing in a way that suits your business needs.
A pain-free bid strategy with Automated Bidding
Scale and customization are critical to effective media buying. But a dependence on manual processes is often painful, especially when you're running thousands of campaigns. It's time-consuming and prone to mistakes.
To ease this pain, we've rebuilt Automated Bidding from the ground up. Rather than trying to guess the best bidding strategy, you can use Automated Bidding to leverage deep insights informed by Google's machine learning. You set your bidding strategy to meet campaign goals, such as conversions or viewable impressions, and DoubleClick does the work for you, analyzing dozens of signals to dynamically place bids on the most valuable impressions.
Automated Bidding is now available in all DoubleClick Bid Manager accounts.
Flexing to meet your business goals with Custom Algorithm
While Automated Bidding lets you scale your marketing campaigns to meet a number of common goals, many marketers have campaign objectives specific for their business.
We're introducing Custom Algorithm to address this need. This solution lets you customize the DoubleClick Bid Manager algorithm based on your proprietary data and models. You can assign a value to each impression based on your own unique data, and then Bid Manager automatically optimizes your strategy against those values, rather than clicks or conversions.
Fully customizable to meet any campaign goal, Custom Algorithm offers brands in any industry a way to better drive results using their proprietary data and insights. For instance, a financial services company could customize the algorithm to serve more of their ads to consumers with a high credit score, while a retail advertiser could use their historical purchase data to reach people likely to make high-value purchases.
Custom Algorithm also creates opportunities in more complex scenarios. Google's internal media buying team used Custom Algorithm for the launch campaign of the Pixel phone. With the aim of optimizing for viewable placements on premium inventory, the team used previous campaign results to build a media buying model to score impressions based on these two factors. They used Custom Algorithm to increase the number of impressions on premium placements, while reducing cost per viewable impression.
They saw great results: Impressions on premium inventory more than tripled and viewable CPM fell 34% when comparing to previous campaigns that didn't use this approach.
Custom Algorithm will launch in limited beta in June 2017 and roll out in full availability in 2018.
Adapting your bids to the user's context with Bid Multipliers
Automated Bidding and Custom Algorithm are new tools to help marketers automatically set their bids to reach their broader marketing goals. But the most effective bid strategies are ones that align to the user's context.
For instance, imagine you want to adjust your bids based on the device consumers are using. Right now this process requires you to manually set these bids in separate line items.
We're aiming to improve your productivity with Bid Multipliers. This new solution lets you set different bids for six dimensions all within the same line item, including device, site, audience lists, demographic, location and time of day. You can also adjust your bids to better reach particular customer segments. For example, if your customers are converting at a higher rate on mobile than desktop, you could shift your strategy to bid higher on mobile campaigns.
We'll roll out Bid Multipliers to all DoubleClick Bid Manager accounts over the next few months.
We understand the leverage you can gain when we invest in tools that give you greater efficiency and help you scale. With these new solutions, we aim to increase your productivity and empower your team to achieve more impactful results.
Posted by Deepti Bhatnagar
Senior Product Manager, DoubleClick
Read More…