With just three stones on the board, it was clear that this was going to be no ordinary game of Go. Chinese Go Grandmaster and world number one Ke Jie departed from his typical style of play and opened with a 3:3 point strategy – a highly unusual approach aimed at quickly claiming corner territory at the start of the game. The placement is rare amongst Go players, but its a favoured position of our program AlphaGo. Ke Jie was playing it at its own game.Ke Jies thoughtful positioning of that single black stone was a fitting motif for the opening match of The Future of Go Summit in Wuzhen, China, an event dedicated to exploring the truth of this beautiful and ancient game. Over the last five days we have been honoured to witness games of the highest calibre.Read More…
Mobile has fundamentally changed how we live our lives. With our devices never more than an arm's length away, people can find, watch or buy anything at anytime. That's why earlier this year we shared that we're developing a new, cloud-based measurement solution for YouTube, designed for a mobile world. Today, we're announcing the beta for this solution, Ads Data Hub, to help advertisers get more detailed insights from their campaigns across screens while also protecting user privacy.
We are also announcing that Ads Data Hub is a solution not just for YouTube, but a tool that offers access to more data and helps unlock actionable insights across Google ad platforms, including the Google Display Network and DoubleClick. And with Ads Data Hub now in beta, we're expanding who can use it.
Built on infrastructure from Google Cloud, including BigQuery, Ads Data Hub gives advertisers or their preferred measurement partners access to detailed, impression-level data about their media campaigns across devices in a secure, privacy-safe environment. Data from other sources, such as a CRM system or marketing database, can be incorporated as well. With this full view, advertisers or their partners can analyze the data and draw out insights specific to their business.
For example, if an e-commerce retailer wants to understand what the path to conversion looks like, they can bring additional online data about their customers into BigQuery, and Ads Data Hub will enable them to combine that data with their ads data so they can see what a typical journey is from first encountering a user until conversion.
Consistent with our commitment to privacy, no user-level data can be removed from the secure Cloud environment. Impression-level data is only accessible for the purposes of analysis and generating insights. In the future, advertisers will be able to act on the insights they get from Ads Data Hub and buy media with greater precision.
As an early alpha partner, Omnicom Media Group helped to define the solution and has seen significant value from both the amount of data available through Ads Data Hub and the broad set of analyses and custom queries that are possible.
"With the complexity of today's consumer journeys, we are seeing that marketers are looking to solve harder business challenges than ever before. Through our partnership with Google and our use of Ads Data Hub, we will be able to answer a broader range of questions and expand our analytical services." – Slavi Samardzija, Global CEO, Annalect, An Omnicom Media Group Company
With the shift to mobile, consumer behavior has changed for good. Marketers need tools to help them make sense of this new world, and Ads Data Hub is a key step forward.
Posted by Geoff Samek
Senior Product Manager, Ads Data and Privacy
Read More…
Making marketing easier with new tools for productivity
Mobile continues to raise the bar for marketers – as consumers increasingly reach for their smartphones to get things done, they expect fast and frictionless assistance. And to help them in these moments with more useful and personalized ads, you need scalable, easy-to-use tools that allow you to manage your marketing in smarter ways.
This morning at Google Marketing Next, we shared the next generation of AdWords, DoubleClick and Google Analytics tools, each of them shaped by your feedback and built to help you work as productively and efficiently as possible.
Below is a round-up!
The new AdWords experience will be available to all advertisers by the end of the year
The new AdWords experience marks the most powerful change we've made to how advertisers visualize and manage their campaigns in over 15 years. The redesign makes AdWords significantly easier to use to help you reach your unique marketing goals and get things done.
Earlier this year, we previewed a few of the new tools and features in the new AdWords experience. This includes the new Overview page, which automatically surfaces relevant insights about your performance so you can take action more quickly.
Here are some other new things to check out:
Campaign creation
Build campaigns designed around your marketing goals
Performance estimates
View performance estimates to help plan your display campaigns
Landing page report
See how your landing pages are affecting campaign performance
Since rolling out the new AdWords experience, we've seen some inspiring results. We see that pages load much faster — on average, 20% faster. Customers like iProspect North also reported that the new design and layout saves them 30% more time when completing everyday tasks. Starting today, we're rolling out the new experience to millions of additional AdWords accounts and it will be available to all advertisers by the end of the year. Get started by reviewing our Best Practice guide.
Better together: Google Optimize and Google Surveys 360 integrate with AdWords
Your marketing workflows should be seamless and integrated, from managing media to optimizing your site and collecting performance insights. This allows you to easily apply learnings from one step to another and take action faster. With new integrations for Google Optimize and Google Surveys 360 with AdWords, you'll be able to test landing pages and gain insights about your ads more efficiently.
Available globally to all advertisers at no cost, Optimize helps marketers test and deliver custom site experiences to improve performance. With the Optimize and AdWords integration, you can quickly and easily create new versions of your landing pages and then apply them to any combination of AdWords campaigns, ad groups, and keywords – no coding or webmaster required. For example, on a summer beachwear campaign, test whether a landing page that features an image of beachgoers performs better than one that showcases your latest swimsuit styles. Optimize will figure out which variation works best for your business and help you get more value from your AdWords campaigns.
Surveys 360 makes it easy for anyone to create a survey, find a specific audience sample across the web, and generate results in just a few days. With the Surveys 360 and AdWords integration, you can easily target surveys to people in your remarketing audiences to help you understand the "why" behind how consumers react to your marketing. For example, ask customers what they thought was the most compelling part of your ad. Or, if you want to know what customers thought of the landing pages you tested on your summer beachwear campaign, quickly launch a survey and ask site visitors what stood out to them on the page.
Smarter planning in DoubleClick Bid Manager
The programmatic revolution has focused on combining data, machine learning and automation to drive better performance. However, few of these benefits have carried over to the world of media planning. To help save you time and improve performance, we're bringing the power of machine learning to campaign planning with a new workflow in DoubleClick Bid Manager.
Bid Manager uses machine learning to analyze your past campaigns and understand what's performed well for you before. With these insights, it will recommend the right inventory and targeting to reach your audience based on your unique marketing goals. The result is an optimized media plan tailored to your business, which you can then tweak, approve and activate with one click.
New workflow in DoubleClick Bid Manager
"Planning in DoubleClick Bid Manager helps us find the right inventory and strategies in a matter of seconds. Now we can invest even more time in understanding our audience rather than how we should reach them."
– Louise Lévesque, Vice-President, Marketing & Sponsorship, National Bank of Canada
Unique Reach arrives for AdWords Display campaigns and DoubleClick
Once your ads are up and running, you want to know how many people are seeing them. Reach and frequency are hallmark metrics to measure the impact of display and video campaigns today. At the same time, you need to be thoughtful about how often you connect with a single user to avoid overloading them. 30% of people today use 5 or more devices1 – that means if you reach someone three times on each screen, you could be showing them fifteen ads!
We launched Unique Reach for YouTube in AdWords earlier this year and are soon expanding availability to Display campaigns in AdWords. We're also bringing Unique Reach to DoubleClick for all your video and display ads, no matter where they run. Unique Reach helps you measure the number of unique users and average impressions-per-user you get from video and display ads. Metrics are de-duplicated across devices, campaigns, inventory and formats so you can see how many people you reached and how often you reach them.
We can't wait to get these new tools into your hands to hear what you think and help you work faster and smarter. To get the full replay of new innovations at Google Marketing Next, watch the keynote here.
Until next year!
Posted by Paul Muret
Vice President of Display, Video and Analytics, Google
1 Google / TNS Connected Consumer Survey, US population 18+, n=1000, Q1 2016
Read More…
Today wraps our annual Google I/O conference. Thousands of developers from around the world gathered to learn about our latest developer products and share best practices, including how to build next-gen business applications using G Suite. In case you need it, here's a list of the various developer tools you can use to customize app your G Suite experience at your organization.
1. Build and deploy custom apps using App Maker
App Maker is a low-code, application development tool in G Suite that helps developers quickly build and deploy custom apps securely. It comes with built-in templates, a drag-and-drop UI and point-and-click data modeling. Plus, you can customize your app to connect with a wide range of APIs using Apps Script. App Maker is currently available as part of an Early Adopter Program for G Suite Business customers. Learn more.
2. Create seamless integrations with the G Suite APIs
Speaking of APIs, G Suite offers a number of ways for developers to integrate their app with ours and create a seamless experience for users. Here are a few of our favorite G Suite APIs.
3. Customize your G Suite experience with Add-ons
Using Apps Script, G Suite's native JavaScript-based development platform, developers can easily customize their favorite apps like Sheets, Docs, and Forms by adding menu items, sidebars or editing files programmatically directly within these apps. We also recently introduced Gmail Add-ons in developer preview, so that third-party developers can bring the power of their apps directly into Gmail. Better yet, developers need only write their Gmail Add-on once, and it'll run natively in Gmail on web, Android and iOS right away.
Two years ago we introduced Google Photos and now, more than 500 million people use it every month, backing up more than 1.2 billion photos and videos per day. Today, we're announcing three new ways to help you share and receive the meaningful moments in your life.
Suggested Sharing
How many times have you forgotten to share that group shot with everyone else in it? Or how often do you have to ask your spouse to send those cute pictures of the kids?
With our new sharing suggestions, you can finally share and receive all the photos that really matter to you, without the work. Using our machine learning technology, Google Photos will not only remind you to share—it will automatically select the right photos, and even suggest who you should send them to based on who was in the photos. Just tap send, and your friends and family will see all your photos, and get a reminder to add theirs too. Now all the photos of that birthday dinner or weekend trip are in one place, including—and especially—the photos you didn't take.
You'll see all your sharing activities and these suggestions in our new Sharing tab, which will be rolling out on Android, iOS and web in the coming weeks.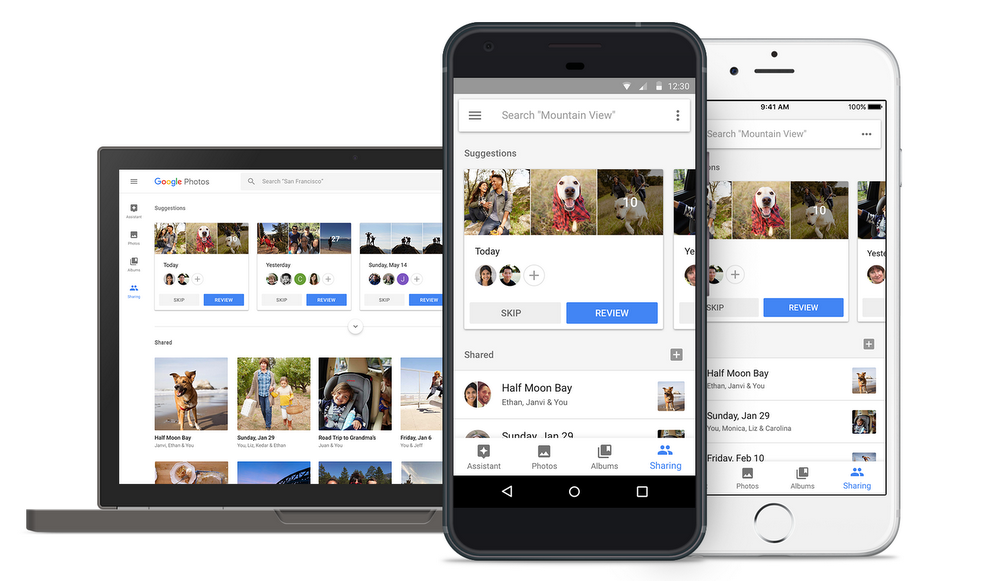 Shared Libraries
But what about that special person you share just about everything with, like your spouse, partner or best friend? Wouldn't it be easier if you could automatically share relevant photos with them? For example, I would love it if every photo I ever took of my kids was shared with my wife.
With Shared Libraries, you can effortlessly and automatically send and receive photos with one other person. You can give them access to your full photo library or, if you prefer, only photos of certain people or from a certain date forward. And when they share their library with you, you can automatically save the photos you want so they also show up in search and in the movies, collages and other fun creations Google Photos makes for you. Gone are the days of begging your partner for those special pictures only stored on their phone.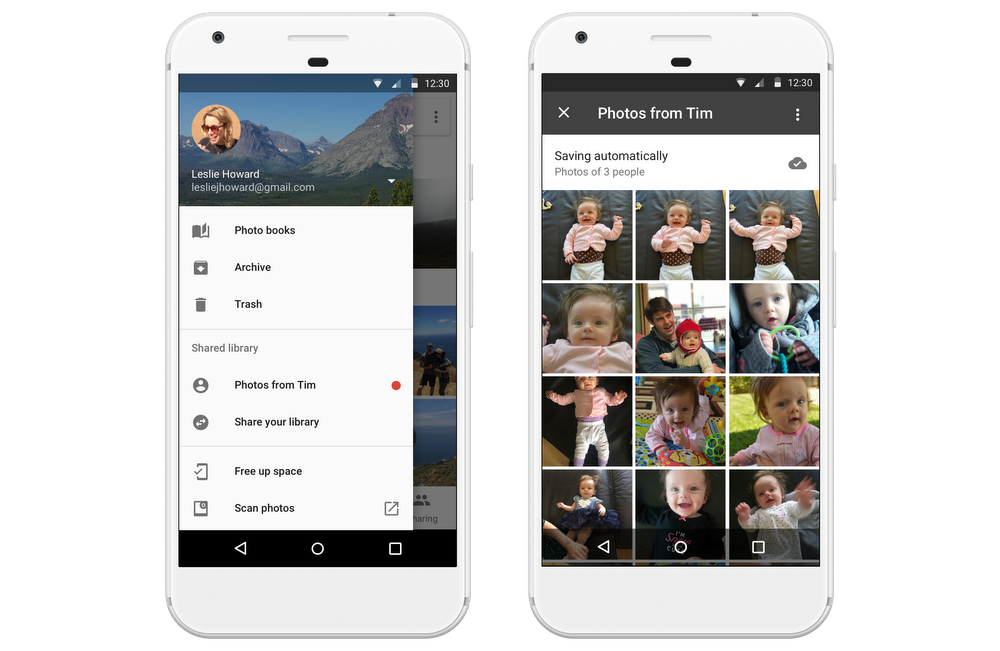 Shared Libraries will also be rolling out on Android, iOS and web in the coming weeks.
Photo Books
There's something special about a printed photo album that brings you back to a moment from the past; whether it's the first dance on your wedding day or all the family road trips you took over the years. But printing albums is hard work—you have to hunt across different devices and accounts, select the best from among the hundreds of shots, upload to a printing service, and arrange dozens of pages.
Now what used to take hours in front of a computer takes just a few minutes with Google Photos. Photo books are incredibly easy to make—even on your phone. They're beautiful, high quality, with a clean and modern design. And thanks to our powerful search technology, your photos are already organized by the people, places, or things that matter. Once you select the photos, Google Photos will find the best shots for you—removing duplicates and poor quality images. All that's left for you to do is make a few tweaks and place your order. Soon, we'll even suggest photo books just for you, like your trip to the Grand Canyon, time with family during the holidays, your puppy, or even your kid's artwork.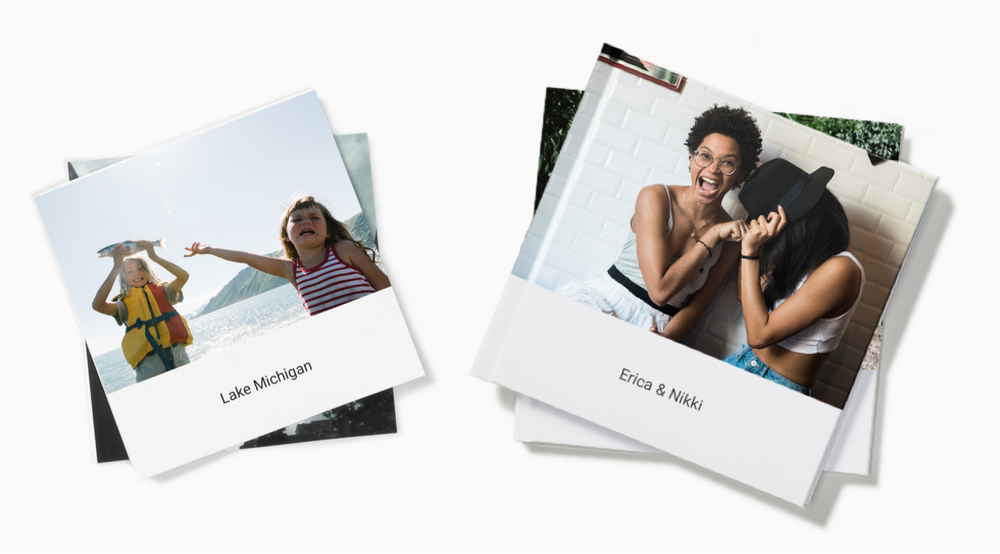 Photo books are rolling out today in the U.S. on web, and on Android and iOS next week, starting at just $9.99 for a 20-page softcover book and $19.99 for a hardcover book. We'll bring photo books to more countries soon.
With these new features in Google Photos, it's easier than ever to share and receive all the special moments in your life, whether they're on your phone or in a photo book.