Using neural machine translation, we've just updated Hebrew and Arabic languages on Google Translate. But what you can't see on the surface is that these translations also improved thanks to students across Israel. As English as a Foreign Language (EFL) students used the Google Translate Community platform to learn and practice their English, they actually improved translations for everyone in the process.
Adele Raemer is an Israeli English teacher, a trainer for English as a Foreign Language (EFL) and digital pedagogy at the Israel Ministry of Education; she's also a Google Certified Innovator, a Google Educator Group leader, and blogger.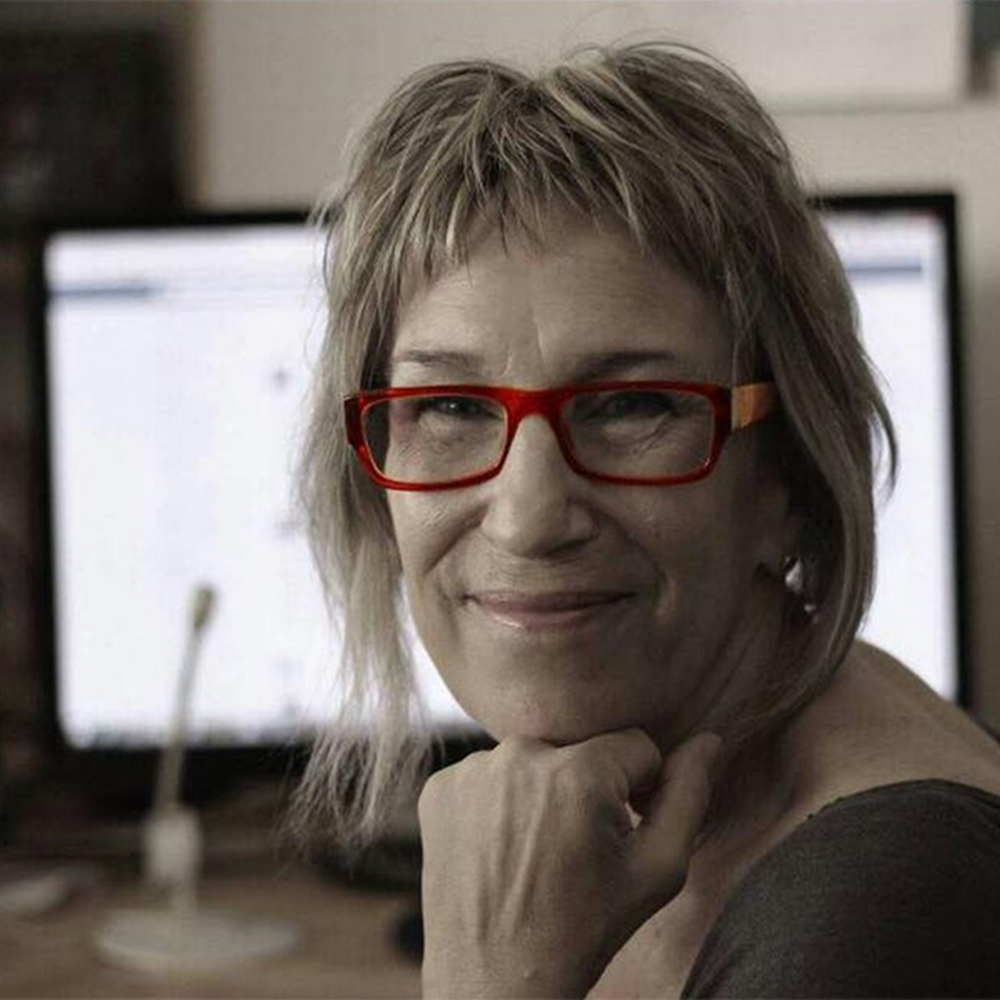 When Adele first used the Translate Community as tool to teach English, she was impressed by how eager and motivated her students became. She wanted other students to share in the experience, so with the support of the Ministry of Education EFL superintendent and our education team, she turned this into a challenge for classrooms across Israel. The goal was to help students work on their vocabulary, develop critical thinking and translating skills and enhanced their engagement with English studies.
Last spring, 51 classes from across the country joined our Google Translate Community pilot competition. A month later, the class with the highest number of collective contributions joined us for a visit to our Google Israel office. The teachers used the challenge as a fun activity on top of their regular curriculum. As Mazi, an English teacher at "Hodayot" high school, said: "The experience of participating in the competition was very positive and enriched my teaching. Any time that a student finished a task early or had a bit of time at the end of the lesson, they could be productive by going into the site and translating!"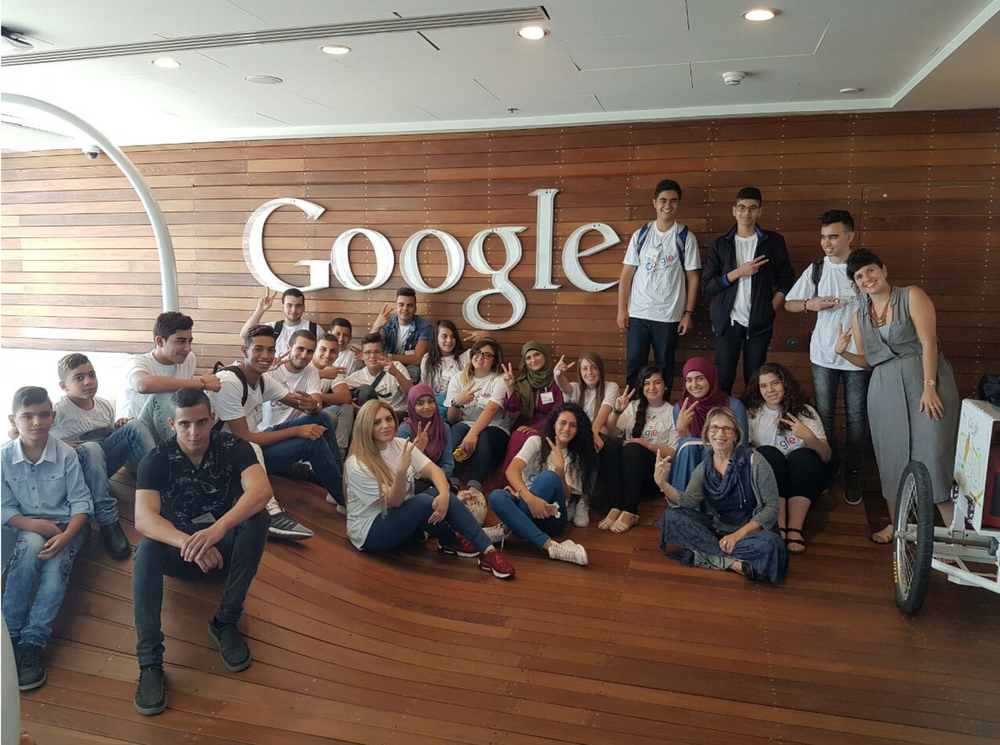 Inspired by the success of Adele's pilot program, the Translate Community team then built new tools that allowed group contributions and measured results more accurately. With new supporting lesson plans, more than 150 classes participated in a three month competition for Hebrew-English and Arabic-English. From these two competitions, 3,500 students translated and verified more than 4 million words and phrases.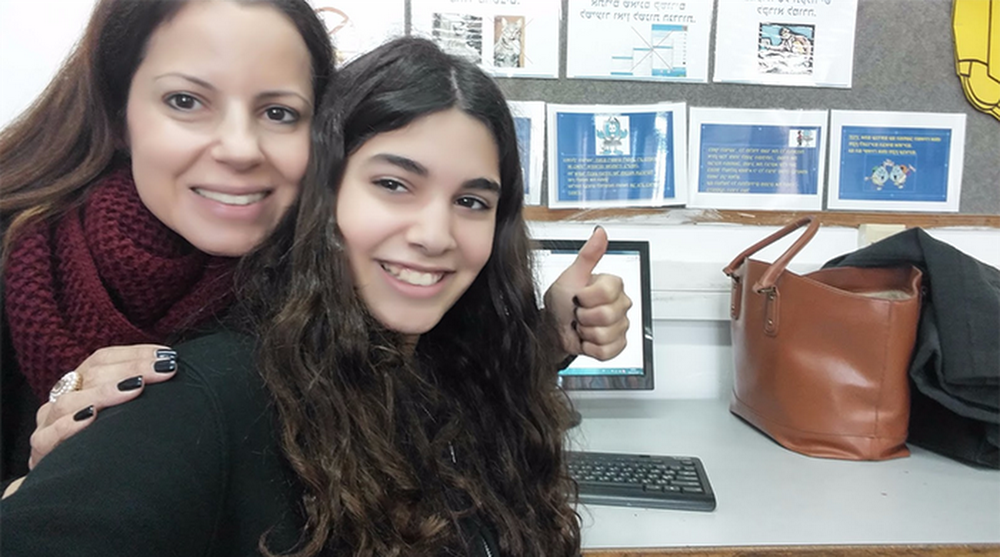 We've incorporated this multi-lingual knowledge into the training for our cutting-edge neural technology, which we've just launched today for Hebrew and Arabic. That means every one of these contributions helped improve translations for millions of people doing translations to or from these related languages.
We were thrilled to see the great impact that these students had on Translate itself. It's so cool to see how the next generation of students is working hand in hand with the next generation of machine translation technology!
The time we spend at home with our family and friends is special. What if technology could help us make the most of those moments?
Google Home is a hands-free smart speaker powered by the Google Assistant that does just that. Whether you want to get answers from Google, turn up the music, sort out some everyday tasks or control compatible smart devices in your home, all you have to do is say "Ok Google."
And now, Google Home is coming to the UK.
Get answers from the Google Assistant
Ask Google Home a question, and it will give you the answer by tapping into the power of Google—Search, Maps, Translate and more. A combination of our natural language processing, machine learning and voice recognition expertise allow users to interact naturally with the Assistant on Google Home.
It can also help you with translations and calculations, or deliver a news briefing from publications such as the BBC, The Guardian, The Financial Times, The Sun, The Telegraph, Huffington Post, Sky News, Sky Sports and others.
Using the Google Assistant, Google Home can answer questions about your interests, the weather, traffic, sports, finance, local businesses and more. You could ask "Where is the nearest petrol station?" and then follow up with,"When does it close?" The Assistant can also have fun—it can tell you jokes, play trivia or make animal sounds.
Enjoy your music
Google Home helps you listen to your favorite things, whether you're in the mood to listen to a podcast or dance around the living room with your little ones. With a simple voice command, you can play songs, playlists, artists and albums from Google Play Music, Spotify, TuneIn, live radio from the BBC and more.*
If you have multiple Google Home devices, Chromecast Audio or Chromecast-enabled speakers, you can blast the same tune around the house or group them by room with the multi-room feature.
Your everyday tasks and your connected home
There's never a shortage of things to do in the home, and sometimes it'd be good to have a bit of help with them. Google Home is there for those times—like setting alarms, starting timers, or adding items to your shopping list—and, if you choose, it can even tell you about your schedule.
Plus, if you have smart devices in your home, you can control your lights and switches from brands including Nest, Philips or Samsung SmartThings. If you have a Chromecast, you can also use voice commands to play Netflix and YouTube on your TV or binge watch your favorite show.** Simply say, "Ok Google, Play 'The Crown.'"
Your home, your rules
With your permission, Google Home can assist you in planning your day, based on information like your calendar entries or flight information from your Google account. But if you'd rather keep things to yourself, you can turn off personal results any time in the Google Home app with a single swipe.
We know the UK has been patiently waiting for Google Home to arrive and we've been working with our favorite partners to give you the best possible experience. We'll partner with more of your favorite apps and services to help you do more with Google Home over time. And of course, we've hidden a few British treats for you to discover. Just try asking Google Home about its hobbies or favorite foods.
Google Homewill be available in stores on April 6th for £129 from the Google Store and is also available from Argos, Currys and PC World, John Lewis and Maplin and coming soon to EE. Colored bases will be available for £18 for fabric and £36 for metal on the Google store helping you customize to fit your home.
That's not all…
Introducing Google Wifi
We all know how frustrating it can be when wireless connectivity fails at home, especially if you're streaming your favorite TV show. Today we're also introducing Google Wifi to the UK. Google Wifi is a home Wi-Fi solution that works with your modem and internet provider to bring you reliable coverage.
Traditionally Wi-Fi routers haven't always been built to support the increasing number of devices we use or high bandwidth activities like gaming or watching videos. Google Wifi is a connected system that replaces your current router to bring smarts, security and simplicity to home Wi-Fi to give you consistently strong coverage in your home.
Google Wifi uses a technology called mesh Wi-Fi (something usually only seen in expensive commercial installations). Within our mesh network, each Google Wifi point creates a high-powered connection, and the different Wifi points work together to determine the best path for your data. The result is Wi-Fi coverage even in hard-to reach areas, not just right next to the router.***
To make sure you're always in control, Google Wifi comes with an app that lets you do things like pause Wi-Fi on kids' devices (when it's time to come to the dinner table) and is built to help keep your data safe and secure.
Google Wifi will be available online on April 6th for £129 in a 1-pack and £229 in a 2-pack from the Google Store. It is also available from Currys and PC World, Argos, Maplin and John Lewis and coming soon to Amazon.
Find out more about Google Home and Google Wifi here.
---
*Google Home is optimized for selected music services only. Subscriptions/payments may be required.
**Netflix subscription may be required.
****Home materials and layout can affect how Wi-Fi signals travel. Homes with thicker walls or long, narrow layouts may need extra Wifi points for additional coverage.
Google Home requires a Wi-Fi network, a nearby electrical outlet, and a compatible (Android, iOS) mobile device. Minimum OS requirements are available at g.co/home/req. Google Wifi requires broadband Internet. Strength and speed of signal will depend on your Internet provider. Each Wifi point requires a nearby electrical outlet. The app requires a mobile device with Android 4 and up or iOS 8 and up.
Like every field of science, the importance of clear communication in machine learning research cannot be over-emphasised: it helps to drive forward the state-of-the art by allowing the research community to share, discuss and build upon new findings.For this reason, we at DeepMind are enthusiastic supporters of Distill, a new independent, web-based medium for clear and open – demystified – machine learning research, comprising a journal, prizesrecognising outstanding work,and tools to create interactive essays.Read More…
Finding the right song, album or playlist can make anything you do during your day that much more enjoyable. Maybe start your day off with a cup of coffee and someRelaxing Film Scores. Want something more upbeat? Get a pick-me-up withRave-Up Wake-Up: EDM Morning. Need to make dinner? How about someClassic Bossa NovaorToday's Biggest Hits? All told there are more than 40 million songs available, on 200+ cast-compatible music and audio apps, to listen to on your favorite speakers.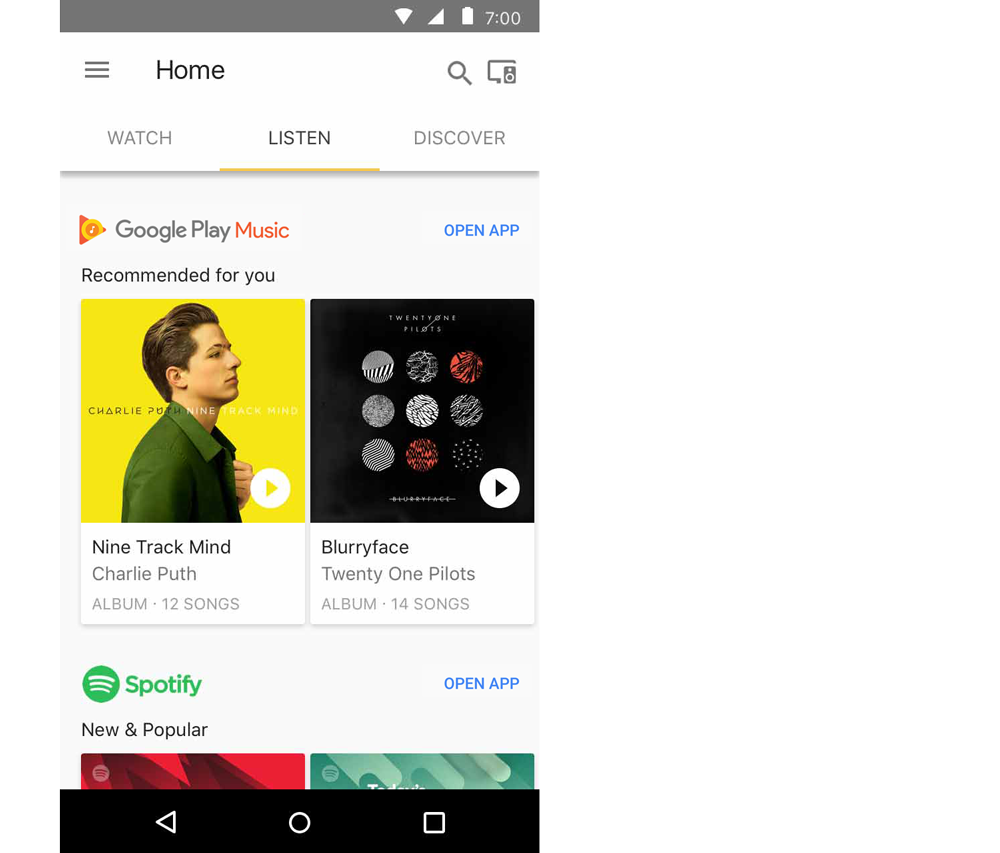 That's a lot of music to choose from, so today we're making it easier for you to find the perfect playlist, album or artist to listen to with the new Listen tab in the Google Home app, a dedicated space for all your favorite music.
The new Listen tab shows you curated lists of ready-to-stream, personalized albums and playlists from your favorite music apps, like Google Play Music and Spotify. You'll also find compatible music and audio apps you already have on your phone or tablet, as well as a section to discover new apps to download.
So whether you're looking for an upbeat playlist to listen to while you cook, or a something to unwind after dinner, the Google Home app is ready to help you find the perfect entertainment to cast to your TV or speakers.
Computer programs that learn to perform tasks also typically forget them very quickly. We show that the learning rule can be modified so that a program can remember old tasks when learning a new one. This is an important step towards more intelligent programs that are able to learn progressively and adaptively.Read More…
Data can be a powerful force for social progress, helping our most important institutions to improve how they serve their communities. As cities, hospitals, and transport systems find new ways to understand what people need from them, theyre unearthing opportunities to change how they work today and identifying exciting ideas for the future.Data can only benefit society if it has societys trust and confidence, and here we all face a challenge. Now that you can use data for so many more purposes, people arent just asking about whos holding information and whether its being kept securely they also want greater assurances about precisely what is being done with it.In that context, auditability becomes an increasingly important virtue. Any well-built digital tool will already log how it uses data, and be able to show and justify those logs if challenged. But the more powerful and secure we can make that audit process, the easier it becomes to establish real confidence about how data is being used in practice.Imagine a service that could give mathematical assurance about what is happening with each individual piece of personal data, without possibility of falsification or omission. Imagine the ability for the inner workings of that system to be checked in real-time, to ensure that data is only being used as it should be.Read More…
Last November, people from Brazil to Turkey to Japan discovered that Google Translate for their language was suddenly more accurate and easier to understand. That's because we introduced neural machine translation—using deep neural networks to translate entire sentences, rather than just phrases—for eight languages overall. Over the next couple of weeks, these improvements are coming to Google Translate in many more languages, starting right now with Hindi, Russian and Vietnamese.
Neural translation is a lot better than our previous technology, because we translate whole sentences at a time, instead of pieces of a sentence. (Of course there's lots of machine learning magic powering this under the hood, which you can read about on the Research blog.) This makes for translations that are usually more accurate and sound closer to the way people speak the language. Here's one example to show how much it's improved:

You'll get these new translations automatically in most places Google Translate is available: in the iOS and Android apps, at translate.google.com, and through Google Search and the Google app. We'll be introducing neural machine translation to even more languages over the next few weeks, so keep an eye out for smoother, more fluent translations.
Finally, please keep contributing to Translate Community! Our translations are still far from perfect, and it helps everyone using Google Translate when you suggest improvements.