In November we announced a groundbreaking five year partnership with the Royal Free London to deploy and expand on Streams, our secure clinical app that aims to improve care by getting the right information to the right clinician at the right time.The first version of Streams has now been deployed at the Royal Free and were delighted that the early feedback from nurses, doctors and patients has so far been really positive. Some of the nurses using Streams at the hospital estimate that the app is saving them up to two hours per day, giving them more time to spend with patients in need. And were starting to hear the first stories of patients whose conditions were picked up and acted on faster thanks to Streams alerts.Patients likeAfia Ahmed, who was seen more quickly thanks to the instant alerts. You can read more about the deployment and some of the early positive signs over on the Royal Frees website.Read More…
We employ deep multi-agent reinforcement learning to model the emergence of cooperation. The new notion of sequential social dilemmas allows us to model how rational agents interact, and arrive at more or less cooperative behaviours depending on the nature of the environment and the agents cognitive capacity. The research may enable us to better understand and control the behaviour of complex multi-agent systems such as the economy, traffic, and environmental challenges.Read More…
While traditional watches tell the time, Android Wear watches make the most of your time. In an instant, you can check when and where you're meeting a friend, whether you'll need an umbrella tonight, or how many minutes you've been active today—all without reaching for your phone. Today, we're announcing Android Wear 2.0 to give you more informative watch faces, better workouts, new ways to use apps, more ways to stay in touch and on-the-go help from the Google Assistant. We're also introducing two new watches that run Android Wear 2.0.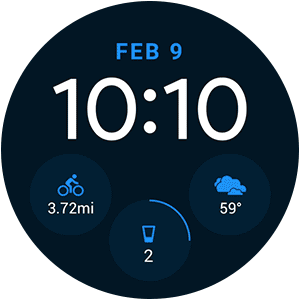 More personalized, helpful watch faces
You can now personalize your Android Wear always-on watch face with information and actions from your favorite apps. Simply glance at your wrist to check your next appointment, stock performance, progress on fitness goals, or whatever is important to you. A quick tap on your watch face lets you instantly order an Uber ride, start a workout, or get in touch with your significant other. Interested in different info throughout the day? Just swipe to switch your watch face as you go from the office to the gym to dinner with friends and home again.
Better ways to work out
Google Fit, the pre-installed fitness app on most Android Wear watches, now lets you track your pace, distance, calories burned and heart rate* as you're walking, running or cycling. You can also measure weight-lifting reps, in addition to push-ups, sit-ups and squats. When you work out with a cellular-connected Android Wear watch, you can stay in touch with calls and messages, stream tunes from Google Play Music and still use your favorite apps right on your watch.
New ways to use apps
With Android Wear 2.0, you can choose which apps you want on your watch and download them directly from the new on-watch Google Play Store. If your watch has a cellular connection, you can make calls and use your watch apps no matter where your phone is. Whether you use an Android phone or iPhone, you'll be able to use apps built for Android Wear 2.0, like AccuWeather, Android Pay*, Bring!, Foursquare, Google Fit, Google Messenger, Google Play Music, Lifesum, Robinhood, Runkeeper, Runtastic, Strava, Telegram, Uber and many more.
More ways to respond to messages
Now it's easier than ever to read and respond to a message right from your watch. When you receive a message, you can expand the notification and tap to respond by dictating, typing or handwriting your answer, or drawing an emoji. Try it out on apps like Facebook Messenger, Glide, Google Messenger, Hangouts, Telegram or WhatsApp. Need to respond quickly and discreetly? Use Smart Reply, which instantly and intelligently suggests different responses based on the message you received.
The Google Assistant on your wrist
Android Wear 2.0 brings the Google Assistant to your wrist, so you can find answers and get things done—hands free. Ask your Google Assistant about the weather or remind yourself to bring an umbrella. Make a restaurant reservation or navigate to work. You can even update your shopping list right from your wrist. To ask for help, just hold down the power button on your watch or say "Ok Google." The Google Assistant is available in English and German on Android Wear and will be available in other languages in the coming months.
Introducing LG Watch Style and LG Watch Sport
The first watches with Android Wear 2.0 are the LG Watch Style and LG Watch Sport—both designed in collaboration with Google.

The LG Watch Style is thin, light, beautiful to look at, and comfortable to wear. It's available in three classic designs and finishes—silver, rose gold and titanium—and compatible with snap-and-swap 18mm leather and silicone bands out of the box, so you can quickly switch bands to match your look or the occasion. The rotating power button lets you easily scroll through your stream, bring up the app launcher, or get help from your Google Assistant.
The LG Watch Sport is Android Wear's most powerful watch yet. Available in titanium and dark blue, the LG Watch Sport comes with a high performance elastomer strap, NFC for payments, GPS for tracking exercise and navigation, a heart rate sensor for your workouts, and cellular connectivity. With dedicated buttons for Google Fit and Android Pay, plus a rotating power button, it lets you instantly launch your favorite apps. From phone calls to payments, LG Watch Sport is pretty much everything you need whether you're running the trails or just running some errands.
If you're in the U.S., you can find the LG Watch Style at Best Buy and the Google Store and the LG Watch Sport at AT&T, Verizon and the Google Store, starting February 10. These watches will be available at carriers and retailers across Canada, Russia, Saudi Arabia, South Africa, South Korea, Taiwan, UAE and UK in the coming weeks.
Android Wear 2.0 will be available for all supported watches in the coming weeks. We hope Android Wear 2.0 lets you stay more informed, organized, healthy and connected to what matters most.
* Some features require hardware sensors which are not available on all Android Wear watches.
---
Current watches getting Android Wear 2.0 include: ASUS ZenWatch 2 & 3, Casio Smart Outdoor Watch, Casio PRO TREK Smart, Fossil Q Founder, Fossil Q Marshal, Fossil Q Wander, Huawei Watch, LG G Watch R, LG Watch Urbane & 2nd Edition LTE, Michael Kors Access Smartwatches, Moto 360 2nd Gen, Moto 360 for Women, Moto 360 Sport, New Balance RunIQ, Nixon Mission, Polar M600 and TAG Heuer Connected.
Today is Safer Internet Day, and we hope you've taken a few minutes to find out what you can do to stay safe online. But there's one thing you probably haven't thought about: the safety of your home network. When we created Google Wifi, we built it from the ground up to be focused on security, with multiple layers of protection. Here's how it works:
Secure to the core
Google Wifi won't even boot up unless it can verify that it's using official Google Wifi software. We call this "Verified boot," and it means Google Wifi is extremely difficult to attack or compromise. In addition, if you want to change any settings on Google Wifi, you have to use the Google Wifi mobile app which uses the same world-class cloud-based security as other Google services like Gmail. This system ensures that no changes are made to your network unless they come from the authenticated app.
Always updating
In the past year, there have been widespread cases of botnets—similar to viruses on computers—being detected in cameras, routers and other devices. These botnets can steal your private data information or even take down large portions of the internet by flooding servers with tons of data. In the past, to protect yourself against this malicious software, you'd have to somehow discover that there was a vulnerability in your router, then worry about when and where to get updated software to protect against it. Luckily, Google Wifi continually works to protect you against threats, including botnets, with automatic, behind-the-scene security updates, so you're always one step ahead of vulnerabilities. These software updates are seamless and pushed from the cloud to your home. It's so simple, you probably don't even know it's happening.
Safety mesh
Google Wifi provides fast, reliable Wi-Fi to every corner of your home using mesh technology, a system where multiple Wifi points work together to create a blanket of coverage. To establish control and security, the multiple Wifi points produce security keys—long and complex machine-generated passwords—that are shared between all the Wifi points in your network. These security keys establish encrypted communication between all points and devices on your network, and as an added security measure, these keys never leave your personal network.
If there is an event that warrants changing of the mesh keys—for example, if you remove a Wifi point—the system will automatically renegotiate them. This ensures that your network only includes known and trusted Wifi points, and prevents your data from being sent across a compromised network that a hacker could access.
Put Wifi to the test
Google Wifi is part of Google's Vulnerability Reward Program, which started in 2010 and provides rewards ranging from $100 to $20,000 to people who identify bugs in Google's apps and report them to us so we can fix them. With many contributors working on cutting-edge solutions to keep Google's platforms secure, you can rest easier. And so far, no vulnerabilities in Google Wifi have been identified under this program. 💪
As security challenges continue to evolve, our team of dedicated engineers will keep working to improve the security of Google Wifi and your home network—so you can enjoy great Wi-Fi at home without worrying. Stay safe out there!