If you've opened the Google Cast app recently, you might have noticed we've been hinting at some exciting changes. With the recent announcement of Google Home, our new voice-activated speaker, we are renaming the Google Cast app to the Google Home app. So you now have a one-stop destination to manage your compatible home devices. On top of the new name, we gave it a new icon, made the app easier to use, and added some useful new features.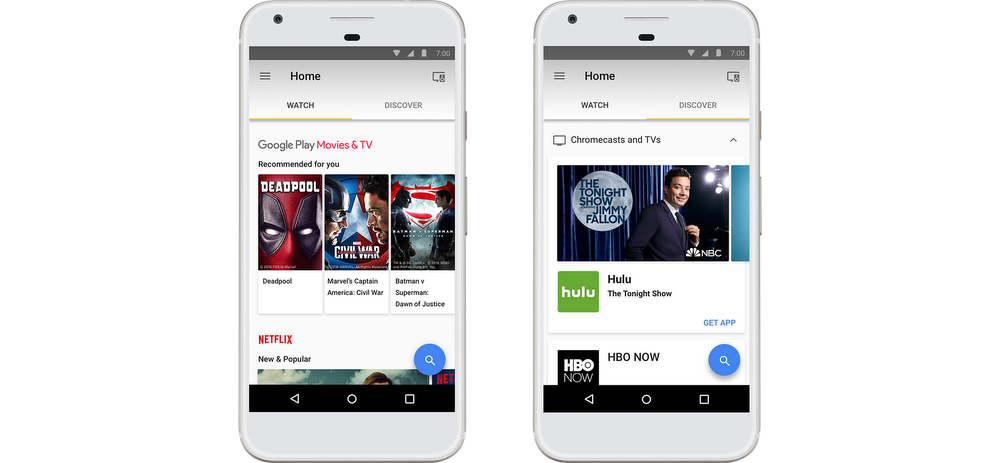 New design to make it even easier to watch & discover.
Using the Watch tab, you can discover trending and popular video content on your Chromecast-enabled apps like HBO Now, Netfilx, Hulu, YouTube, and Google Play Movies.
The Discover tab lets you explore a library of 1000+ apps that work with Chromecast, as well as the latest offers, features, and tips.
And you can search and browse for content across Chromecast-enabled apps right in the Google Home app anytime — just look for the magnifying glass icon in the bottom right hand corner.
Control and manage your Chromecast and Google Home devices.
The Google Home app is also your one place to control and manage all your Chromecast and Google Home devices. Tap the Devices icon in the top right of the home screen to easily set up a new device, control playback or adjust Backdrop settings on your TV, and more.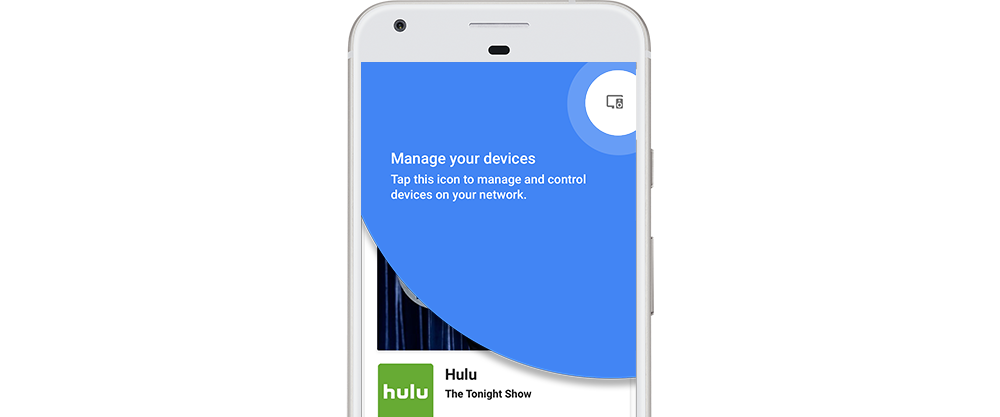 The Google Home app will be coming this week on Google Play and the App Store, so keep your eyes open on your homescreen or app drawer for the new app icon. And stay tuned for more updates with the app as Google Home becomes available in the US in early November.
In a recent study in Nature, we introduce a form of memory-augmented neural network called a differentiable neural computer, and show that it can learn to use its memory to answer questions about complex, structured data, including artificially generated stories, family trees, and even a map of the London Underground. We also show that it can solve a block puzzle game using reinforcement learning.Read More…
What do The Upside Down, Jason Bourne and cliff jumping videos have in common? They all come in stunning 4K picture (which basically means the picture is suuuuuper crisp). And with the newly introduced Chromecast Ultra, now you can stream all of these 4K titles and more to your 4K TV.
Chromecast Ultra includes everything you love about Chromecast. Plus, it comes with advanced features like 4K and High Dynamic Range (HDR) support, faster speed and Wi-Fi improvements.
Stunning picture, deeper colors
Chromecast Ultra supports 4K, HDR and Dolby Vision, so you'll get a crisper picture with higher resolution and more vibrant colors. At first, you'll be able to stream 4K content from Netflix, YouTube and Vudu, and we're working to bring more 4K and HDR content on board. Later this year, Google Play Movies & TV will be rolling out 4K content. Even if your TV isn't 4K-ready, Chromecast Ultra automatically optimizes your TV's picture.
Faster than ever, with optional Ethernet port
Chromecast Ultra loads videos 1.8 times faster than other Chromecast devices and includes major Wi-Fi improvements to support streams from full HD to Ultra HD without a hitch. For those tricky Wi-Fi environments, we're also adding Ethernet support for a wired connection.
Everything you love about Chromecast
Just like the original Chromecast, you can cast all of your favorite content from thousands of apps using your phone, tablet or laptop. Mirror any content from your Android device or from a browser tab on your laptop (using Chrome) to the TV. And it comes in a small size that hides nicely behind your TV, without adding clutter to your living room.
Works with Google Home
Today we also introduced Google Home, a voice-activated speaker powered by the Google Assistant. With Google Home, you can play music, get answers from Google, manage your everyday tasks, and control smart home devices, like Chromecast. Combined with Chromecast or Chromecast Ultra, use Google Home to control your TV — completely hands free. Simply say "Ok, Google, play the Jungle Book trailer on my TV" to watch the YouTube video on the big screen.
Chromecast Ultra will be available in November for $69 from Best Buy, the Google Store, Target, and Walmart in the U.S., as well as from international retailers in 15 more countries.
Join the waitlist on the Google Store and we'll let you know when you can get your hands on Chromecast Ultra, so you can start enjoying some seriously crisp entertainment.
We count on Wi-Fi at home more than ever. Whether you're video chatting with mom, binge-watching the latest series, or simply getting work done, strong and reliable Wi-Fi is key to staying connected.
Today, we're excited to introduce Google Wifi, a new connected Wi-Fi system designed to give you a fast signal in every room, on every device.
Most of us get Wi-Fi in our homes through a centralized router, but using a single router to spread signal throughout your whole home is like expecting one light bulb to light up every room. Walls and distance make it difficult for a single device to send a strong signal to every corner of your home, resulting in slow Wi-Fi and dead zones.
Last year, we introduced OnHub with partners TP-LINK and ASUS to create a better Wi-Fi experience, focusing on design and simplicity. Google Wifi, built on the strengths of OnHub, is our next step towards ensuring that our homes can have great Wi-Fi everywhere we need it.
Fast Wi-Fi throughout your home
Google Wifi was designed from the ground up to support the new ways we use Wi-Fi. These days, Wi-Fi has to be able to support lots of devices at the same time, and stand up to high-bandwidth activities like streaming video or gaming — in every room of your house. Google Wifi is an expandable system, so for larger homes, you can simply add Google Wifi points. They connect to one another and spread a strong network signal to every room.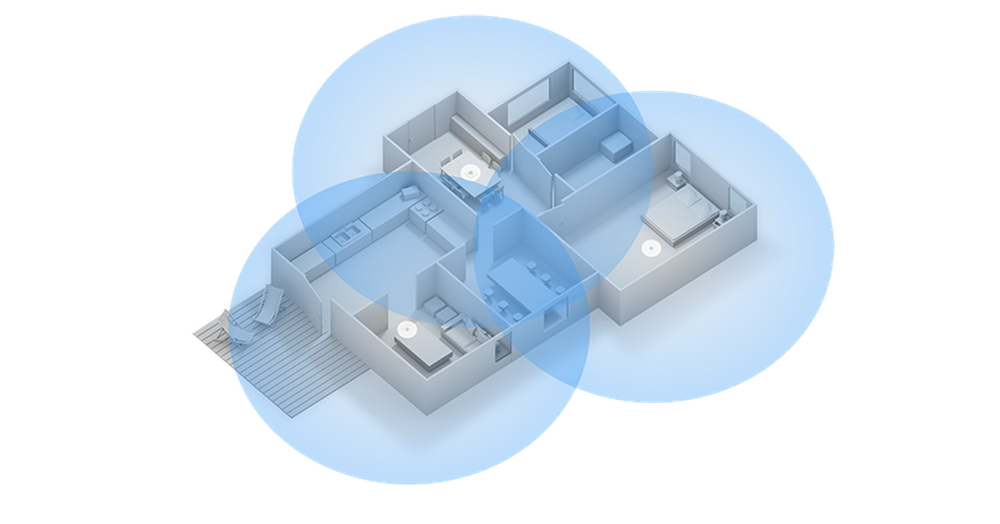 The system uses a technology called mesh Wi-Fi (something usually only seen in expensive commercial installations). Within our mesh network, each Google Wifi point creates a high-powered connection, and the different points work together to determine the best path for your data. The result is fast Wi-Fi everywhere in your house, not just right next to the router.
Keeps itself fast
Most of us don't want to spend time tweaking complex settings or managing our Wi-Fi network. Google Wifi comes with Network Assist technology, which works behind the scenes to keep your Wi-Fi fast so you don't have to figure out how to adjust your router. Network Assist automatically places you on the clearest channel and optimal Wi-Fi band for your device. And as you roam around your house, Network Assist will seamlessly transition your device between the Google Wifi system points in real time, so you avoid dead spots or delays.
A simple way to control your network
For those times when you do want more control over your network, Google Wifi makes it simple through a companion app, available on Android or iOS. The app lets you do things like pause Wi-Fi on kids' devices (like when it's time to come to the dinner table). It also shows you which devices are connected and how much bandwidth they're using and lets you prioritize devices within your network so you can stream that latest episode uninterrupted. Google Wifi was designed with user privacy as a top priority. For example, it has settings for easily controlling cloud management and industry-leading security features such as wireless encryption, verified boot, and auto updates to keep your network safe and secure.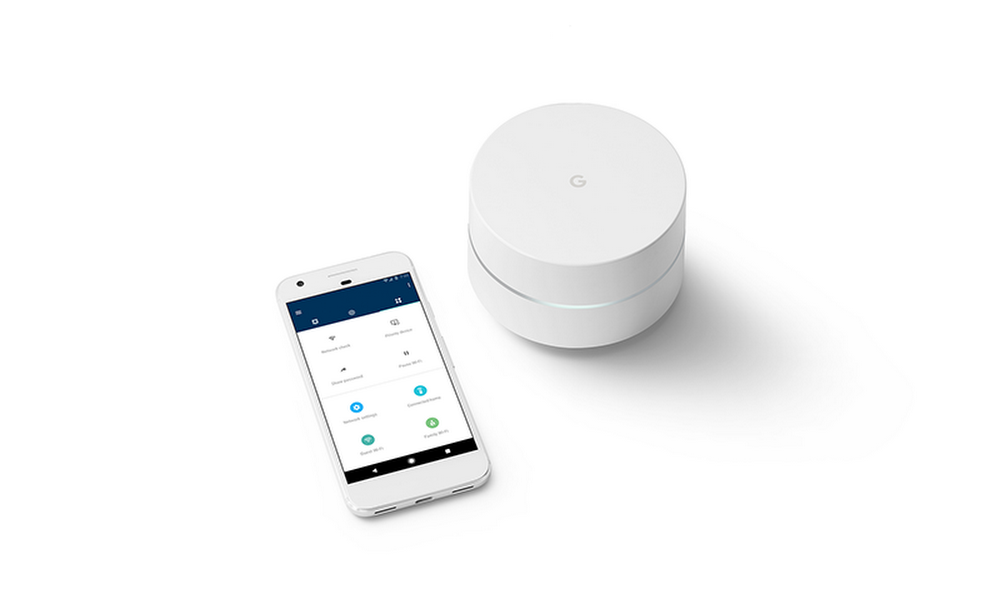 Google Wifi will be available for pre-order in the U.S. in November. It will retail for $129 for a single pack, and $299 for a three-pack at the Google Store, Amazon, Best Buy and Walmart.
Join the waitlist on the Google Store, and we'll let you know when you can get your hands on one, so you can enjoy a fast Wi-Fi signal in every corner of your home.