Constant connectivity through mobile
has created five new paths to purchase that start on customers' smartphones.
As a marketer, it is key that you account for these new types of conversions and understand the full return on investment you're getting from your mobile efforts. That's why earlier this week we introduced
The Full Value of Mobile
, an initiative to help marketers understand mobile's impact on offline and online conversions.
Join us on
Thursday, March 28th (10am PT/1pm ET)
for our first Full Value of Mobile webinar. We will highlight the full range of conversions that mobile can drive and walk you through our new Full Value of Mobile calculator tool.
Sign up for our webinar today by registering
here
.
We look forward to seeing you tomorrow!
Posted by: Julie Pottier, Product Marketing Manager, Google Mobile Ads
Read More…
Today, we're gi
ving AdMob deve
lopers more control over the value of ad impressions served to their apps. The AdMob eCPM Floor beta allows developers to set a minimum CPM they'd like to receive for each ad. The beta is available to AdMob developers who are using
AdMob Mediation
.
How does this work? Advertisers bid to show their ads on apps in the AdMob network, and an auction is run for every impression to determine the winner. We predict what the 'expected CPM' (eCPM) of that ad impression will be. The developer sets a minimum eCPM and we will only serve ads to their app that meet or exceed that level. For example, if a floor of $1.25 is set, we'll only show ads with an eCPM of $1.25 or more. When choosing a floor value it's important for developers to look at their own reporting and determine a value that's relevant to them.
Here are a few details to know when taking part in the beta:

Make sure the eCPMs that are set for other ad networks are accurate.

We don't guarantee the final value of the eCPM, since we don't know if a user will click on the ad.
Developers who use the beta have the option of setting just one network line item in their mediation stack which uses the eCPM floor. Or, they can have two network line items, one that uses the eCPM floor and one without, so they can continue to fill impressions at their current fill rate. Setting the eCPM floor at a very high value will likely lead to a decrease in the fill rate.
Find setup instructions in the AdMob Help Center here under the article titled 'Allocate traffic by eCPM'.

Posted by: Vishay Nihalani, Product Manager, Google
Read More…
There was a time when only editors of the world's style bibles got the chance to sit on the front row of a fashion show, when the catwalk was the exclusive domain of top models, and when stylists and makeup artists were the only ones lucky enough to join in the backstage excitement of London Fashion Week.

But this February Topshop reinvented its fashion show and simultaneously democratised the thrill of London Fashion Week. How? By partnering with Google+ in a groundbreaking series of inventive online happenings. The programme not only grabbed headlines – a key goal of every brand's fashion week involvement – but also stimulated deep engagement with the Topshop audience. The programme had four components – Be the Model, Be Part of the Team, Be the Front Row Fashionista and Be The Buyer.



Be The Model afforded a rare opportunity for fans to get a model's-eye view of fashion week. Top models Cara Delevingne, Jourdan Dunn, Rosie Tapner and Ashleigh Good wore HD micro cameras – "model cams" – so online viewers could see and feel what models experience as they stride down the runway. And at Topshop's Oxford Street flagship fans could enter a special Google+ booth and try on their favourite outfits. From the booth, an animated picture was instantly uploaded to the Topshop's Be the Model Google+ event page.

Be Part of the Team
included an
exclusive hangout on air
behind the scenes at Topshop's headquarters with a host of fashion insiders, such as Kate Phelan (Topshop Creative Director), Emma Farrow (Topshop Head of Design), Hannah Murray (international make-up artist) and Beth Fenton (show stylist). Two lucky Topshop fans were allowed to post questions just before the start of the show.
Be the Front Row Fashionista
featured a
red carpet hangout on air
on the day of the show and allowed viewers to get a unique perspective from the front row. After the arrival of leading celebrities like Kate Bosworth, One Direction star Louis Tomlinson and Pixie Geldolf, the hotly anticipated show was streamed on Topshop.com, in Topshop's Oxford Circus store and on all of Google's platforms through a special customised YouTube gadget.
Be The Buyer
saw the
launch of a hangout app
that enabled users to pick and choose their favourite items to share with friends on Google+. Topshop chose the best fashion collection from among these and awarded one stylish winner a free shopping spree. The app was promoted on Topshop's homepage through a leaderboard that dynamically ranked the most popular of all the shared items.
The programme delivered
fantastic results
:
4 million views across all platforms

2.5 million views from YouTube

G+ posts viewed over 400,000 times, a +400% increase

Comments increased by 340% per day

Reshares increased by 275% per day

+1s increased by over 400% per day

7,500 live views of red carpet hangout

600 animated photos posted from in-store booth

Average 11-minute engagement with hangout app, 52% reshares

300,000 new G+ followers in two weeks

2 million views from TrueView ads

400+ press mentions (inc.

Guardian

,

Vogue

,

CNN video

,

FastCompany

,

Vogue IT & FR

)
To learn more about the future of fashion, read the full case study here.

Post by Natalia Cano, Product Marketing Manager, Google+

Read More…
Last year, we started a program to partner with advertisers and agencies to re-imagine how brands tell stories in a connected world. Project Re: Brief set out to recreate some of the advertising industry's most iconic, classic campaigns using the latest technology tools. This year we're expanding that program to work with some of today's most iconic brands and innovative marketers, in our new project: Art, Copy & Code.
Art, Copy & Code is a series of projects and experiments to show how creativity and technology can work hand in hand. Some of these will include familiar brands like Volkswagen, Burberry and adidas—projects developed in partnership with their creative teams and agencies. Others will be creative experiments with innovative filmmakers, creative directors and technologists to explore how brands can connect with consumers through a whole range of digital tools—including ads, mobile apps and social experiences. Our first partner project is a new social driving experience—Volkswagen Smileage.
Building off their 2012 campaign, "It's not the miles, it's how you live them," Volkswagen Smileage is a mobile app and web service that aims to add a little bit of fun to every drive, from your daily commutes to holiday road trips. The app measures the fun factor of each trip using a metric called "smileage," based on signals like weather, traffic, location, time and social interactions (e.g., a long drive on a sunny Saturday afternoon might accumulate more smileage than a morning commute in the snow). You can use it with any car, not just Volkswagens.
Powered by the new Google+ sign-in, you can choose to share Smileage experience with friends and family. For example, during a road trip, photos and videos taken by you and your co-passengers can be automatically added to a live interactive map. The inspiration for the service came from a recent study showing that every day, 144 million Americans on average spend 52 minutes in a car—76 percent of them alone. We wanted to make that time a more shareable experience. Volkswagen Smileage will be available soon in beta—you can sign up on this webpage for early access.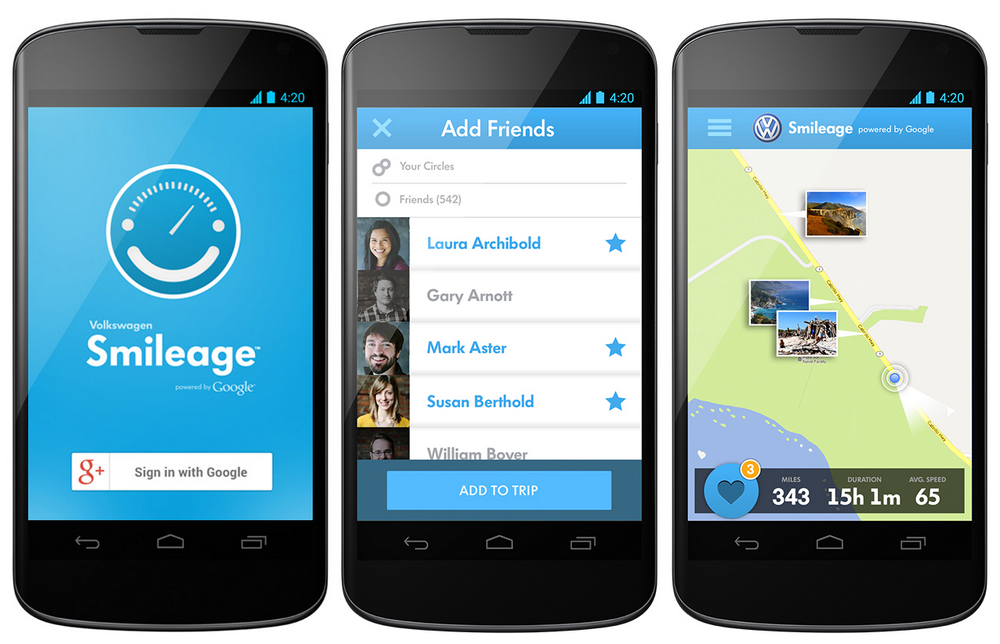 We'll have many more experiments to share in the Art, Copy & Code project soon—subscribe for updates at ArtCopyCode.com. We're committed to investing in technology and tools over the long term to help brands and their agencies succeed not just today, but in a digital future that will look very different.
If you're planning on attending SXSW, stop by the Google Playground on March 9 to see demos of these experiments, or attend our talk on March 10.
Since our launch of Google+ Sign-In with trusted authentication, over-the-air installs, app customization, interactive posts, and app activities on February 26th, we have received huge interest from the developer community about integrating the new features. The interest was so significant, in fact, that we thought a better way to enable as many developers as possible would be a series of Google+ Sign-In bootcamps.
These bootcamps are a unique opportunity for you, your engineers, and your product managers to work side-by-side with Google engineers over the course of five days, while building the next generation of web and mobile applications with Google+ Sign-In. Google engineers will provide design advice and best practices, help with any implementation issues, and give suggestions on how to get the greatest number of signed-in users. It's also a great opportunity to connect with other talented developers from a wide range of apps, companies, and technologies. This being Google, of course food and snacks will be provided! A specific agenda will follow for each location.
Bootcamp Cities & Dates:
Mountain View, CA – March 11th – March 15th
London, U.K – March 11th – March 15th
New York, NY – March 18th – 22nd
Berlin, Germany – March 18th – March 22nd
Bangalore, India – April 1st – April 5th
Sao Paolo, Brazil – April 1st – April 5th
Sydney, Australia – April 8th – April 12th
Seoul, Korea – April 8th – April 12th
If you'd like to attend a bootcamp, please apply here. There is limited space, but we prefer two engineers from your company (or anyone that is critical to the integration) to attend each day. If you are accepted, you will receive a confirmation email with additional details after registration closes. Hope to see you there!

Posted by Kinnari Jhaveri, Google+ Product Partnerships
Read More…